Mission Statement
The members of the Hill College Office Administration Technology Department seek to provide Hill College students with the ability to use information processing software and administrative techniques effectively so that they may reach their full potentials as individuals and productive members of society. We dedicate ourselves to teaching students to read closely and think critically; to studying the processes, theory and techniques of administrative assistants and information processing; to developing the practice of working in academic, creative and professional environments; and to promoting an interdisciplinary perspective on diverse cultures.
---
Program Summary
The office skills required to work in a medical or physician's office are quite different from other office professional jobs. This program prepares students with the skills necessary for entry level employment in a medical office setting as medical secretaries, medical assistants or medical records technicians. According to the Occupational Outlook Handbook, job prospects are excellent as medical assistants rank among the fastest growing occupations.  

The Medical Office Assistant program offers the student a range of options in educational paths, including a certificate of completion and an associate of applied science degree. We challenge students to reach their full potentials as individuals and productive members of society as they study the processes, theory and techniques of medical office administration.  Students will learn medical office procedures such as scheduling appointments, preparing and receiving payments, patient's right and responsibilities, and customer service.
Don't miss out on this great opportunity!
---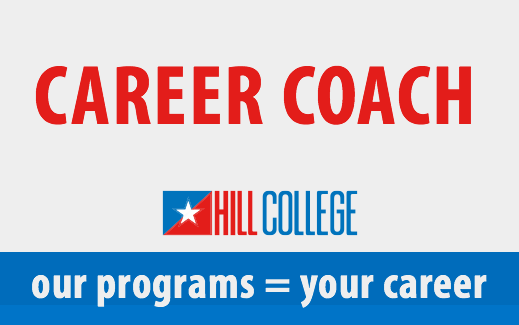 ---
In accordance with Texas' 60x30TX strategic plan, Hill College has identified ten Marketable Skills available to students through our various certificate/degree programs. Graduates completing a program with Hill College will be able to identified and communicate program specific marketable skills to area employers as they pursue a career. Students need to be aware of the marketable skills affiliated with their programs (highlighted below). These skills include interpersonal, cognitive, and applied skill areas that are valued by employers, and are primary or complementary to a major.
Ten Marketable Skills
| | |
| --- | --- |
| Communication | the process of transmitting information and ideas from one individual or group to another, verbally or through writing. |
| Critical Thinking | the intellectually disciplined process of actively and skillfully conceptualizing, applying, analyzing, synthesizing, and/or evaluating information gathered from, or generated by, observation, experience, reflection, reasoning, or communication, as a guide to belief and action. |
| Teamwork | willingness to be a part of a group of persons in a cooperative or coordinated effort in the interests of a common cause. |
| Adaptability | the ability to be flexible and adapt to changing conditions. |
| Work Ethic | a set of values centered on the importance of doing work and reflected especially in a desire or determination to work hard. |
| Continued Learning | the ability to continually develop and improve one's skills and knowledge in order to perform effectively. |
| Social Skills | skills used to communicate and interact with other people, both individually and in groups, verbally and non-verbally, through gestures, body language and our personal appearance. |
| Time Management | the process of organizing and planning how to divide your time between specific activities. |
| Analytical Thinking | the ability to solve problems quickly and effectively through a methodical step-by-step approach that breaks down complex problems into single and manageable components. |
| Cultural Competency | the ability to understand, communicate with, and effectively interact with people across cultures. |
GRADUATES WILL BE ABLE TO:

Communicate ideas and information effectively both orally and in writing.
Demonstrate critical thinking as a foundation for decision making.
Demonstrate an understanding of professional and ethical responsibility.
Display knowledge of basic computer skills.
Show proficiency in typing/keyboarding skills.
Perform math/accounting skills.
Apply other advanced computer skills.
Demonstrate proper English/grammar skills (writing, spelling and correspondence)
Helen Rose
Instructor
hrose@hillcollege.edu
254.659.7912
Medical Office Asst. Education Plan
MASTER SYLLABI
COURSE SYLLABI
---