News
Hill College Vocational Nursing program ranked #15 in the state of Texas
03.03.17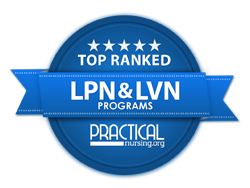 HILLSBORO, TEXAS--Hill College's vocational nursing program ranked #15 LVN (licensed vocational nursing) in the state of Texas by PracticalNursing.org.

http://www.practicalnursing.org/lvn-programs/texas

 LVN programs were assessed on several factors which represent how well a program supports students toward licensure and beyond. Past and present NCLEX-PN "pass-rates" are reviewed and weighted by year. To learn more about the methodology used visit http://www.practicalnursing.org/lvn-lpn-ranking-methodology  

 The NCLEX-PN exam is used by state boards of nursing around the country for testing proficiency and granting licensure. Many state boards of nursing use the combined NCLEX-PN exam pass rates for each school as one of the primary ways to approve or deny a school's ability to provide practical and vocational nursing education. PraticalNursing.org has determined NCLEX-PN rates is one of the best ways to know how well a school is preparing their students for a career in practical nursing.

 The application deadline for the Hill College Nursing program at the Johnson County Campus in Cleburne is June 1 for classes that begin in August. For information or questions, contact Julie Britton, health sciences administrative assistant, at jbritton@hillcollege.edu or (817)760-5921

 The next start date for the Hillsboro Campus nursing classes is January 2018 and the application deadline is November 1. For more information, or with questions about the Hillsboro nursing classes, contact Teresa Palinkas, instruction administrative assistant at tpalinkas@hillcollege.edu or call (254)659-7920.

Visit the Hill College website to learn more about the program and to apply for admission at http://www.hillcollege.edu/academics/Technical/Health_Sciences/Nursing/Vocational.html.