News
Hill College inks deal with Texas Tech University
04.04.16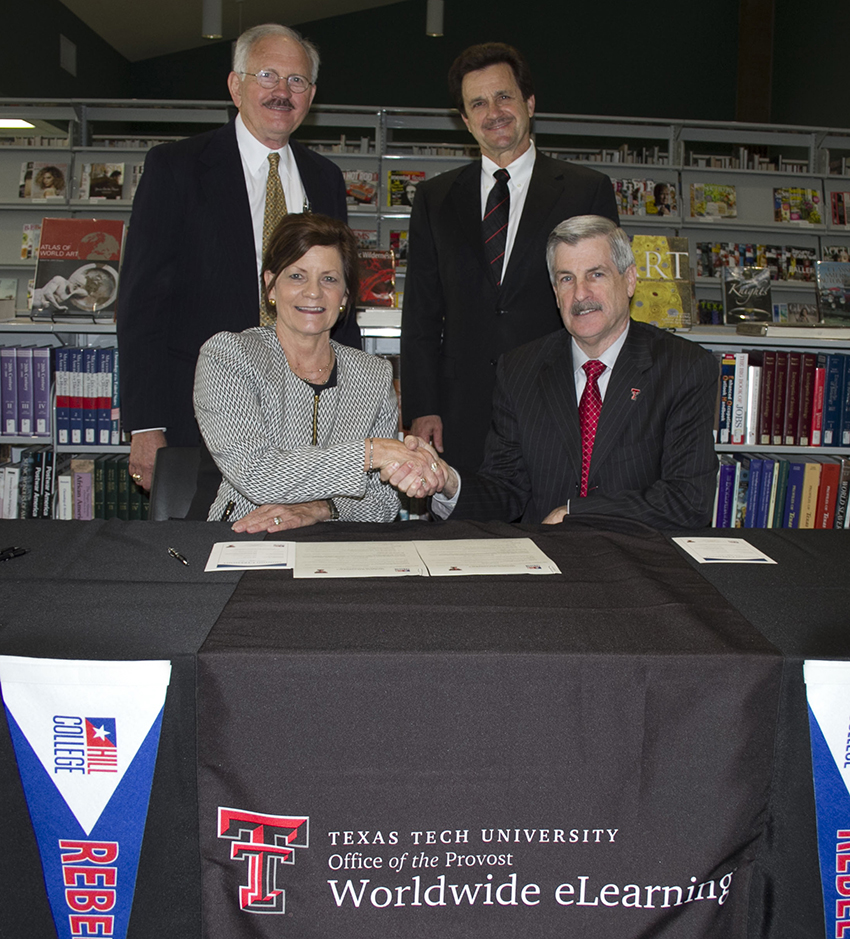 Presidents at both Hill College and Texas Tech University participated in a special signing ceremony on April 1 that will allow students an opportunity to earn a bachelor's degree from Texas Tech at the Johnson County Campus in Cleburne.
Texas Tech will begin by offering two bachelor's degrees: Bachelor's in Human Sciences and Bachelor's in Applied Arts and Science in Leadership. Additional degree programs will be added as the program grows, officials said.
"We are excited to welcome Texas Tech University as one of our premiere partners in higher education," Hill College President Dr. Pam Boehm said. "This partnership will allow students from our service area the opportunity to earn a four-year degree while remaining close to home."
Dr. Boehm also said both of Texas Tech's proposed bachelor's degree plans are scheduled to begin as early as fall 2016.
"Partnering with Hill College further expands Texas Tech University's reach across the state of Texas and provides the opportunity to earn a four-year degree for prospective students in this area," Texas Tech University Interim President Dr. John Opperman said. "We are proud to collaborate with Hill College on this venture and appreciate the support and recognition of the importance of extending higher education opportunities to the citizens of Texas."
Students at Hill College who are interested in one of the Texas Tech degree plans are encouraged to meet with a Texas Tech adviser between their freshman and sophomore years.  However, Texas Tech can take up to 72 hours in transfer credit toward a bachelor's degree, according to University policy.
Hill College students will have an opportunity to earn one of many Texas Tech Transfer Scholarships once they become eligible with a minimum of 30 transferable hours.
Texas Tech also offers Transfer Scholarships to students transferring from community colleges based on official transcripts submitted to the Office of Admissions and apply to fall and spring terms.
Hill College serves more than 4,000 students annually at its Hill County Campus, Johnson County Campus, Burleson Center, Glen Rose Center and Meridian Center. Hill College is also a partner to business, government and industry, providing customized training and work force development.
Texas Tech University, founded in 1923, is located in Lubbock. The university houses the colleges of Architecture, Arts & Sciences, Agricultural Sciences & Natural Resources, Business (Rawls), Education, Engineering (Whitacre), Human Sciences, Media & Communication, and Visual & Performing Arts along with the Graduate School, Honors College and School of Law. The university is composed of more than 28,600 undergraduate, 5,800 graduate and 600 law students. Annually, total research expenditures exceed $145 million. The Carnegie Foundation classifies Texas Tech University as a RU/H: Research Universities (high research activity).
----------------------------------------------------------------
Pictured (front, from left) Hill College President Dr. Pam Boehm and Texas Tech Interim President Dr. John Opperman ink their signatures on a partnership that will allow Texas Tech to begin providing a few bachelor's degrees to students at the Hill College – Johnson County Campus in Cleburne beginning in the fall of 2016. Also pictured (back, from left) are Mr. David Teel, Hill College Board of Regents President; and Dr. Lawrence Schovanec, Texas Tech Provost and Senior Vice President (courtesy photo / SAVANNAH TRANTHAM).