News
Hill College Performing Arts Series season concludes with the a cappella sounds of The Voices of Fort Worth Thursday, March 30
03.27.17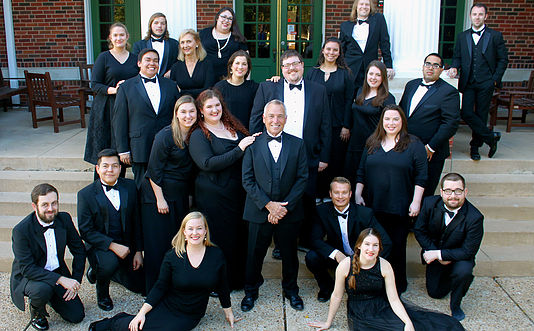 HILLSBORO, TEXAS---For several years the music departments of Hill College and Texas Wesleyan University (TWU) have shared a special connection, as many music majors from Hill have gone on to complete their degrees at TWU. Four former students are currently completing degrees at the university and performing in their wind ensemble. The chairman of the music department at TWU, Dr. Jerome M. Bierschenk, envisioned a unique a cappella vocal ensemble for the Fort Worth area, eventually realizing this vision when The Voices of Fort Worth gave its first public performance in 2012. The ensemble will bring their unique vocal sound to the Hill College stage on Thursday, March 30, at 7:30 p.m. at the Hill College Performing Arts Center in Hillsboro.
Dr. Bierschenk has been a music educator in Texas for over 30 years. After receiving his bachelor's degree of music, he worked in instrumental music education in the Austin, Birdville and Weatherford districts, eventually assuming the post of coordinator of music for the Weatherford district. As his interest in choral conducting began to emerge, he pursued advanced degrees at The University of North Texas, receiving both a master's degree of music education and a doctorate degree of musical arts in choral conducting. He then served as Artistic Director for the Texas Boys Choir and director of fine arts for the Fort Worth Academy of Fine Arts, before beginning his tenure at Texas Wesleyan University in 2007, and ascending to the role of chairman in 2014. Dr. Bierschenk continues to be professionally active as a performer on trumpet and as a tenor soloist.
Voices is a community ensemble, not associated with TWU, that specializes in a cappella literature of all eras, from Renaissance to the most current compositions. While the members come from varied backgrounds, all are highly skilled musicians who faithfully produce "the full spectrum of vocal colors ranging from the most intense and dramatic dissonance to the most palliative and soothing consonance." The current ensemble includes yet another Hill College music alumnus who now works at Texas Wesleyan, Ms. Adrian Bumgarner. Adrian was an exceptional student while at Hill, receiving numerous honors, including Student Citizen of the Year, presented by the Hill College Chamber of Commerce upon her graduation in May 2010.

As always, this performance is provided to the community free of charge thanks to the generosity of Hill College and community donors, and will take place in the Vara Martin Daniel Performing Arts Center, just behind the Texas Heritage Museum on the Hillsboro Campus. Tickets are not required and seating is available on a first-come, first-served basis. A reception will follow the performance, hosted by the Hillsboro Sesame Club.

To support the Hill College Performing Arts Series, gifts of $100 are noted as a benefactor, a gift of $50 is recognized as a sustainer, a $25 gift is recognized as a patron, supporters are gifts of $10. Also, for a donation of $1,000 or more you can become a lifetime benefactor. Names of all donors appear in each program. Send donations to: Hill College Music Dept., Attention: Phillip Lowe, 112 Lamar Dr., Hillsboro, TX, 76645.

For more information on the performers and performances and to view promotional videos of each group, visit the Hill College website http://www.hillcollege.edu/academics/Traditional/PerformingArts/PAEvents/PA_Series.html. To be added to the series mailing list, email Phillip Lowe at plowe@hillcollege.edu.