News
Hill College Hosts 12th Annual Teen Forum Event, 10 HISD seniors receive $1,000 scholarship
04.18.17
HILLSBORO, TEXAS--Ten seniors from Hillsboro High School were awarded $1,000 scholarships through Hill College's Teen Forum program.
After being welcomed by Hill College President Dr. Pam Boehm, Teen Forum members had the opportunity to ask faculty and staff members questions about Hill College, and were then presented with their scholarships.
Scholarships were awarded to: Mattison Baxter, Michael Baze, Kierstyn Buxkemper, Christopher Jackson, Jadan Lewis, Jordan Lewis, Juan Mendoza, Taylor Nagao, Alejandro Perez, and Benjamin Wilson.
The staff panel included: Dr. Pam Boehm, Hill College president; Rex Parcells, vice president of instruction; Lizza Trenkle, vice president of student services; Lori Moseley, dean of health sciences; Scott Nalley, associate dean of students; Kathleen Pustejovsky, director of student information services; Andrew Jemison, director of student activities; Noelle Barnes, director of academic advising & success center; Traci Brown, academic success coordinator.
Hill College Teen Forum was formed in collaboration with Hillsboro Independent School District in 2005. Hill College President Dr. Pam Boehm has been involved since the Forum's inception in her role as vice president of student services. The goal of the Teen Forum program is to enhance and develop the knowledge of Hillsboro high school seniors in their pursuit of their goal to attend college, specifically Hill College, and provide them with a scholarship opportunity.
The HISD College Knowledge program has championed the Teen Forum program from the beginning. Each year ten HISD seniors are selected to participate as the Hill College Teen Forum candidates based on recommendations of HISD teachers and counselors.
Candidates complete a Teen Forum application and are required to attend a meeting with their parent's permission. At the meeting, candidates are given a questionnaire, which they take back to school to poll fellow high school students to develop a list of questions in preparation for Teen Forum.
The Teen Forum event is held each spring at Hill College at the Hillsboro Campus where the candidates attend a special lunch and participate in a question and answer forum with Hill College faculty and staff. A campus tour is also provided. Additionally, students prepare prior to the Teen Forum event by learning about appropriate business conduct and attire.
All ten Teen Forum attendees receive a $1,000 scholarship to attend Hill College the following year. Since the program's inception, 84 students have used the scholarship to attend Hill College.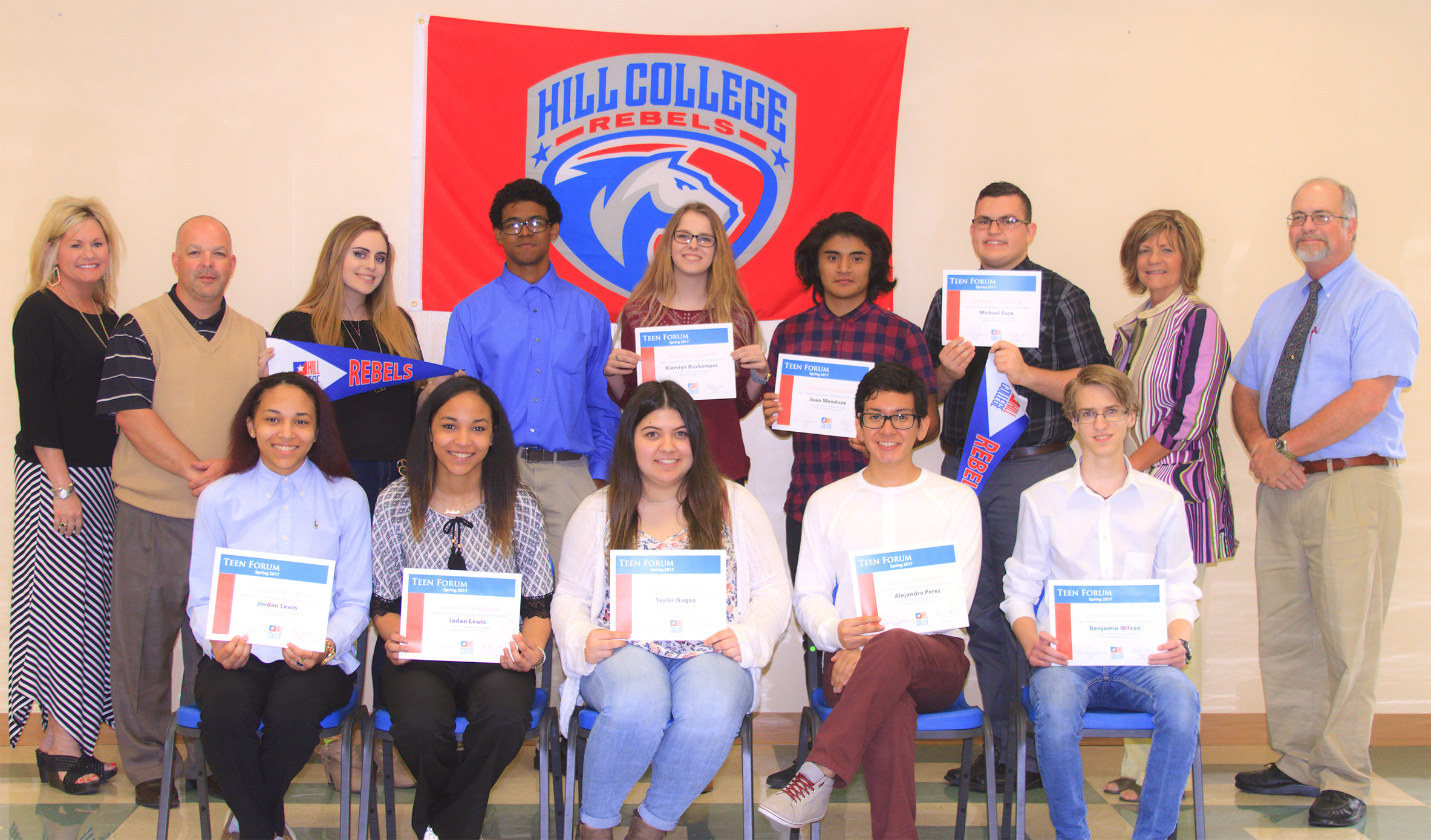 ###
Group Photo Cutline:
2017 Hill College Teen Forum Scholarship Recipients with HISD and Hill College representatives
Back row standing L to R: Karen Schroeder, Hillsboro Independent School District (HISD) counselor; Keith Hannah, HISD principal; Mattison Baxter, Christopher Jackson, Kierstyn Buxkempter, Juan Mendoza, Michael Blaze, Hill College President Dr. Pam Boehm; Ed Sumrall, HISD counselor.
Front row seated L to R: Jordan Lewis, Jadan Lewis, Taylor Nagao, Alejandro Perez and Benjamin Wilson.