News
Hill College Professional Development Day leads to partnership with Layland Museum--21 students volunteered nearly 170 hours
05.31.17
CLEBURNE, TEXAS--In January, the Hill College Arts and Humanities Department and External Affairs Department held an Interactive Professional Development Day, visiting a number of historic sites and museums in Cleburne, including the historic Layland Museum of History. Their visit to the Layland Museum has resulted in a partnership between the Museum and Hill College.
"Faculty were able to engage students this semester, by expanding the classroom beyond the traditional college classroom setting," remarked Nancy McKenzie, dean of arts and humanities department during the Professional Development Day.
This spring the Layland Museum opened its doors to Hill College students who wanted to complete service learning hours. Twenty-one students volunteered at the museum, completing a total of 169 service learning hours in the spring 2017 semester. 
"For a small museum, that kind of help makes a remarkable difference in what we can accomplish," states Jessica Baber, Layland Museum manager.  
This year students primarily worked on scanning a photograph collection. They were able to digitize over 5,000 photos, which is ten times the amount the museum hoped to be able to finish this year. The museum's photography collection encompasses over 100 years of Johnson County's history.
"Thank you so much to those students who came to help us, to the professors who saw how beneficial it could be and to Hill College for being willing to partner with local organizations! We hope that each student left with an introduction to museum work and an understanding of the importance of preserving history for future generations," Baber said.   
Nancy Wylie Holland, executive director of community relations added, "It is amazing what happens when people open their minds and hearts to the opportunities available in their own backyard." 
The Layland Museum is located at 201 N. Caddo Street in Cleburne and is open Tuesday through Friday from 10 a.m. until 5 p.m. and Saturday from 10 a.m. to 4 p.m.
###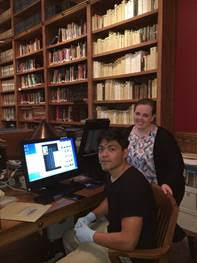 First photo cutline:
Hill College student Armando Jordan, from Keene with Jessica Baber, Layland Museum manage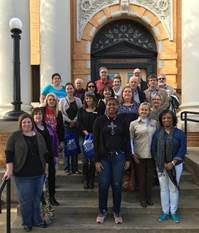 Second photo cutline:
Hill College Arts and Humanities Department faculty and External Affairs Department staff at the Layland Museum for Professional Development Day.