News
Hill College Echocardiography Program receives $10,000 ultrasound equipment gift
06.26.17
CLEBURNE, TEXAS—CV Sales representative Kirk Foate recently donated a Philips Sonos 5500 Ultrasound system to the Hill College Echocardiography program. This new system is an additional asset for Hill College student's hands-on learning experience. This new equipment is an upgrade of equipment, adding networking capabilities and quantitative features for instruction. Total gift is valued at $10,800.
Mr. Foate worked on the existing machines as a part of a service contract, helping maintain the College's ultrasound equipment. "We are so grateful for the wonderful donation of an ultrasound machine, given by Mr. Foate that provides our machine maintenance," said Darla Whitehead, Echocardiography instructor.
This new ultrasound machine is similar to the equipment already in the lab, so students are familiar with how to use it. "Our students have had the opportunity to be able to all scan at the same time, without having to wait for a machine. This makes our lab time so much more productive," said Whitehead.
"We have a great group of talented students this year and any time we can benefit them with more actual hands-on scan time, the better prepared they are going to be," said Whitehead.
The Hill College Echocardiography Program is a two-year course of study, leading to an associate of applied science degree in Echocardiography Technology. It prepares students to enter the workforce as an echocardiography technician producing echocardiograms. An echocardiogram is a painless, noninvasive procedure using ultrasound waves to create pictures and take measurements of the inside of a person's heart.
The Hill College program is comprehensive through the teaching of scanning skills, pathophysiology, cardiovascular pharmacology and all the skills and knowledge necessary to become a registered cardiac sonographer. In addition to the hands-on training and an option enhanced skills certificate is available. The program is offered at the Hill College Johnson Co. Campus in Cleburne. In 2016, the students had a 100 percent pass rate on the national credentialing exam.
The program also includes more than 900 hours of clinical work performed at hospitals and clinics. The coursework includes; basic ultrasound physics, cardiovascular pharmacology, echocardiographic evaluation of pathology, anatomy and physiology, to mention a few, and, of course, clinical experience.
For more information about the program, and to apply by the application deadline of November, visit the following link http://www.hillcollege.edu/academics/Technical/Health_Sciences/Echocardiography.html. Even though the application deadline is several months away, starting the admission process now is strongly suggested. Classes begin January 2018. Contact Echocardiography Program Director Julie Britain at 817.760.5936 or jbritain@hillcollege.edu.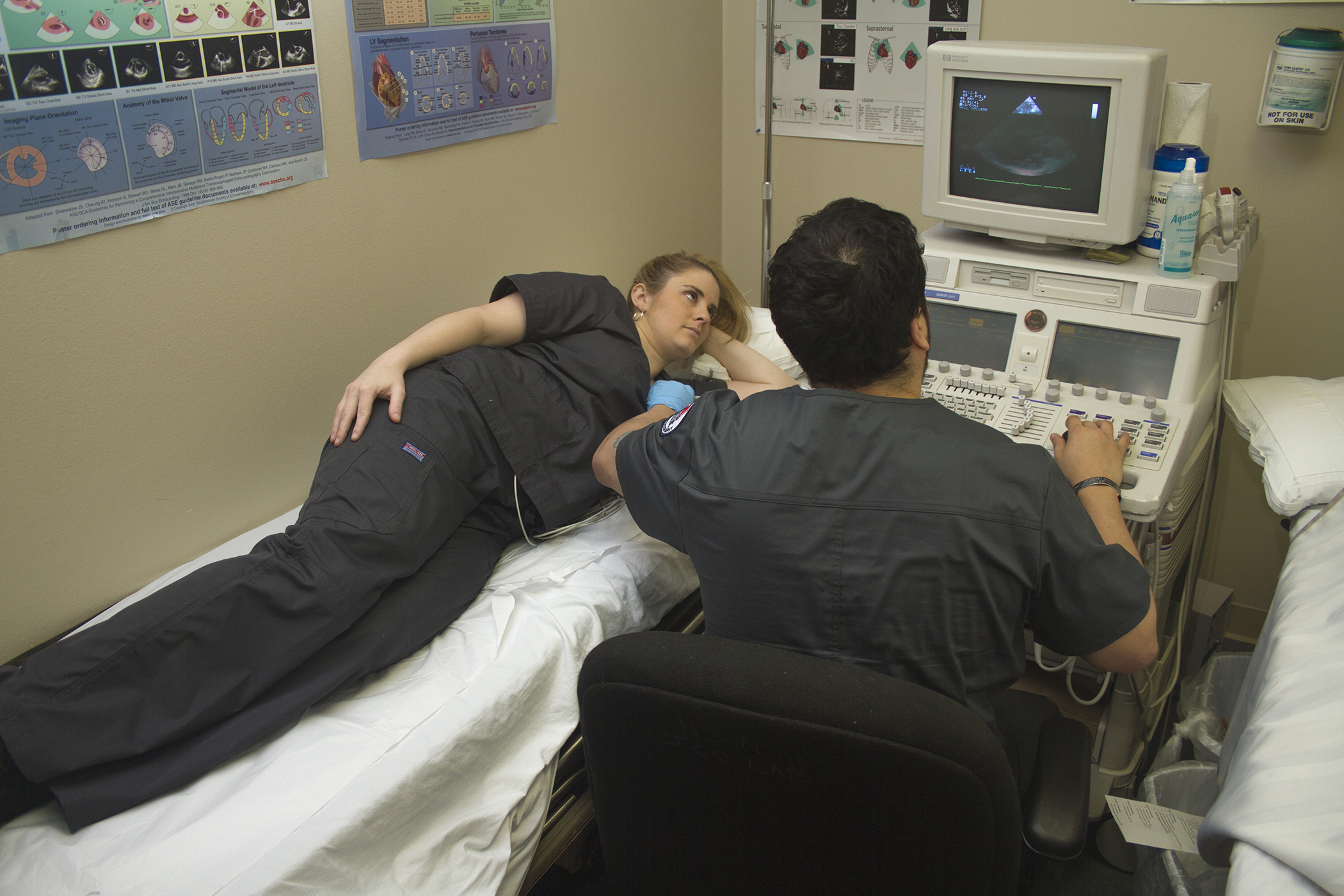 ###
Cutline: Hill College echocardiography student Pedro Rubio Jr. of Cleburne uses new scanning equipment on student Kathleen Metcalf, also from Cleburne.