News
Hill College welcomes 80 new freshmen to the second class of Burleson Collegiate High School
08.15.17
BURLESON, TEXAS—Representatives of Hill College and Burleson Collegiate High School (BCHS) Principal Rexanne Higgins welcomed 80 new freshmen students to the BCHS program Monday, Aug. 7, for orientation.
Ray Roberts, Hill College Burleson Center Manager, reminded the students to take one step at a time in their educational journey. "A mile's a trial, a yard is hard, but an inch is a cinch," said Roberts. Preston McReynolds, director of development, and Gabby Barcenas, coordinator of development, were also on hand to welcome the students and distribute Hill College promotional items.
The 80 new students are coming from several area junior high schools including Kurr, Hughes, STEAM, Lake Worth, Laughlin, Boulevard Baptist, as well as a few students who have been homeschooled and even one who recently moved from California.
Freshmen will be taking music appreciation and public speaking dual credit college classes. Sophomores have already completed seven credit hours of college courses and will take Spanish 2 and public speaking along with their other high school courses this year. By junior and senior year, most BCHS student will take up to 12 credit hours of college course work in a semester. The goal for these students is to graduate with an associate degree from Hill College by high school graduation, and then transfer to a four-year college or university.
In 2016 Hill College, Burleson ISD, and the city of Burleson embarked on a unique partnership to create Johnson County's first Early College High School. The Burleson Collegiate High School opened its doors in August 2016, with nearly 75 freshmen students enrolled, now over 70 of them are continuing on to their second year at BCHS.
The early college high school model fully integrates the high school and college experience. Rigorous high school and college courses are taught by high school teachers and Hill College instructors. Students are able to tackle college-level coursework through high levels of support, encouragement, and their own self-determination.
The early collegiate high school students are provided unique opportunities as each class visits local and regional colleges and universities, have access to college resources and are able to participate in college forums and symposiums. Additionally, they have the opportunity to participate in extracurricular activities including intramural sports, student council, year book and student clubs.
To apply for the Burleson Collegiate High School students must reside in the Burleson ISD. Applications are available online or in the high school counselor's office.
###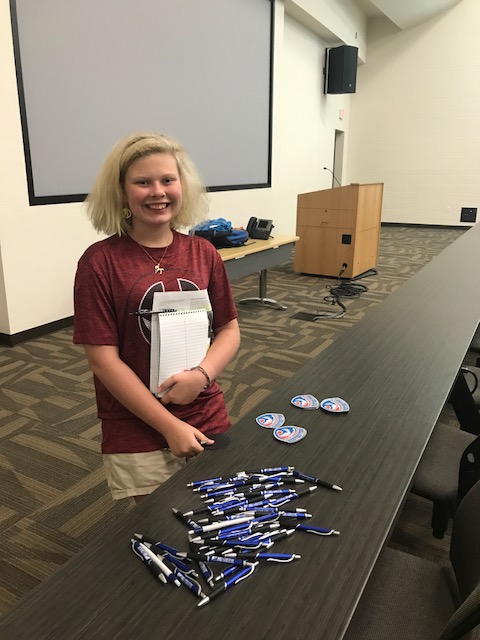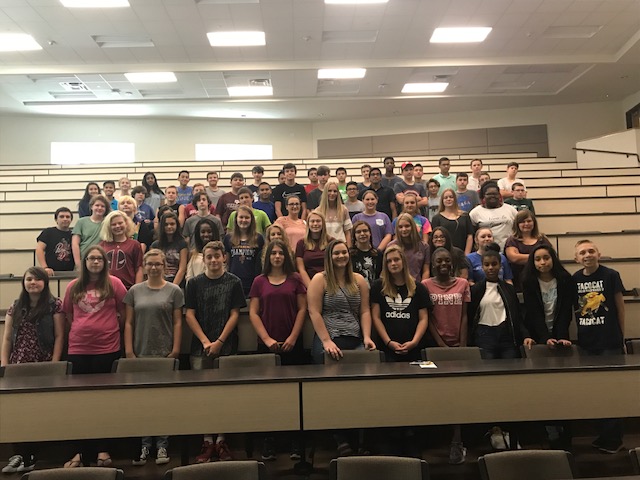 Photo Cutlines:
Sierra Behrens-Klotthor, a freshman, who recently moved to the area from California, is picking up her Hill College swag.
Burleson Collegiate High School freshmen class at orientation.