News
Hill College hosts 400 students for the Lake Whitney FFA District leadership development event
11.13.17
Nearly 400 high school students from local school FFA (Future Farmers of America) chapters were hosted at Hill College by the Agriculture department Wednesday, Nov. 8, for the Lake Whitney FFA District leadership development event. The students had the opportunity to compete in any of the following 13 speaking contests: ag advocacy, ag issues, green hand chapter conducting, public relations, senior chapter conducting, senior skills, green hand creed, green hand quiz, green hand skills, job interview, radio broadcasting, senior creed and senior quiz. 
The top two students in each category from this district contest will be presented with awards and will move on to the area contest, which will be held at Robinson High School in Waco Nov. 18.
Four of the district officers, all vice presidents, talked about their FFA experiences. Their role at the district contest is to compete in the contests if they choose, but additionally it is their job to keep the mood up and make sure everyone is having fun.
When asked about what he has gained from FFA, Quinn Dobbins, a senior at Burleson High School, said, "I could fill a 1,000 pages what it means to be in FFA. It means to do everything to the best of my ability." 
Kerri Marbut, a senior at Alvarado High School, said, "It has really built up my work ethic and I've really learned what responsibility is." She competed in the senior skills contest. In her presentation she teaches how to sharpen and use a twist drill bit.
Emma Crabtree, a junior at Glen Rose High School said, "It has opened a lot of doors for me, it has allowed me to get out of my comfort zone and do some really amazing things along with great people. I got to play in the FFA Band this year at the national convention and that was an amazing experience."
The area schools who make up the Lake Whitney FFA District include: Abbott, Alvarado, Aquilla, Blum, Burleson, Burleson Centennial, Bynum, Cleburne, Covington, Glen Rose, Godley, Granbury, Grandview, Hillsboro, Hubbard, Itasca, Joshua, Lipan, Mt. Calm, North Central Texas Academy, Penelope, Tolar, Venus, and Whitney.
###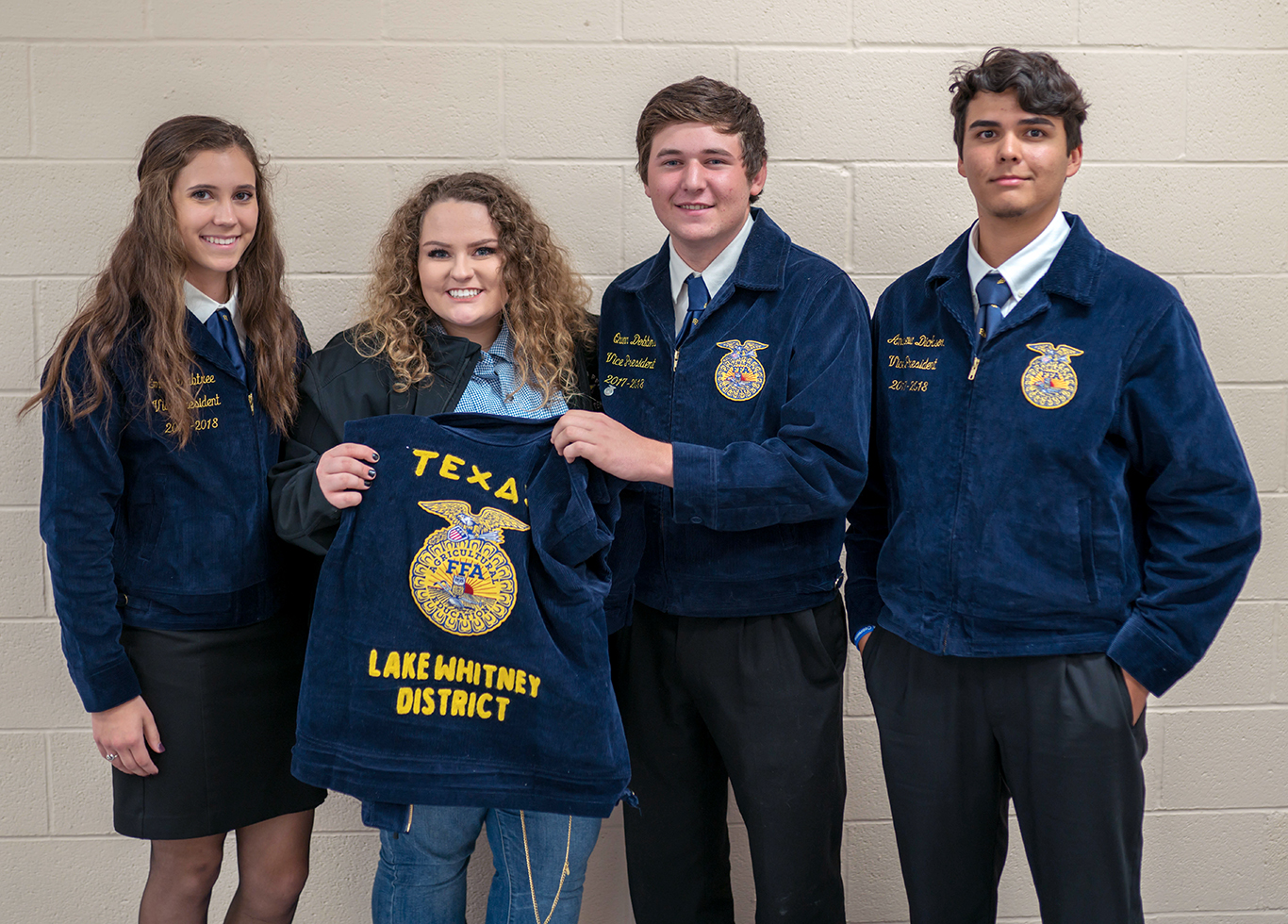 L-R: FFA Vice Presidents pose for a picture with their FFA Lake Whitney District jackets which is considered part of their official dress code. Emma Crabtree, junior at Glen Rose High School, Kerri Marbut, senior at Alvarado High School; Quinn Dobbins, senior at Burleson High School; and Andrew Dickson, junior at Mt. Calm High School.