News
Hill College hosts North Texas Community College Consortium Faculty Innovation Conference
11.13.17
Hill College hosted the North Texas Community College Consortium's (NTCCC) Faculty Innovation Conference Nov. 3, 2017, at the HILCO Civic and Event Center in Itasca. The conference theme was "Inspiring Ideas: Innovative Strategies to Facilitate Student Engagement and Success." Hill College President and NTCCC board chair, Dr. Pam Boehm, welcomed the conference attendees. Dean of Arts and Humanities Nancy McKenzie introduced the keynote speaker, Steve Teske, research consultant with Education Advisory Board's Academic Affairs Forum. He spoke about integrating academic and career development: strategies to scale experiential learning and reflection across the curriculum.
Four Hill College faculty and staff members led conference sessions called lightning rounds—practical teaching tips and tricks about an array of unique and innovative techniques they have implemented into their teaching at Hill College. Kathleen Miller, history instructor, led a session on transitioning from using traditional textbooks to using the Open Stax program. Paula Curbo, biology instructor and program coordinator, led a session titled, "What are Learning Labs and How Do They Help Students and Faculty?" Dottie Love, computer graphics instructor, lead a session titled, "How I Teach Online Without Losing My Mind." Rosalyn Hunter, science lab specialist, presented how using stories aids in student retention. She discussed and practiced using stories to make technical subject facts more relevant and interesting to students. 
Joanne Baham, Hill College program coordinator and instructor of child care and development, presented with Navarro College's child & family development associate professor, Lisa Taylor Cook, about using online communities of practice to support student engagement. Child Development Department online communities provide a forum for students and faculty to share and collaborate across the courses within the department and provide resource connections to the college, the industry, and alumni. Conference attendees learned about the need for online communities, what elements need to be included and how to use the community to connect students to one another and to local industry.
Elizabeth Hamner, a Hill College psychology instructor, spoke about introducing scientific research in the community college setting. Engaging in scientific research is not only an excellent method for practicing critical thinking skills, but it is also a necessity for science majors. She taught strategies for introducing scientific research in the classroom, discussed implementing a research project, and discussed student learning outcomes for scientific research at the community college level.
The NTCCC is a premier regional network that provides professional development and growth opportunities and consortium-wide activities in institutional planning, research effectiveness for community colleges in North Texas.
###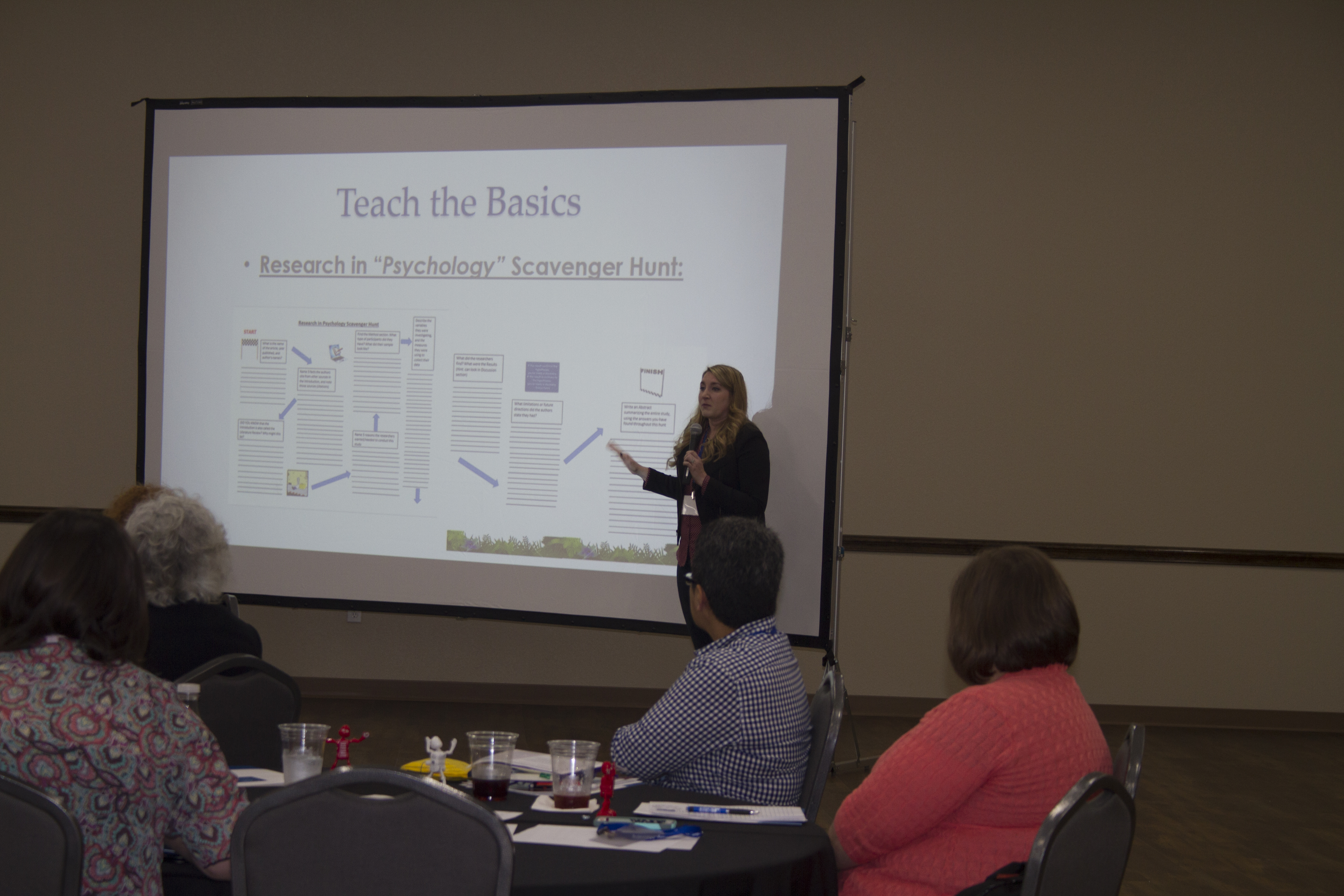 Hill College Psychology Instructor Elizabeth Hamner presenting how she has introduced scientific research in her teaching and classroom activities.