News
Hill College inducts 35 new members in the Phi Theta Kappa honor society
11.17.17
The Hill College Phi Theta Kappa (PTK) Nu Xi Chapter inducted 35 students into the chapter at the fall induction ceremony Nov. 14 at the Johnson County Campus in the Student Center.
The Nu Xi Chapter of Phi Theta Kappa was chartered by Hill College on Nov. 17, 1964. Phi Theta Kappa is the international honorary scholarship society for community and technical colleges. The purposes of the society are to promote scholarship, develop character, and cultivate fellowship among the students of the junior colleges of the U.S.
To be invited to become a member of Phi Theta Kappa, a freshman must have 3.4 GPA; a sophomore must have a 3.2 GPA; the student must be working toward an associate degree, and have the approval of a faculty committee which appraises the qualifications, character and leadership qualities of the student. To remain a member of Phi Theta Kappa, a student must maintain a 3.0 GPA. PTK members have access to over $37 million in scholarship opportunities, and become a part of a network of nearly three million scholars on more than 1,285 campuses worldwide.
Xi Nu faculty advisors are Jennifer Corder, drama instructor, and Jim Williamson, psychology instructor.
2017-2018 officers:
President - Casi Wood 
Vice President - Margaret Raines
Secretary - Hannah Ownby
HCC Representative - Brazos McPeek
JCC Representative - Michaela Sedivy
Burleson Representative - Katherine Vernon 
Phi Theta Kappa Fall 2017 Initiates:
Mikayla Alyse Adams
Angelica Bialczak
Kolbie Blanchard
Carson Carter
Krystal Cavallo
Fen Tao Chen
Carlie Conaway
Telisha Diaz
Angel Durbin
Arren Eaves
Rachel Edwards
Cherish Ferguson
Brianna Frias
Juan Garcia
Angel Griggs
Cheyenne Hope Hall
Dakota Dwayne Hall
Kailee Harris
Holli Hart
Matalin Harwell
Meredith Harwell
Brittany Ivy
Linda Loredo
Melody Lott
Dannielle Marcin
Mark McClung
W. Mark Midkiff
Yesenia Monroy
Allen Pack
Kinsey Jo Ramirez
Lesley Ramirez
Amanda Rio
Carolina Romero
Kennedy Styron
Alexis D. Ward 
###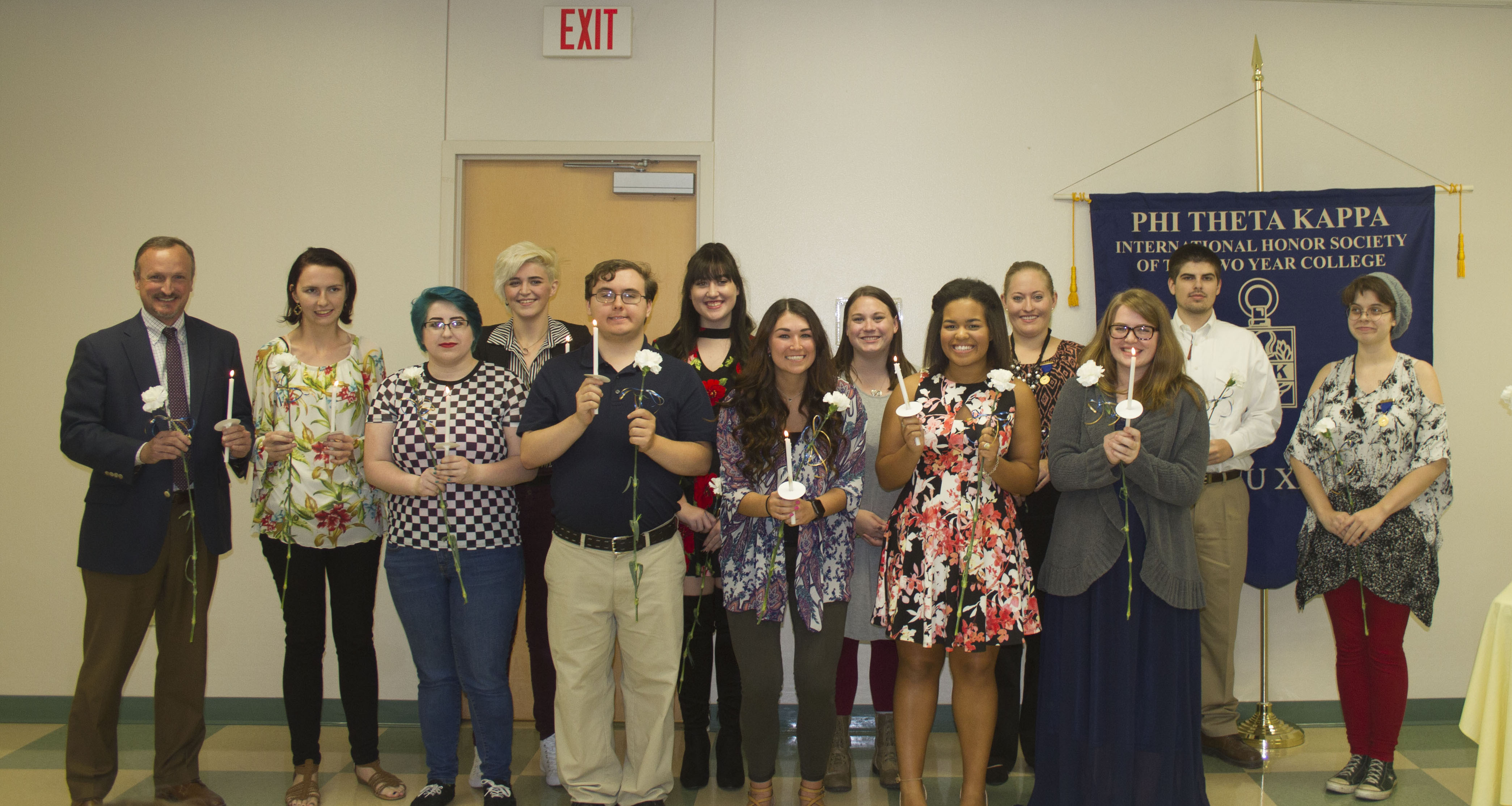 Photo cutline: PTK Nu Xi chapter fall 2017 inducts and recognizes 35 new members and announce chapter officers.