Hill College men's basketball begins a strong 2021-22 season
  Jessyca Brown
  Tuesday, January 25, 2022 10:39 AM
  Athletics
Hillsboro, TX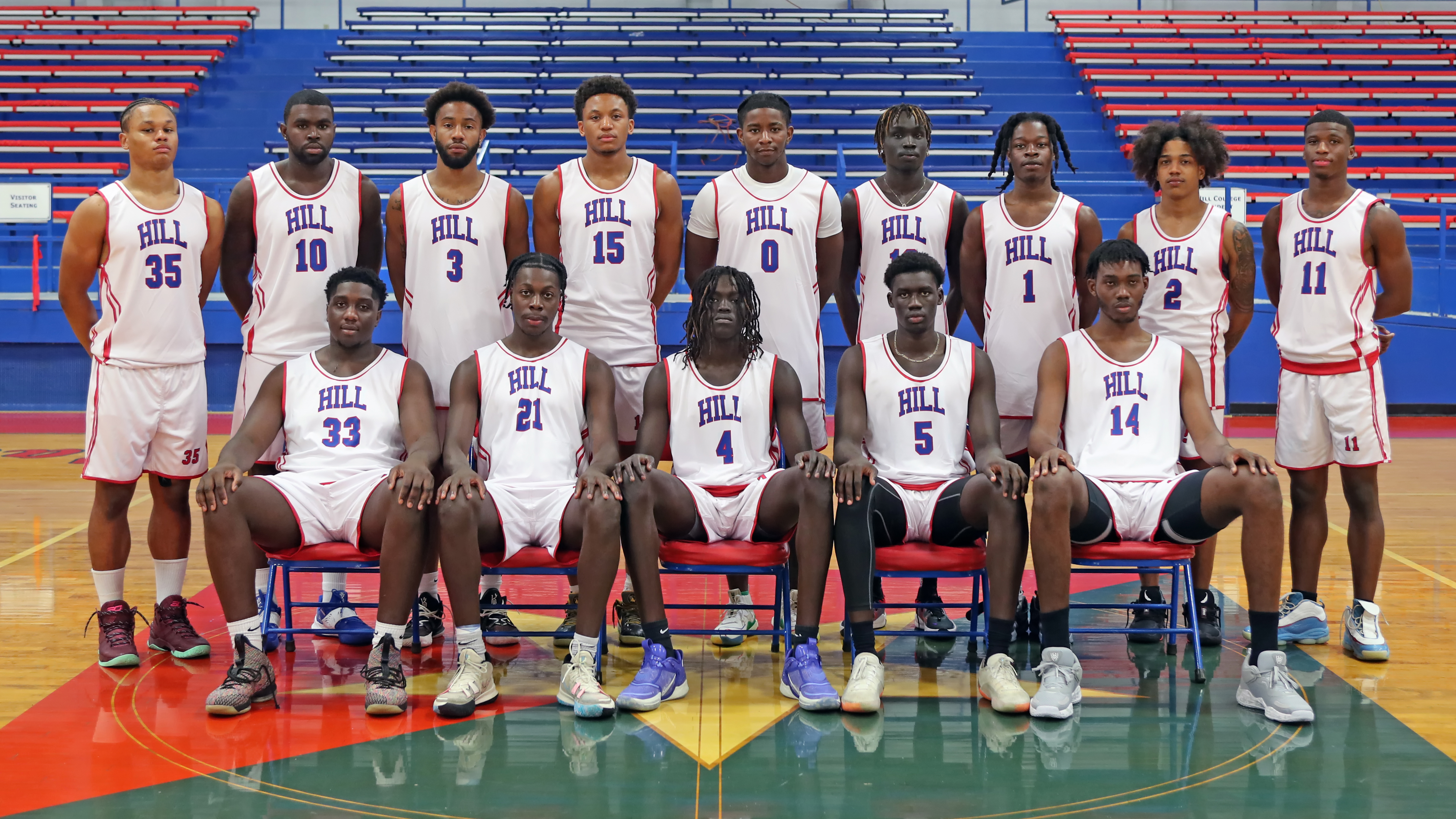 The Hill College men's basketball team has 16 wins under its belt so far for the 2021-22 season. Head coach Swede Trenkle is proud of his team's success and attributes some of its five losses to illnesses and injuries.
"We were hoping to have a couple more wins early in the season," Trenkle said. "We had a few key injuries and guys who got sick during games that we ended up losing."
The men's defense has only given up 69 points this season, and the team is averaging 80 points per game. The Rebels are ranked second nationally in three-pointer percentage with a 41.4 percentage and 10th in field goal percentage with a 51.8 percentage.
Freshman John Buggs is the team's leading scorer with an average of 15.2 points per game and 288 points this season. Buggs is returning to the court after sitting out the last two seasons of college basketball due to knee injuries.
"John is having a very solid year," said Trenkle. "It is really nice to see him having some success. He is a great young man who works very hard in the classroom and on the court."
Sophomore Chuol Deng leads the team with 171 rebounds, and sophomore Hanniel Ouattara is the team's leading blocker with 24 blocks this season.
This year the Rebels are stacked with sophomores, featuring only one true freshman (Muhamed Kante), due to many players receiving another year of play because of COVID.
"We are very lucky that we only have one freshman on the team," Trenkle said. "Most of them played last year, and the sophomores are all in their third year of college. This has been a great benefit making us older and more mature."
With nine challenging remaining games left, Trenkle said the key to winning is staying healthy.
"Our league is very tough, and all teams are very talented," he said. "I think that there will not be an easy win at all in our remaining games. This is the toughest top to bottom our league has been in a long time. In order to win the rest of the season, we will need to stay healthy and continue to improve defensively."
The team is 4-1 in conference play and will play their next conference games back-to-back at No. 10 Collin on Wednesday, Jan. 26, and at McLennan on Thursday, Jan. 27. The next home game is Feb. 5 versus McLennan.
"I think this team is very exciting to watch play," said Trenkle. "They play together and play very hard on both ends of the floor."
For more information and to view the men's basketball team schedule, please visit www.hillcollege.edu/athletics.
2021-22 Hill College Men's Basketball Roster
No.         NAME                        POSITION            YEAR      HOMETOWN
0            John Buggs                G                        Fr            Homer, LA
1            Muhamed Kante         G                        Fr            Manchester, NH
2            Bryce Latimer            G                        So           Atlanta, GA
3            Josh Noton                G                        So           Mississauga, Canada
4            Gob Gabriel               G                        So           Manchester, NH
5            Chuol Deng               F                         Fr            Salt Lake City, UT
10          Raschard Green         F                         Fr            Nassau, Bahamas
11          Ricky Lacy                 G                        Fr            Hewitt, TX
14          Hanniel Ouattara        F                        Fr            Ivory Coast
15          Dylan Mclean             G                        Fr            Atlanta, GA
21          Chris Fetuga              F                         Fr            Tampa, FL
22          Thour Pout                G                         Fr            Amarillo, TX
33          Jamal Fuller              F                          Fr            Ontario, Canada
35          Khalfani Cason          G                         Fr            Durham, NC