Hill College women's basketball 2021-22 season is well underway
  Jessyca Brown
  Tuesday, January 25, 2022 10:32 AM
  Athletics
Hillsboro, TX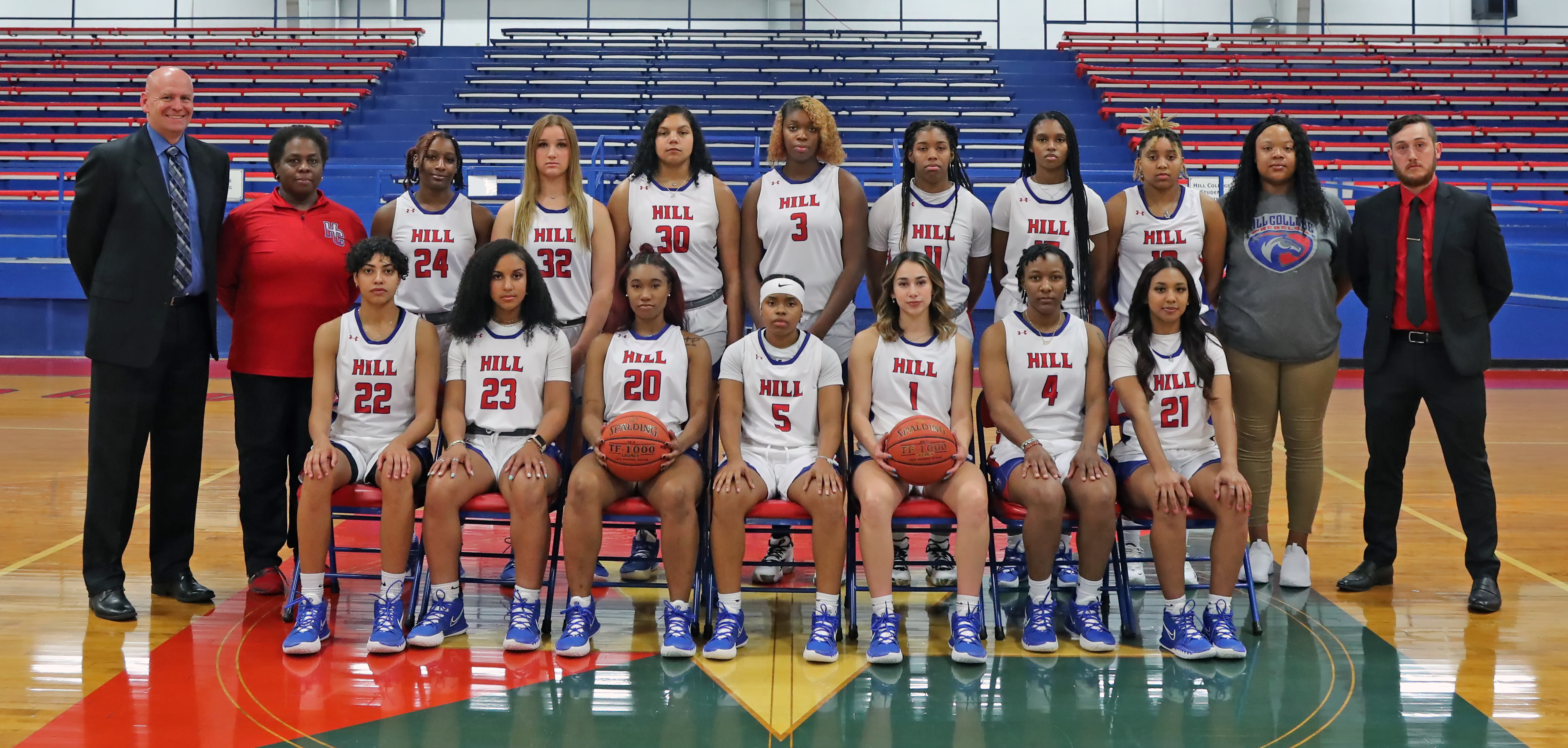 The Hill College women's basketball team is 17 games into its 2021-22 season with a 9-8 overall record. The Lady Rebels started the season with a national pre-season ranking of No. 18 after ending the 2020-21 season with an overall 19-2 record.
"Expectations were high for our program this season coming off maybe the best regular season in program history last year," said head coach, Scott Hyland. "Our pre-season ranking reflected that. However, our post-season performance was not what we wanted, so to better prepare us, we put together maybe the toughest non-conference schedule in the nation."
In their 13 non-conference games to start this season, the Lady Rebels tipped off against several teams that have been or are currently nationally-ranked teams. Four of their seven non-conference losses were to currently ranked teams including No.3 Shelton Community College, No. 4 Trinity Valley Community College, No. 7 Tyler Junior College, and No. 9 Pensacola State College.
Other challenges the Lady Rebels have faced include playing the first half of the season without last season's second in the conference Most Valuable Player due to injury, sophomore Destanee Roblow, and not playing solid defense.
"We are just now starting to show signs of how good we can be offensively," said Hyland. "Without a doubt, this is the most offensive fire-power we have had in my 10 seasons at Hill. However, we have to take more pride in our defense. Once we do, we will be tough to beat."
The Lady Rebels are averaging 75.8 points per game and 44.4 rebounds per game. Freshman Laylah Davis and sophomore Tyquanna Ross are leading the team in points with 200 and 197, respectively. Ross also takes the lead in rebounds with 135 for the season so far. Freshman Brandalyn Rice comes in second with 11 rebounds this season. Rice is also ranked No. 35 nationally with a 55.9 field goal percentage.
Hyland said because the Lady Rebels have a target on their backs in their conference, playing their best every game is the only way to win the rest of the season.
"We are everyone's 'big game,' and we need to be ready to play at our best every night," he said. "The key for us is to be ready every time we step on the floor to play our style—solid full-court defense that creates quick shots and changes of possessions from our opponents and fast scoring opportunities for us."
The team is 2-1 in conference play and has a short break before their next back-to-back conference games at Collin on Wednesday, Jan. 26, and at Southwestern Christian on Thursday, Jan. 27. The Lady Rebels are 6-0 in playing at home this season, with their last home game victory of 69-59 against Ranger College on Jan. 19. The next home game is Jan. 29 versus Cisco, and Hyland said he hopes the stands will be full.
"When we are playing our game we are very exciting to watch, and I encourage everyone to come out and support us," he said. "Over the past six seasons we have been almost unbeatable at home, and our home crowd support has been a huge part of that success."
For more information and the women's basketball team schedule, please visit www.hillcollege.edu/athletics.
2021-22 Hill College Women's Basketball Roster
NO.      NAME                        POSITION            YEAR      HOMETOWN
1         Andreea Mancha         PG                       So           Alvin, TX
3         Destanee Roblow        Post                     So           Teague, TX
4         Jada Williams             W                        So           Arlington, TX
5         Alayia Francis             PG                       Fr            Humble, TX
11       Tyquanna Ross           F                          So           Ennis, TX
12       Shanna Petty             F                          Fr            Houston, TX
15       Jada Howard              F                          Fr            Richmond, TX
20       Skye Thomas             W                         So           San Antonio, TX
21       Kamill Rangle             W                         So           Katy, TX
22       Sydney Nunley           W                         So           Keller, TX
23       Mia Monroe                W                         Fr            Colorado City, TX
24       Laylah Davis              W                         Fr            Saginaw, TX
30       Brandalyn Rice           Post                     Fr            Victoria, TX
32       Kaiden Lemaire          F                          Fr            Lovelady, TX