Hill College women's basketball earns third conference title in four year and advance to NJCAA Region 5 Tournament as top seed
  Jessyca Brown
  Monday, February 28, 2022 3:26 PM
  Athletics
Hillsboro, TX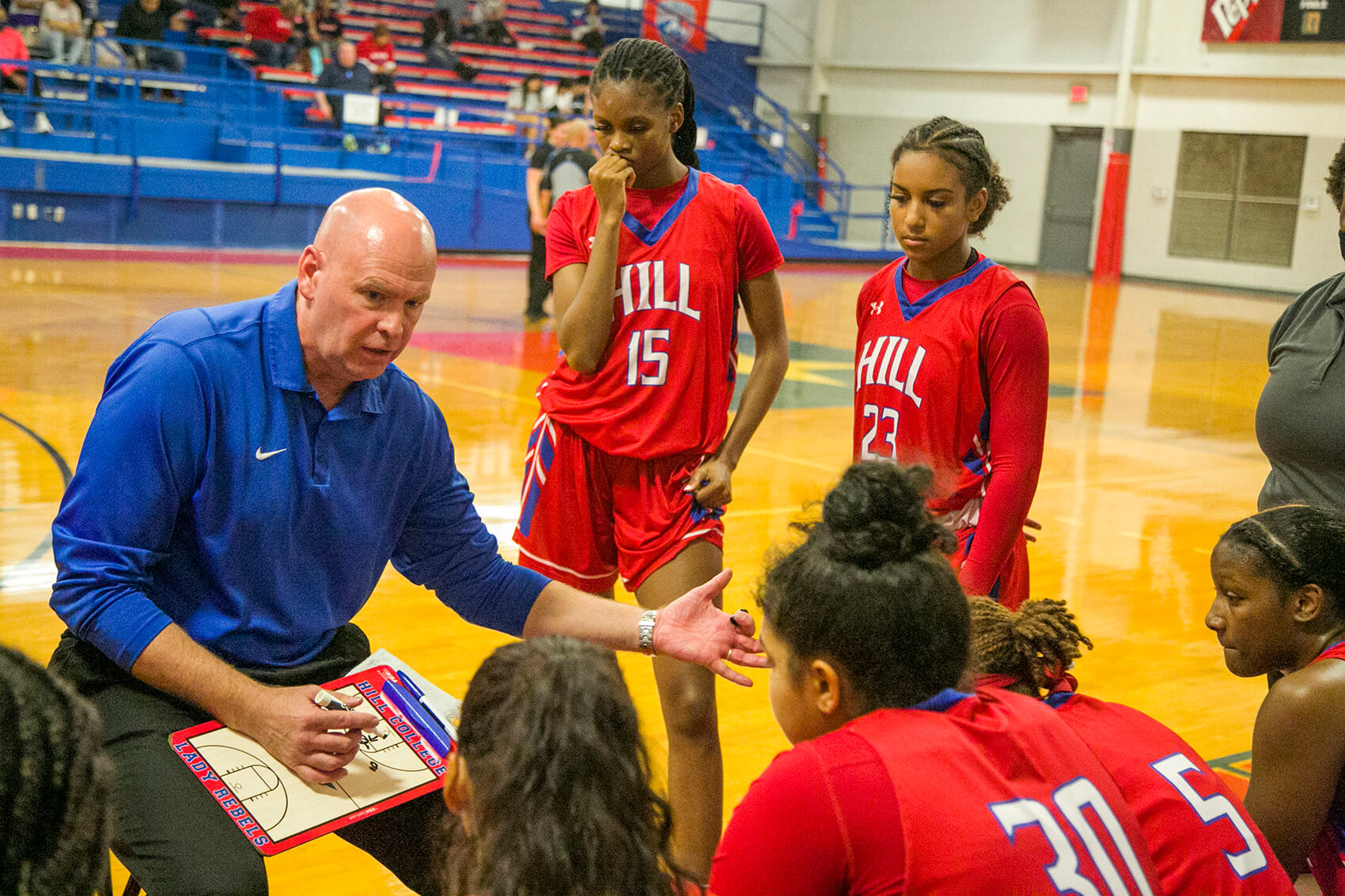 The Hill College women's basketball team looks to continue its dominance by not only finishing at the top of the conference standings, but they will also be competing in the NJCAA Region V Tournament for the seventh consecutive year.
This year's NJCAA Region V Basketball Tournament will be March 2-5 at Frenship High School's Tiger Pit in Lubbock.
"This season has been a struggle with COVID and an incredibly tough schedule," Lady Rebels Head Coach Scott Hyland said. "We definitely earned this conference title with everything we have had to endure.  I am so proud of this group."
Hill College earned its third conference title in four years and second consecutive.  The Lady Rebels are also the No. 1 seed going into this week's regional tournament, and they are set to play Clarendon College Wednesday, March 2 at 1 p.m. in Lubbock.
"Clarendon poses some interesting challenges for us," Hyland said. "They are the best three-point shooting team in the country. If we allow them to dictate tempo and turn it into a half-court game, we could be in trouble."
"Of course, we have no intention of that happening," Hyland added. "We need to stay with our process and make it forty-minutes of full-court basketball."
Hyland, now in his 10th season as the Lady Rebels Head Coach, reached a milestone last season by earning his 300th career win as a head coach.
According to the NJCAA Region V website, the Lady Rebels currently lead the conference in total points, offensive rebounds per game, total rebounds per game and rebound margin per game. As a team, the Lady Rebels are averaging 76.9 points per game.
Current North Texas Junior College Athletic Conference (NTJCAC) leaders from Hill College include freshman post Brandalyn Rice, second in field goal percentage (58.1 percent); sophomore wing Sydney Nunley, fourth in field goal percentage (53.5 percent); sophomore point guard Andreea Mancha, third in three-point percentage (37.3 percent); and freshman wing Laylah Davis, fourth in three-point percentage (36.7 percent).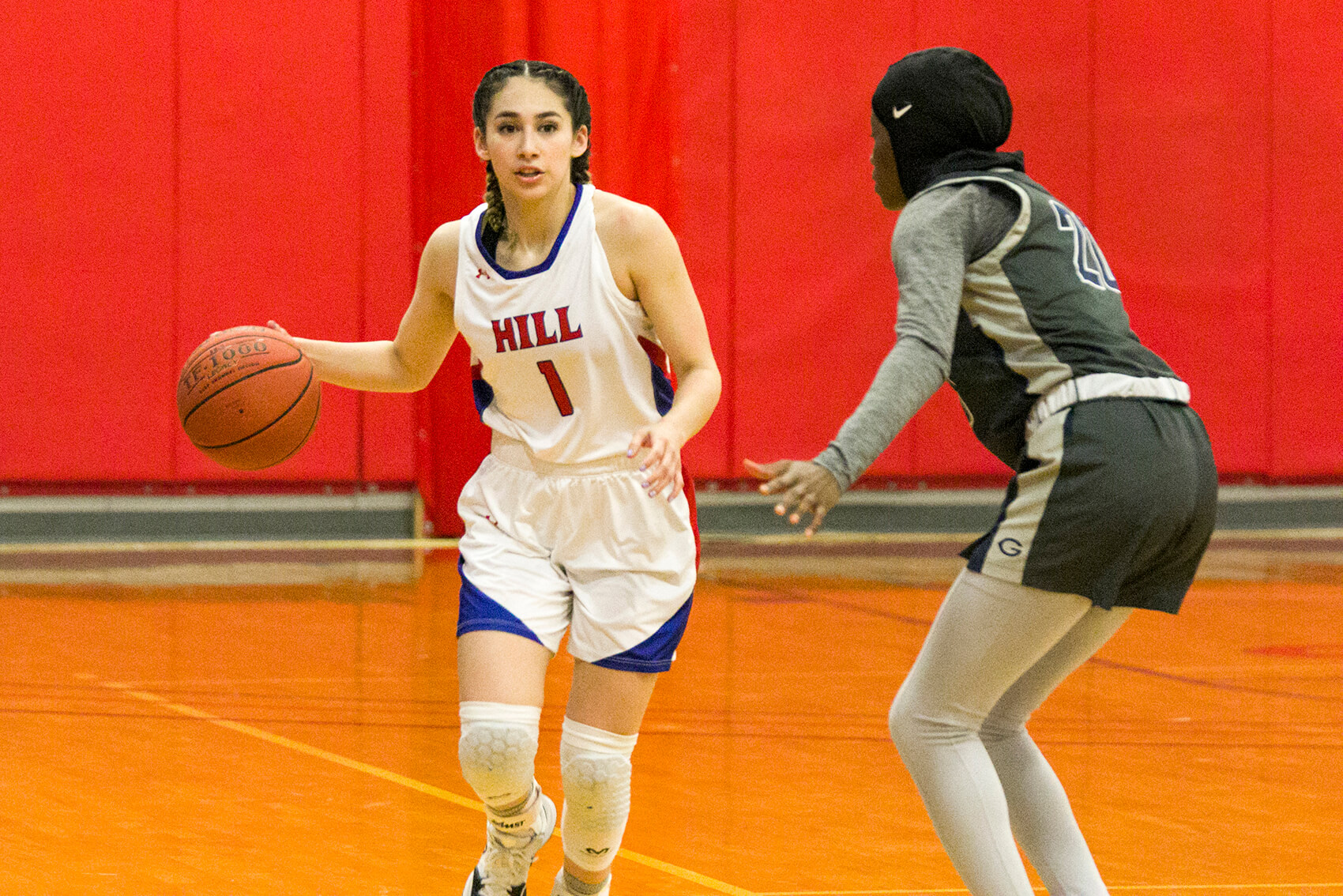 Mancha also reached a milestone by scoring over 700 career points with the Lady Rebels toward the end of the season.
"We have so many people that have stepped up and contributed to our success this season," Hyland said. "Destanee Roblow has become the program's all-time leader in points and rebounds.  Andreea Mancha has moved up to third in scoring and ranked No. 1 all time in three-point field goals. I could go on and on with our sophomores.  They have been amazing during this run the past two seasons. We just want to keep it going a few more games."
Hill College Lady Rebels 2021-22 Women's Basketball Roster
1 – Andreea Mancha, sophomore point guard from Alvin, Texas
3 – Destanee Roblow, sophomore post from Teague, Texas
4 – Jada Williams, freshman wing from Arlington, Texas
5 – Alayia Francis, freshman point guard from Humble, Texas
11 – Tyquanna Ross, sophomore wing from Ennis, Texas
12 – Shanna Petty, freshman wing from Houston, Texas
15 – Jada Howard, freshman forward from Richmond, Texas
20 – Skye Thomas, freshman wing from San Antonio, Texas
21 – Kamill Rangel, sophomore wing from Katy, Texas
22 – Sydney Nunley, sophomore wing from Keller, Texas
23 – Mia Monroe, freshman point guard/wing from Colorado City, Texas
24 – Laylah Davis, freshman wing from Saginaw, Texas
30 – Brandalyn Rice, freshman post from Victoria, Texas
32 – Kaiden Lemaire, freshman wing from Lovelady, Texas
Head Coach / Athletic Eligibility Coordinator – Scott Hyland
Assistant Coaches – Wanda Talton, Layton Westmoreland, Deleesha Monroe
For more information about the NTJCAC Region 5 Women's Basketball Tournament, please visit the NJCAA Region V website at www.njcaaregion5.com, or follow the Lady Rebels action on the Hill College website (www.hillcollege.edu), Facebook (www.facebook.com/hillcollege) or Twitter (www.twitter.com/hillcollege) feeds. Also, the Lady Rebels have their own Facebook page by searching "Hill College Women's Basketball."