Hill College softball program looks to build off last season currently leads conference with 4-0 mark
  Jessyca Brown
  Tuesday, March 8, 2022 8:17 AM
  Athletics
Hillsboro, TX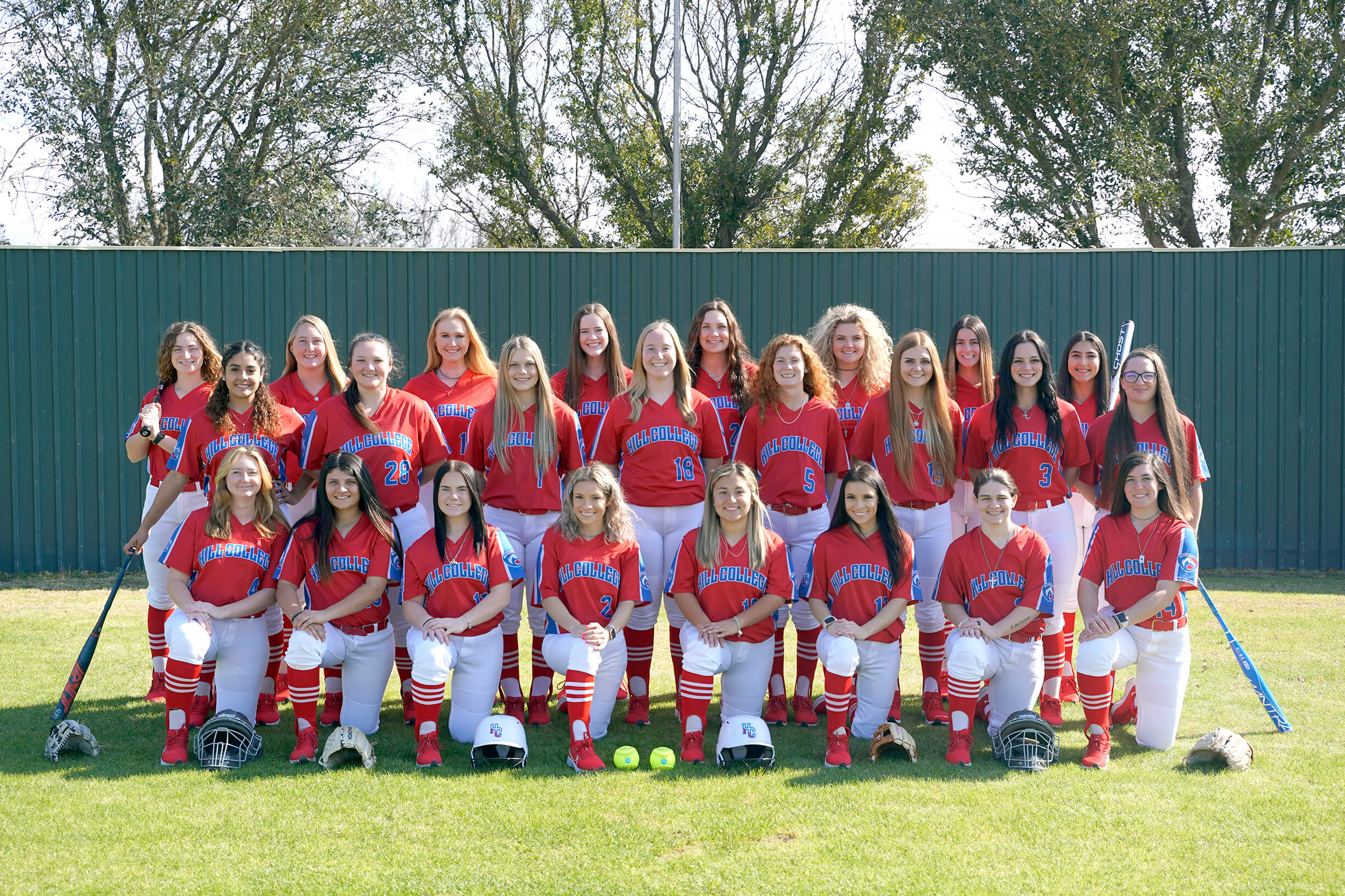 Second-year Hill College Head Softball Coach Allora Miller is optimistic about the 2022 softball season as the team continues to build off of last season's uplifting campaign.
The Lady Rebels, with an overall record of 9-11, are currently leading the National Junior College Athletic Association's (NJCAA) Division I Conference with an undefeated 4-0 mark.
Miller said Hill College's conference is stacked with talent – including Grayson College (ranked No. 4 in the nation) and McLennan Community College (ranked No. 13 in the nation).
"I think this just goes to show how incredibly competitive this conference is and how much the talent has grown," Miller said. "These rankings continue to push every school and every recruiting class to be the best. Not only being successful on the field, but these teams have great gaps and are being heavily recruited to the next level. "
Miller also said the team has eight returning sophomores from last season – including two transfers that have played a lot of the teams in Hill College's conference.
"We have a very dynamic outfield in Lindsey Ratcliffe, Lexi Wheeler, and Kelsey Creech (a local Hillsboro student-athlete)," Miller added.  "We could also see transfer Hadlee Patrick split her time between shortstop and outfield. Bridgette Montes is a true utility that packs a punch anywhere she plays. We have moved Jazzmyn Rodriguez over to third base this spring and she is a natural there, really coming into her own. Allie Wheeler has had to battle some injuries early this spring but healing up just in time for conference play and look for her to provide some great offense at the plate. In addition, Madison Gerik (Dallas Christian College commit) from West has grown so much this last year – not only defensively, but will be a big power threat at the plate for us."
Miller said the Lady Rebels have a ton of freshmen this year who are all "hungry and talented" which have really helped to turn the team's culture around.
"Our heavy freshmen staff is led by Eileigh Whyte, McKenna Meadors, and Chloe Randall," Miller added. "All three have gotten a ton of experience against some very tough four-year schools this fall to prepare them for this conference. We look for these young pitchers to really lead our team this spring."
Last season, then-sophomore pitcher Hannah Spring finished fourth in the region with a total of 98 strikeouts, and Miller is looking for Bridgette Montes and Lindsey Ratcliffe to help lead the offense this season.
Miller also hoped a competitive non-conference schedule, playing No. 14 Howard College and No. 11 Bossier Parish, helped the team prepare for the heavily-stacked conference foes.
Although Spring 2022 officially begins March 20, the team will be "springing" into action during both March and April – as they are scheduled to play 38 games during this two-month span.
"We play a lot of games and this conference is tough," Miller said. "You have to bring it every inning of every game because just when you think you have it, think twice. We have to keep working and trusting the process and to be competitive every day –  and no matter what, always keep learning. This team has become such a family and they grow every day. I am very proud of them."
2022 Hill College Softball Roster
1 – Kelsey Creech, freshman OF
2 – Allie Wheeler, sophomore 2B
3 – Madison Gerik, sophomore 1B
4 – Savannah Pepperell, freshman OF
5 – Mallory Stone, freshman MINF
6 – Lindsey Ratcliffe, sophomore OF
7 – Katy Ivy, freshman P
8 – Ellena Munoz, sophomore OF
9 – Jazzmyn Rodriguez, sophomore MINF
10 – Chloe Randall, freshman P/OF
11 – Brooke Schmidt, freshman P/INF
12 – Katie Henson, sophomore C/1B
13 – Lexi Wheeler, sophomore OF
14 – Jayce Bolin, freshman UT
15 – Bridgette Montes, sophomore UT
16 – Hannah King, freshman P/INF
17 – Victoria Gonzalez, freshman INF
18 – Eileigh Whyte, freshman INF
19 – Hadlee Patrick, sophomore SS/UT
20 – Abigail Thomas, sophomore P
21 – Mackenzie Duckworth, freshman C/INF
22 – Ashley Monks, freshman C/3B
24 – McKenna Meadors, freshman P/1B
28 – Grace Valois, freshman C/INF
Head Coach – Allora Miller
Assistant Coaches – Tye Watts, Kenneth Stevens
Schedule information may be found on the Hill College Athletics Facebook page at https://www.facebook.com/HillCollegeAthletics, the athletics portion of the website at https://www.hillcollege.edu/Athletics/ or on the NJCAA Region 5 website at www.njcaaregion5.org.
For more information about the Hill College softball program, please contact Miller at amiller@hillcollege.edu or call her at 254-659-7971.