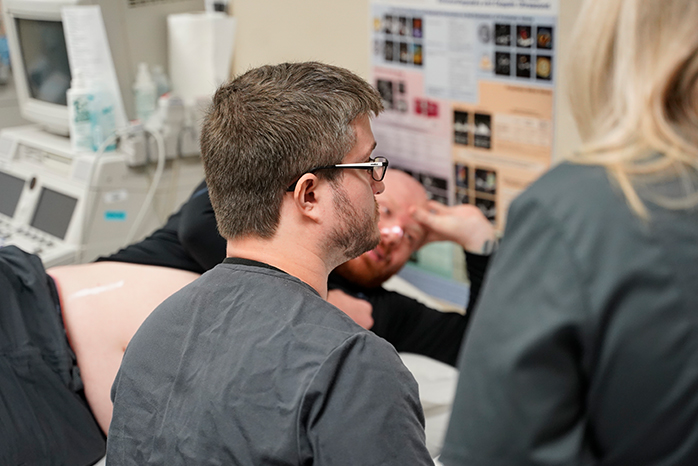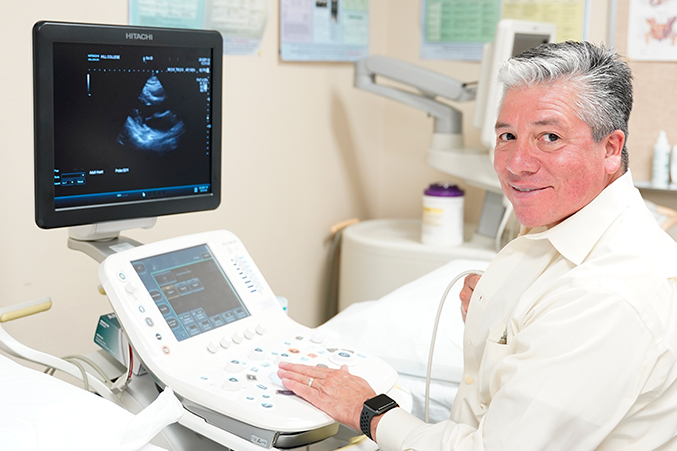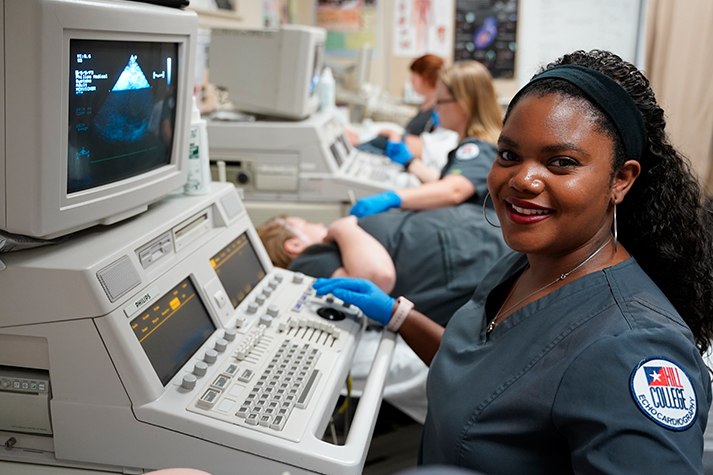 ---
Program Summary
rThe Hill College Echocardiography Program is a two-year course of study leading to  an associate of applied science degree in Echocardiography Technology. It prepares a student to enter the workforce as an echocardiography technician producing echocardiograms.

An echocardiogram is a painless, noninvasive procedure using ultrasound waves to create pictures and take measurements of the inside of a person's heart.

The Hill College program is comprehensive through the teaching of scanning skills, pathophysiology, cardiovascular pharmacology and all the skills and knowledge necessary to become a registered cardiac sonographer.

The program also includes more than 900 hours of clinical work performed at hospitals and clinics.
SAMPLING OF CLASSES
Basic Ultrasound Physics
Cardiovascular Pharmacology
Principles of Adult Echocardiography
Echocardiographic Evaluation of Pathology
Anatomy & Physiology
Diagnostic Electrocardiography
Advanced Echocardiography    
Clinical
---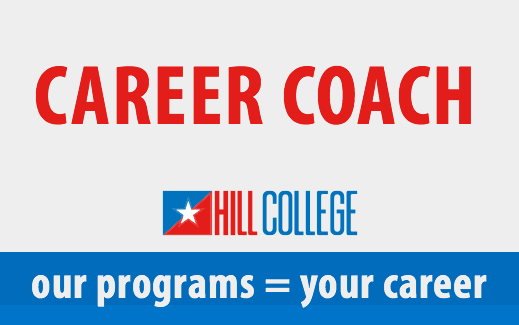 ---
Employment Opportunities
Cardiac Sonographer Job Outlook

Diagnostic cardiac sonographers (also known as an echocardiography technologist) use ultrasound manchines, laptops and transducers to create images of the inside of patients' hearts.  Additionally, they're responsible for maintainging all of the imaging equipment.  Since this imaging is typically non-invasive, cardiac sonogrphers are one of the first health procfessionals patients see to determine the souce of heart related issues.
Employment opportunities for diagnostic cardiac sonography are booming right now.  Even better, the Bureau of Labor Statistics predicts that from 2014-2024, the job field will grow an unbelievable 22%.  This rate is higher than almost every other sector in the country.

Why is Cardiac Sonography Expected to Grow so Drastically?

As ultrasound and imaging technology advances, medical professionals are better able to detect complications without expensive, invasive methods.  Because of its affordability, ultrasounds are typically the first tool to use for diagnosis and becasue the number of medically insured individuals is expected to increase due to federally-mandated health reform, more people will visit medical centers for diagnosis and treatment.

What Salary Can a Doagmpstoc Cardiac Sonographer Expect?

The average salary for diagnostic sonographers refletcts the growing demand for certified professionals.  The Bureau of Labor Statistics states that, as of may 2016, the median national pay for these allied healthcare specialists hovered around $55,000.00 (or about $27.00 per hour).  Nationally, the annual salary for the lowest 10 percent of cardiovascular techs was $28,000.00, while the top 10% recieved nearly $90,000.00

Of course, just like any allied health career, wages and salaries vary depending the state and urban area.

For instance, cardiac sonographers in Florida could expect to earn around $58,000.00 per year.  An applicant with the same cardiac sonographer training, however, might expect to recieve around $80,000.00 per year in California.  If the professional lives in the Bay area, this wage can increse to around $100,000.00 per year.  This salary increase reflects the price of rent, which is the highest in the country.

Which Facilities Offer the Most Career Opportunities?

Diagnostic cardiac sonographers can find a range of public and private opportunities for employement, but typicaly general medical and surgical hospitals have the propensity for hiring the most cardiovascular techs.

Not only do hospitals lead in terms of hiring because the demand for the sector is high, but hospitals also have the facilities and equipment to do so.  Because hospitals are the major employer of diagnostic cardiac sonographers, the overall national average reflects an average hospital salary.

Source:  Diagnostic Cardiac Sonographer Salary & Career Opportunities
Program Contact
Dean of Instruction, Health and Public Services
Lori Moseley, MSN, RN, (254) 659-7921 or (817) 760-5920, lmoseley@hillcollege.edu
Program Coordinator
Darla Whitehead, RCS, (817) 760-5933 dwhitehead@hillcollege.edu

Echocardiography Lab support
Felicia Harris, RCS, fharris@hillcollege.edu

Faculty Support
Julie Britton, (817) 760-5921, jbritton@hillcollege.edu
Teresa Palinkas, (254) 659-7920, tpalinkas@hillcollege.edu
---

For students in this course who may have a criminal background, please be advised that the background could keep you from being licensed by the State of Texas.  If you have a question about your background and licensure, please speak with your faculty member or the department chair.  You also have the right to request a criminal history evaluation letter from the applicable licensing agency.
---
---