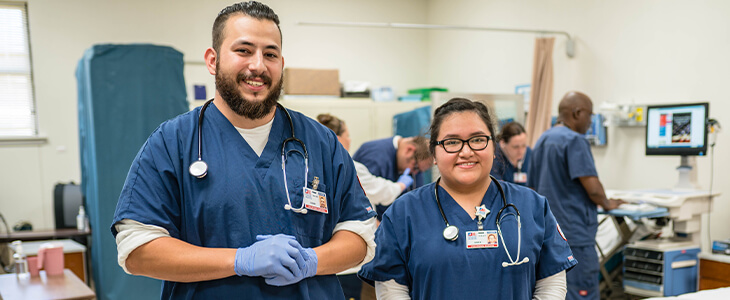 ---
Program Summary
The Hill College Associate Degree Nursing Program is a 2 year 60 hour Associate of Applied Science degree.  
The Hill College Nursing program offers the highest quality health-related education and training to students of our community and surrounding areas.

The program offers students the ability to dedicate themselves to increase their knowledge and developing their talents thus allowing them to become highly skilled nurses able to provide patient-centered care in hospitals or other health care facilities.

At Hill College, we strive for excellence to ensure the classroom theory and evidence-based practice in the clinical settings attainable.  With the collaboration of Hill College and our community hospitals in our service area, it is our privilege to offer this program to our students.
---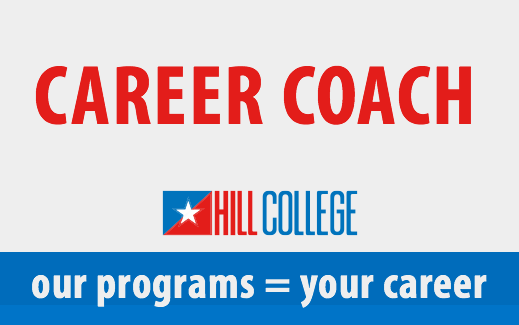 ---
In accordance with Texas' 60x30TX strategic plan, Hill College has identified ten Marketable Skills available to students through our various certificate/degree programs. Graduates completing a program with Hill College will be able to identified and communicate program specific marketable skills to area employers as they pursue a career. Students need to be aware of the marketable skills affiliated with their programs (highlighted below). These skills include interpersonal, cognitive, and applied skill areas that are valued by employers, and are primary or complementary to a major.
Ten Marketable Skills
| | |
| --- | --- |
| Communication | the process of transmitting information and ideas from one individual or group to another, verbally or through writing. |
| Critical Thinking | the intellectually disciplined process of actively and skillfully conceptualizing, applying, analyzing, synthesizing, and/or evaluating information gathered from, or generated by, observation, experience, reflection, reasoning, or communication, as a guide to belief and action. |
| Teamwork | willingness to be a part of a group of persons in a cooperative or coordinated effort in the interests of a common cause. |
| Adaptability | the ability to be flexible and adapt to changing conditions. |
| Work Ethic | a set of values centered on the importance of doing work and reflected especially in a desire or determination to work hard. |
| Continued Learning | the ability to continually develop and improve one's skills and knowledge in order to perform effectively. |
| Social Skills | skills used to communicate and interact with other people, both individually and in groups, verbally and non-verbally, through gestures, body language and our personal appearance. |
| Time Management | the process of organizing and planning how to divide your time between specific activities. |
| Analytical Thinking | the ability to solve problems quickly and effectively through a methodical step-by-step approach that breaks down complex problems into single and manageable components. |
| Cultural Competency | the ability to understand, communicate with, and effectively interact with people across cultures. |

Hill College uses College Central Network as its official resume and job posting service.  Local employers post jobs exclusively to our school via the CCN site.  Students and alumni create your account profile at www.collegecentral.com/hillcollege to:
Easily search and apply to local and national Full-time, Part-time, Internship/Co-op job opportunities
Create and upload your resume and career portfolio to make available to employers
Access event announcements, career advice documents, podcasts, videos and articles.
---
For students in this course who may have a criminal background, please be advised that the background could keep you from being licensed by the State of Texas. If you have a question about your background and licensure, please speak with your faculty member or the department chair. You also have the right to request a criminal history evaluation letter from the applicable licensing agency.
---
Updated:10/30/2019

The following curriculum change has been approved and became effective 10/29/2019. 
RNSG 1301 Pharmacology will be now considered a pre-requisite. 
BIOL 1322 Nutrition and Diet Therapy will be moved to the first semester of the ADN program sequence.
---
Nursing Application Requirements
BIOL 2401, BIOL 2402 and BIOL 2420/2421 must be completed within 5 years of the posted deadline date.
Note the change of the deadline date from June 1 to July 1. 
The courses listed  below must be completed and/or in-progress by the posted deadline date of the program of choice with a "B or better unless noted otherwise.
*BIOL 2401 Anatomy and Physiology I
RNSG 1301 Pharmacology - "C" or better
ENGL 1301 English Composition I
MATH 1314 College Algebra
Additional Courses - not required for selection but are part of the ADN degree plan:
BIOL 1322 Nutrition
*BIOL 2402 Anatomy and Physiology II
*BIOL 2420 Microbiology for Non Science Majors
PSYC 2314 Life Span Growth and Development
Language/Arts Core elective

*Lab Science courses  must be within 5 years by the posted deadline date.
TEAS test minimum passing (all required sections must meet the minimum passing)
Required:  Overall 66.1%; Reading 72.8%; Math 68.8%; Science 58.0%
Optional:  English 66.8%
Teas test cost:  $77.00.  Schedule and pay at
www.atitesting.com
.  
After you have scheduled your test date you will need present a photo ID at the Hill College Testing Center on the day of your test.
Prices are subject to change

Hard Copy study guide - $40-$50.00
2 practice tests - $35-46.00
Study Guide with 2 practice test $115.00
Test Prep package $209.00
Immunization Requirements
        2 MMR's or positive serological titer
        2 Varicella injection series or positive serological titer
        3 HEP B injection series or positive serological titer
            Tetanus (within last 10 years)
            Tdap (once as an adult)
            Seasonal Influenza
CPR – American Heart Association BLS for Health Care Provider.  No other CPR card accepted.  No exceptions. 
NOTE:  AFTER selection the student will be required to submit a physical (on the Health and Community Services approved form) and a negative 2 step TB results. 
Candidates must be aware that clinical facilities may have other requirements than those listed above.
 Board of Nursing requirement (High School Graduates OR GED)
Official High School Transcript with a date of graduation/completion or GED scores (Mandatory for ALL applicants).
Out of Country High School Transcripts must be translated into English by a certified translator. The original document must be also be submitted. 
 TOEFL Procedure Demonstrate English proficiency as an admission requirement.
This may be demonstrated by:
       2 years of High School in the United States and its territories.
Or

       Submission of acceptable scores from the Test of English as a Foreign Language Test (TOEFL)            within two years of the posted deadline date of program application.
 TOEFL minimum passing: Internet score of 80 or a computer-based TOEFL score of 250 or a paper/pencil test score of 600.  Scores will not be considered if they are more than two years old. TOEFL Test score reports must be sent directly to the Health Science Department from the testing center. Information about the TOEFL may be obtained from the web site: www.ets.org/toefl or by calling 1-800-468-6335.
TOEFL Waiver (RN applicants only) The student can request a TOEFL waiver form from the Health Science department if they meet the following criteria:  completion with a "B" or better of 4 different college level English courses and 1 college level communication course; from an accredited US college/university.  

TOEFL Waiver Request Form
---
Program Information
Hill College is accredited by the Southern Association of Colleges and Schools Commission on Colleges to award associate degrees.
Contact the Commission on Colleges at 1866 Southern Lane, Decatur, Georgia 30033-4097 or call 404-679-4500 for questions about the accreditation of Hill College.

Texas Board of Nursing: Approved Professional Nursing Education Programs

Texas Board of Nursing granted the Hill College Professional Nursing Program full approval status. 
Texas Board of Nursing RN (Registered Nurse) pass rates for last 5 years
| | | | | |
| --- | --- | --- | --- | --- |
| 2019 | 2018 | 2017 | 2016 | 2015 |
| 86.9% | 100 % | 83.33% | 100% | 84.62 % |
---
Background Procedure
The Hill College Nursing department uses the Texas Board of Nursing (BON) FBI background check process during the application process.  The nursing program will submit the required documents to the BON.  The BON will notify the nursing department of names of students who will be required to submit their fingerprints to the BON.

Please contact the Health and Public Services Division for further information or questions. Having a criminal history does not automatically preclude you from entry but your selection is dependent upon the charge, age of the offense and final disposition. Students with eligibility issues related to a criminal offense must submit a Declaratory Order with the Texas Board of Nursing. All Declaratory Orders must be complete before enrollment in any Hill College nursing program.

For students in this course who may have a criminal background, please be advised that the background could keep you from being licensed by the State of Texas.  If you have a question about your background and licensure, please speak with your faculty member or the department chair.  You also have the right to request a criminal history evaluation letter from the applicable licensing agency.


Licensure Eligibility
To check your eligibility for renewing your license, please review the following: 
Been convicted of a misdemeanor?
Been convicted of a felony?
Pled nolo contendere, no contest, or guilty?
Received deferred adjudication?
Been placed on community supervision or court-ordered probation, whether or not adjudicated guilty?
Been sentenced to serve jail or prison time or court-ordered confinement?
Been granted pre-trial diversion?
Been arrested or have any pending criminal charges?
Been cited or charged with any violation of the law?
Been subject of a court-martial; Article 15 violation; or received any form of military judgment, punishment, or action?
NOTE: You may only exclude Class C misdemeanor traffic violations
Expunged and Sealed Offenses
While expunged or sealed offenses, arrests, tickets, or citations need not be disclosed, it is your responsibility to ensure the offense, arrest, ticket, or citation has, in fact, been expunged or sealed. It is recommended that you submit a copy of the Court Order expunging or sealing the record in question to our office with your application. Failure to reveal an offense, arrest, ticket, or citation that is not in fact expunged or sealed, will at a minimum, subject your license to a disciplinary fine. Non-disclosure of relevant offenses raises questions related to truthfulness and character of the Nurse.
Orders of Non-disclosure
Pursuant to Tex. Gov't Code §552.142(b), if you have criminal matters that are the subject of an order of non-disclosure, you are not required to reveal those criminal matters on this form. However, a criminal matter that is the subject of an order of non-disclosure may become a character and fitness of duty issue. Pursuant to other sections of the Gov't Code Chapter 411, the Texas Nursing Board is entitled to access criminal history record information that is subject of an order of non-disclosure. If the Board discovers a criminal matter that is the subject of an order of non-disclosure, even if you properly did not reveal that matter, the Board may require you to provide information about any conduct that raises issues of character.
Are you currently the target or subject of a grand jury or governmental agency investigation?
Has any licensing authority refused to issue you a license or ever revoked, annulled, cancelled, accepted surrender of, suspended, placed on probation, refused to renew a license, certificate or multi-state privilege held by you now or previously, or ever fined, censured, reprimanded or otherwise disciplined you? (You may exclude disciplinary actions previously disclosed to the Texas Board of Nursing on an initial or renewal licensure application)
*In the past five (5) years have you been diagnosed with or treated or hospitalized for schizophrenia and/or psychotic disorder, bipolar disorder, paranoid personality disorder, antisocial personality disorder, or borderline personality disorder which impaired or does impair your behavior, judgment, or ability to function in school or work? (You may answer "No" if you have completed and/or are in compliance with TPAPN for mental illness OR you've previously disclosed to the Texas Board of Nursing and have remained compliant with your treatment regime and have no further hospitalization since disclosure.)
*In the past five (5) years, have you been addicted or treated for the use of alcohol or any other drug? (You may answer "No" if you have completed and/or are in compliance with TPAPN)
*Pursuant to the Occupations Code §301.207, information, including diagnosis and treatment, regarding an individual's physical or mental condition, intemperate use of drugs or alcohol, or chemical dependency and information regarding an individual's criminal history is confidential to the same extent that information collected as part of an investigation is confidential under the Occupations Code §301.466.
---
Board of Nursing Scope of Practice
Practice - Registered Nurse Scope of Practice
The Texas Nursing Practice Act (NPA) defines the legal scope of practice for professional registered nurses (RNs).  "Professional nursing" means the performance of an act that requires substantial specialized judgment and skill, the proper performance of which is based on knowledge and application of the principles of biological, physical, and social science as acquired by a completed course in an approved school of professional nursing. The term does not include acts of medical diagnosis or the prescription of therapeutic or corrective measures.  Professional nursing involves:
the observation, assessment, intervention, evaluation, rehabilitation, care and counsel, or health teachings of a person who is ill, injured, infirm, or experiencing a change in normal health processes;

the maintenance of health or prevention of illness;

the administration of a medication or treatment as ordered by a physician, podiatrist, or dentist;

the supervision or teaching of nursing;

the administration, supervision, and evaluation of nursing practices, policies, and procedures;

the requesting, receiving, signing for, and distribution of prescription drug samples to patients at practices at which an advanced practice registered nurse is authorized to sign prescription drug orders as provided by Subchapter B, Chapter 157;

the performance of an act delegated by a physician under Section 157.0512, 157.054, 157.058, or 157.059; and

the development of the nursing care plan.
The RN takes responsibility and accepts accountability for practicing within the legal scope of practice and is prepared to work in all health care settings, and may engage in independent nursing practice without supervision by another health care provider. The RN, with a focus on patient safety, is required to function within the parameters of the legal scope of practice and in accordance with the federal, state, and local laws; rules and regulations; and policies, procedures and guidelines of the employing health care institution or practice setting. The RN is responsible for providing safe, compassionate, and comprehensive nursing care to patients and their families with complex healthcare needs.
Educational Requirements:
Texas Board of Nursing (2010), Differentiated Essential Competencies (DECs) of graduates of Texas Nursing Programs.
Texas Occupations Code, Chapter 301
Nursing Practice Act (NPA) Section 301.002, Definitions
Rule 217.11 - Standards of Nursing Practice
Scope of Practice Position Statements: 
Note: For the complete list of position statements, click here.
Eight-Step Decision Making Model for Determining Nursing Scope of Practice

Note: For the complete list of nursing practice FAQs, click here.
---
Texas Administrative and Occupation Codes
Professional Nursing
The following Texas Administrative Code rules are included in this section:
 Rule:
I understand it is my responsibility to seek further clarification regarding the contents of the above rules if needed.
---