Hill College vocational nursing pinning ceremony recognizes five graduates
  Hill College
  Monday, January 1, 2018 8:00 AM
  General Events
Hillsboro, TX
Five Hill College vocational nursing program students were honored with a pinning ceremony on Saturday, Dec. 9, in the Vara Martin Daniel Performing Arts Center at the Hill County Campus in Hillsboro.
After an invocation and welcome, Vocational Nursing (LVN) Program Coordinator/Instructor Janis Grimland, and the class was presented for pinning. Pinning a graduating nursing student symbolizes their initiation into the nursing profession and marks the completion of rigorous training. The graduates then recited the Nightingale Pledge, in which students pledge to, "Do all in my power to maintain and elevate the standard of my profession…"
The graduates include:  Jesse Joe Castillo of Hillsboro; Karen Charrez of Hillsboro; Misty Couch of Hubbard; Siphoso Ndebele of Keene; and Julian Uriah Raborn of Penelope.
Ndebele said, "Hill College nursing program is where nurses are 'made.' You go into the program as just a piece of metal but you'll come out refined as gold, ready to make a difference in patient's lives. Thank you to the amazing program director and all the instructors. I'm forever indebted."
The Hill College vocational nursing program is a one-year, 47-credit hour curriculum leading to a Certificate of Completion. The Vocational Nursing Program is accredited by the Board of Nursing (BON) for the State of Texas and is designed to provide the student with the skill and knowledge required to pass the NCLEX-PN (National Council Licensure Examination - Vocational Nursing).
Hill College's vocational nursing program ranked #15 LVN (licensed vocational nursing) program in the state of Texas by PracticalNursing.org. LVN programs were assessed on several factors which represent how well a program supports students toward licensure and beyond. Past and present NCLEX-PN "pass-rates" are reviewed and weighted by year. To learn more about the methodology used visit http://www.practicalnursing.org/lvn-lpn-ranking-methodology  
The NCLEX-PN exam is used by state boards of nursing around the country for testing proficiency and granting licensure. Many state boards of nursing use the combined NCLEX-PN exam pass rates for each school as one of the primary ways to approve or deny a school's ability to provide practical and vocational nursing education. PraticalNursing.org has determined NCLEX-PN rates is one of the best ways to know how well a school is preparing their students for a career in practical nursing. 
Visit the Hill College website to learn more about the program and to apply for admission at https://www.hillcollege.edu/academics/HealthPublicSvc/Health_Sciences/Nursing-Vocational.html.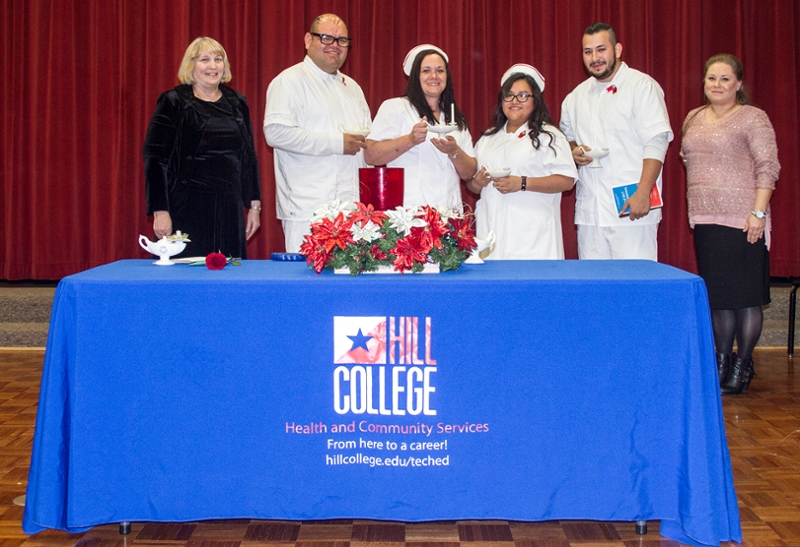 Photo cutline left to right:
Janis Grimland, vocational nursing (LVN) instructor/program coordinator; Jesse Joe Castillo, Hillsboro; Misty Couch, Hubbard; Karen Charrez, Hillsboro; and Julian Uriah Raborn, Penelope; Sarah Degner, vocational nursing (LVN) instructor. Siphoso Ndebele of Keene not pictured.