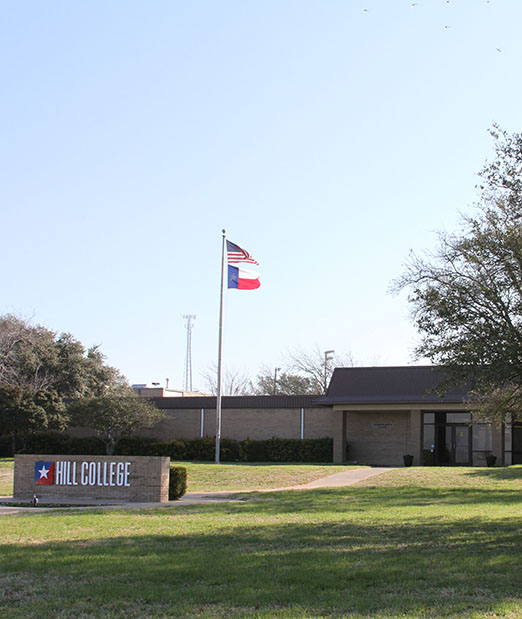 Welcome to Hill College
Hill College is committed to assisting those who have so diligently given their time and in some cases their lives for the freedoms we enjoy everyday.  Our staff is dedicated to helping you reach your educational goals.  Below you will find information to help you navigate through the Veteran's Administration and college processes.

For any questions regarding your veteran benefits please contact:

Cindy Clay
Enrollment Specialist III
---
All Students
All students, whether you are the Veteran, the Veteran's spouse or a dependent, must complete the admission requirements for Hill College.  Once you have submitted your ApplyTexas Application and requested all transcripts to be sent to Hill College you may continue with the instructions below.
Readmission after Military Service
In accordance with Hill College Board Policy Manual FB (LEGAL), a student who withdraws from Hill College to perform active military service as a member of the U.S. Armed Forces or the Texas National Guard (excluding to perform one or more training exercises as a member of the Texas National Guard), who returns for an academic term that begins after the date released from active military service but not later than the first anniversary of that date, will not be required to re-apply for admission purposes.
Prohibition of High-Pressure Recruitment Tactics
Hill College prohibits inducements, including any gratuity, favor, discount, entertainment, hospitality, loan, transportation, lodging, meals or other item having a monetary value of more than a de minimis amount, to any individual or entity, or its agents including third party lead generators or marketing firms other than salaries paid to employees or fees paid to contractors in conformity with all applicable laws for the purpose of securing enrollments of Service members or obtaining access Tuition Assistance funds. Educational institution sponsored scholarships or grants and tuition reductions available to military students are permissible.
Hill College prohibits the payment of any commission, bonus, or other incentive payment based directly or indirectly on securing enrollments or federal financial aid, including Tuition Assistance, to any persons or entities engaged in any student recruiting, admission activities, or making decisions regarding the award of student financial assistance.
Hill College prohibits high-pressure recruitment tactics such as making multiple unsolicited contacts (3 or more), including contacts by phone, email, or in-person, and engaging in same-day recruitment and registration for the purpose of securing Service member enrollments in non-credit courses/programs.
---
Veteran
Submit a copy of the veteran's DD214 showing the discharge date and Character of Service.
---
Veteran Survivor or Dependent
---
Military Service Credit
Credit may be granted if:
Must have graduated from a public or private high school accredited by a generally recognized accrediting organization or a Department of Defense High School or have earned a GED
Must be honorable discharged after serving at least two years of service in the Armed Forces or be honorably discharged because of a disability
Please provide the following documents for consideration:

High School Transcript or GED
DD214

If you want to transfer your military credits, request your 

Joint Services Transcript

 to be sent to 

cclay@hillcollege.edu

. Air Force service members need to contact the Community College of the Air Force.
After this request and the appropriate documentation have been submitted, the following credit will be granted:
Four (4) semester hours of physical education
Any additionally approved credit through evaluation of military transcript
---
Returning Students
VA Students are required to file an Academic Plan with the VA rep.  Veterans benefits require students to follow an approved degree plan. 
Returning students are required to notify the VA rep at the time of registration.
Students should consult an Academic Advisor about degree plan requirements and course scheduling.
---
Hill College maintains an open admissions policy ensuring that all persons benefit from postsecondary education and have an opportunity to enroll. The College does not discriminate on the basis of race, color, sex, national origin, religion, disability, age or military status in admission decisions.
---
Veterans Information
Texas Lawyers for Texas Veterans (800)622-2520
Texas Veterans Commission (512)463-5538
VA Debt Management (800)827-0648
VA Homeless Outreach (877)424-3838
VA Medical Center (800)423-2111
VA Regional Office (800)827-1000
Veteran Crisis Line (800)273-8255
Veteran's Affairs Life Insurance, Info & Service (800)669-8477