Hill Regional Hospital Auxiliary "Pink Ladies" create Hill College nursing scholarships
  Hill College
  Wednesday, February 14, 2018 8:39 AM
  General Events
Hillsboro, TX
The Hill Regional Hospital Auxiliary "Pink Ladies" group has donated $13,197 to Hill College to create the Auxiliary Hill College Scholarship. The funds are to be used as $500 scholarships for students registered and enrolled in the nursing program at Hill College. The recipients must be Hill County residents, need assistance for books or tuition, and must maintain a "B" average GPA. 
"Hill College has had a successful and long standing partnership with Hill Regional Hospital for many years, and we are honored that the Hill Regional Hospital Auxiliary has generously donated funds to be used for scholarships for our nursing students," said Hill College President Dr. Pam Boehm. "These funds will directly be applied to helping our Hillsboro LVN and RN students complete their nursing certificates and degrees. We look forward to expanding partnership opportunities with our local hospital and are very appreciative of these funds."
The money given for the scholarship was accrued over years of profit from the gift shop at Hill Regional Hospital, which was maintained and staffed by the members of the "Pink Ladies" Auxiliary and hundreds of volunteer hours.
Students interested in applying for the Auxiliary Hill College Scholarship should visit www.hillcollege.edu/students/scholarships and complete the scholarship application. The application deadline is June 1.
###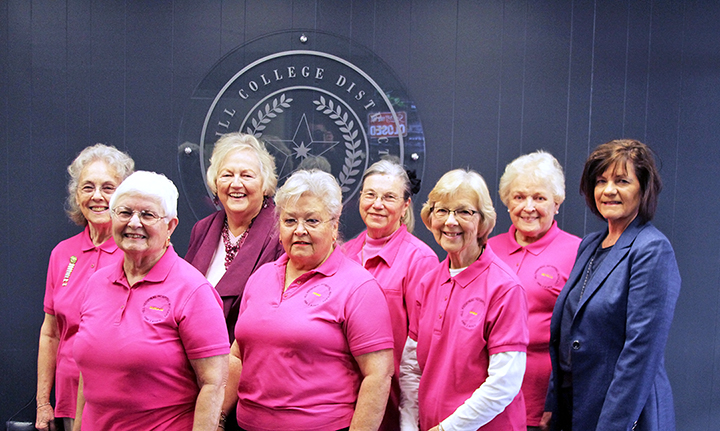 Photo cutline: Back Row: Marjorie Curry, Janice Mouser, Marian Little, Patricia Boykin
Front Row: Sharon Kay Gwaltney, Penne Reagey, Lynda Frank, Hill College President Dr. Pam Boehm
Not Pictured: Bobye Smalley, Barbara Neil, Susan Beck, Vickie Mitchell, Joyce Brown