Hill College Concert Band and Jazz Ensemble in concert April 5
  Hill College
  Thursday, March 29, 2018 8:25 AM
  General Events, Performing Arts
Hillsboro, TX
The Hill College Concert Band and Jazz Ensemble, under the direction of Steve Hart, music instructor/band director, will be performing in concert on Thursday, April 5, at 7:30 p.m. in the Vara Martin Daniel Performing Arts Center on the Hill County Campus.
The Concert Band program will include performances of music by Gershwin and Sousa. The Jazz Ensemble program will include the music of Lester Young and Jay Chattaway.
The following students in the band are:
Paolo Bigiarini, percussion
Joshua Butcher, guitar
Kierstyn Buxkemper, percussion
Alaina Cavazos, alto saxophone
Jim Cribbs, euphonium
Mary Ellen Cribbs, flute
Amy Dupre, flute and tenor saxophone
Skylar Hall, clarinet and baritone saxophone
Matthew Hixson, trumpet
Emily Hooper, percussion
Bob Kaemmerer, clarinet and tenor saxophone
Jessi McDonough, percussion
Allen Pack, trombone
Celestina Rivera, flute and alto saxophone
Christian Rivera, bass
Gerardo Rivera, clarinet and tenor saxophone
Donna Scott, clarinet and alto saxophone
Grayson Smith, trombone
John Tetzlaff, cornet
Benjamin Wilson, trumpet
Kerith Wooldridge, trombone and tuba
Hawa Zackey, alto saxophone
The concert is free admission and open to the public.
###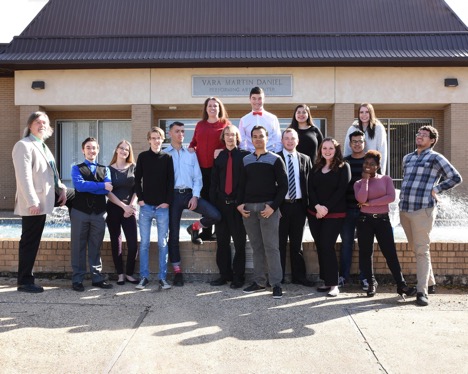 Hill College band; not pictured: Alaina Cavazos, Skylar Hall, Mary Ellen Cribbs, Jim Cribbs, Bob Kaemmerer, Donna Scott, John Tetzlaff.