Hill College Selects NISOD Excellence Award Recipients
  Hill College
  Monday, March 5, 2018 10:17 AM
  General Events
Hillsboro, TX
Hill College is proud to announce its recipients of the annual National Institute for Staff and Organizational Development (NISOD) Excellence Awards. The 2018 honorees include Aaron Warren, science lab specialist, and Christopher Andry, cosmetology program coordinator and instructor.
Warren has taught a variety of labs in the biology department at Hill College for five years. Outside the lab, he has been a part of a STEAM camp, qualified with the Laboratory Safety Institute and is actively involved with the rose rosette disease resistance research study, in partnership with Texas A&M, on the Hill College Johnson County Campus.
"I feel truly honored to receive this award. I have been very fortunate to work alongside colleagues that are passionate about their craft and embody integrity with their work at Hill College," said Warren. "The support from my peers means a great deal. This award gives me even more motivation to try and reach every student I can." 
Andry is the program coordinator of CHI Cosmetology at Hill College and has been an instructor for over 10 years. He has an associate degree in applied science for cosmetology and is a CHI Certified Educator for CHI Farouk Systems Inc., as well as an Artec Certified Educator for L'Oreal. Andry has worked in salons in Dallas, Cleburne and Atlantic City, N.J. 
Andry, who is receiving the award for the second year in a row, describes how much the award means to him, "The words of Dr. Benjamin Mays, the author of the "Just a Minute," probably explains just how truly meaningful this award is to me. Dr. Mays wrote: 'We only have a minute, with 60 seconds in it, forced upon us, we can't refuse it, we did not seek it, nor did choose it, but it's up to us to use it and give account if we abuse it. For you see, it is only a minute, but our eternity is in it.'"
"This is exactly what this award means to me. It lets me know, that others realize how important it is for me, to make each minute that I spend with my students count. The minutes I spend with them now, can have a positive effect on their future minutes forever. That in itself, is the greatest validation that you can give a caring educator, especially a third-generation educator."
Excellence Award recipients will be celebrated during NISOD's annual International Conference on Teaching and Leadership Excellence, May 26-29, in Austin. During the Excellence Awards Dinner and Celebration, held in conjunction with NISOD's annual conference, each Excellence Award recipient receives a specially cast, pewter medallion hung on a burnt-orange ribbon. The names, titles, and colleges of all Excellence Award recipients are included in a special booklet that features congratulatory ads from many of the recipients' colleges. In addition, presentations at the conference involving Excellence Award recipients are indicated in the Conference Program with a special icon. 
NISOD's Excellence Awards recognize men and women each year who have demonstrated an outstanding commitment and contribution to their students and colleagues. In 1989, in connection with a University of Texas at Austin national study of teaching excellence, NISOD hosted its first ceremony honoring NISOD Excellence Award recipients. The response to that ceremony was so positive that NISOD began what has become the largest and most inspiring gathering that recognizes the contributions and achievements of community and technical college faculty, administrators, and staff.
###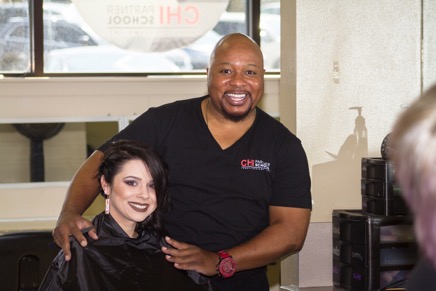 Christopher Andry, Hill College cosmetology program coordinator and instructor, with student.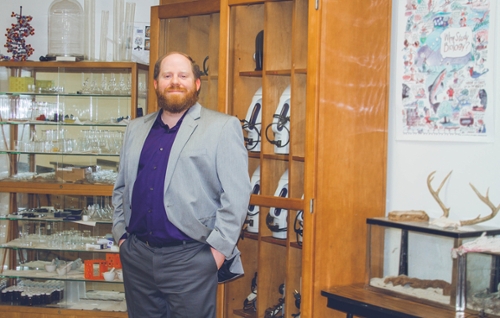 Aaron Warren, Hill College science lab specialist.