Hill College hosts 14th annual Teen Forum event in Hillsboro
  Hill College
  Friday, April 27, 2018 2:02 PM
  General Events
Hillsboro, TX
Hill College and Hillsboro High School recently teamed up to hold the 14th Annual Teen Forum April 24 at the Hill County Campus location.
Hill College Teen Forum began in 2005 by Dr. Pam Boehm, in collaboration with Hillsboro Independent School District. The program was specifically designed for high school seniors to develop and enhance their knowledge in their pursuit of their goal to attend college, specifically Hill College.
Each year HISD seniors are given the opportunity to participate as Hill College Teen Forum candidates. Ten seniors are selected based on recommendations of HISD teachers and counselors.
The candidates are given a campus tour, attend a special lunch and participate in a question and answer forum with Hill College faculty and staff, and receive a $1,000 scholarship to attend Hill College the next semester.
The following Hillsboro High School students participated in the forum:
Raven Balderas, Indira Bonilla, Paloma Montes, Marina DeLuna, Estrella DeLuna, Natalia Ortiz, Genessis Gonzalez, Alexis Arellano, Jasmine Ayala and Marissa Charles.
###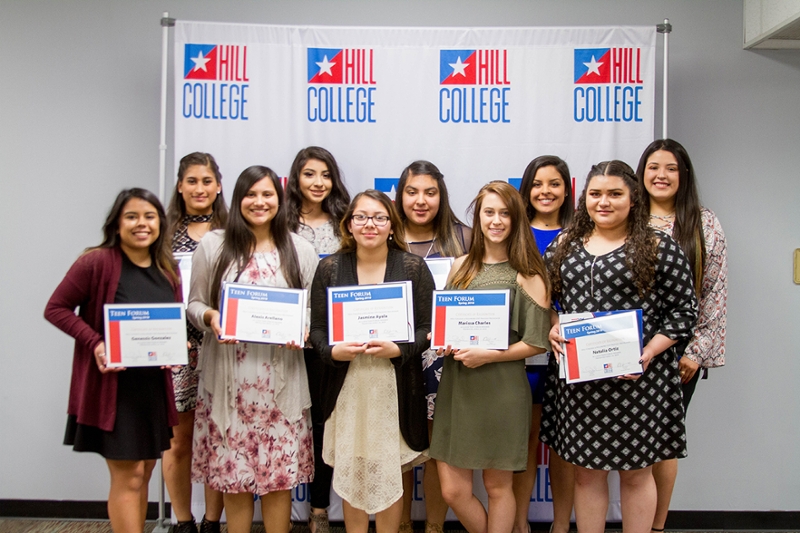 Back row L-R: Indira Bonilla, Paloma Montes, Marina DeLuna, Raven Balderas and Estrella DeLuna
Front row L-R: Genessis Gonzalez, Alexis Arellano, Jasmine Ayala, Marissa Charles and Natalia Ortiz