Hill College hosts dual credit meeting
  Hill College
  Thursday, April 12, 2018 9:41 AM
  General Events
Hillsboro, TX
Hill College hosted a "Best Practices in Dual Credit" meeting for service area ISD superintendents, principals and counselors April 3 at the HILCO Civic & Event Center in Itasca. ISD personnel had options to choose among several breakout sessions depending on their interest. 
Hill College President Dr. Pam Boehm welcomed guests and discussed partnership opportunities. Boehm stated that Hill College wants to serve the ISDs with options such as offering financial aid parent nights at the ISDs, hosting career fairs for the ISDs on the Hill College campus and provide speakers for ISD classes on a variety of topics. She Invited everyone to tour the Texas Heritage Museum, located on the Hill County Campus, and encouraged the ISDs to bus their elementary and junior high students to the Museum to learn about history. Boehm also discussed the Hill College and Texas Tech University partnership and offered curriculum and scholarship information. 
Part of Boehm's welcome included the results of the fall survey distributed to all superintendents in the service area to determine program planning and training needs. Boehm concluded her remarks by discussing the opportunity for ISD students to obtain an Associate's degree simultaneously with graduating from high school.
Rex Parcells, vice president of instruction discussed memorandums of understanding and House Bill 5 agreements.
Kathleen Pustejovsky, director of student information services; Dalerie Lamphere, director of testing; Keira Charles, enrollment specialist II, dual credit; and Rachael Esparza, accounting technician, presented on preparing students for the dual credit experience.
Susan Gann, dean of math and science; Dr. Kayla Kelly, dean of career and technical education; Lori Moseley, dean of health services; and Nancy McKenzie, dean of arts and humanities presented "Building your ISD's Education Plan" a discussion on alignment of curricula, core curriculum and program expansion. The group also presented on adjunct instruction, including adjunct instructor qualifications, professional development and the sharing of a college level instructional experience.
Nancy Holland, executive director of community relations, presented on preparing middle school students for the college journey. The presentation included an overview of this year's Hill College and Cleburne ISD middle school pilot program and expansion opportunities for other ISDs in the coming year.
Pustejovsky and Noelle Barnes, director of academic advising and success center, presented resources available for financial aid scholarships, transcript requests and other assistance provided to seniors in preparation for the college experience after high school.
Joe Shaughnessy, director of educational support services, and Theresa Arias, faculty development coordinator, presented on the new learning management system Schoology.
Representatives from Venus, Abbott, Godley, Joshua, Kopperl, Meridian, Blum, Itasca, Alvarado, Rio Vista, Glen Rose, Whitney, Cleburne, Burleson, Hubbard, Morgan and Hillsboro ISDs were in attendance, as well as a representative from the Brazos River Charter School.
Boehm presented a legislative session, giving an overview of community college dual credit platform for the next legislative session, trends in funding and Hill College funding opportunities.
LaQuesha Foster, manager of education partnerships at Dallas County Community College District, was the keynote speaker and gave a presentation on the top three best practices for dual credit.
###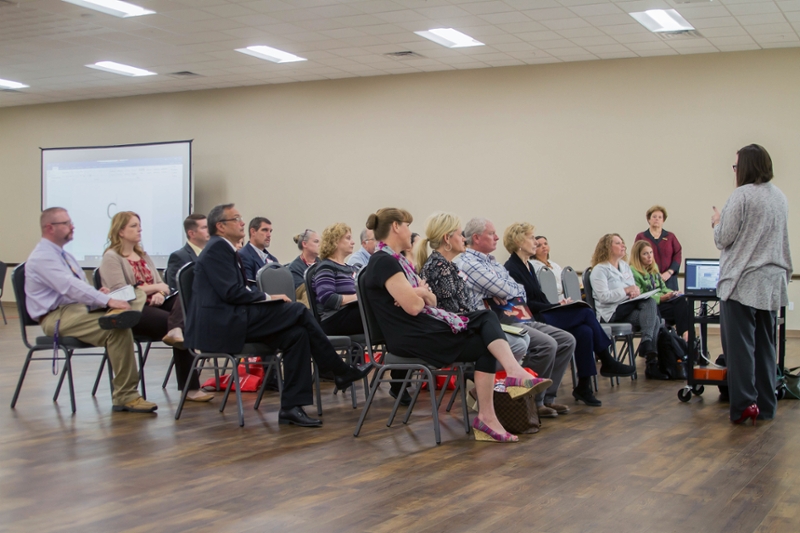 Dr. Kayla Kelly, dean of career and technical education, presents on "Building your ISD's Education Plan."