Hill College women's basketball players Sims-Jackson and Hoy sign to Division I schools
  Hill College
  Thursday, April 19, 2018 10:46 AM
  Athletics
Hillsboro, TX
Hill College women's basketball players Arhianna Sims-Jackson and Alexa Hoy have signed letters of intent to play for NCAA Division I teams. Sims-Jackson has signed with the University of Texas Rio Grande Valley (UTRGV), and Hoy has signed with the University of Texas at El Paso (UTEP). 
Sims-Jackson was named Second Team All-Conference this past season and led the conference in total rebounds and blocked shots. She was also ranked sixth in the nation in blocked shots with 98 blocks. The 6-foot 4-inch post from Arlington averaged 7.4 points, 8.2 rebounds and 3.2 blocked shots per game this year while shooting 56.9 percent from the field in helping the Lady Rebels to an 18-13 record and a third place conference finish this season. The Lady Rebels reached the Region V Tournament for a program record fourth consecutive year and have amassed 99 wins over the last five seasons; the second most in the conference over that time period.
"I am so excited for Arhianna and proud of the improvements she has made the past two years to get to this point. Coach Larry Tidwell has done a great job building the program at UTRGV into a program that will compete every year to reach post season tournament play," said Hill College Head Women's Basketball Coach Scott Hyland. "Arhianna has the chance to step right in next year and help them get to another level with her rebounding, defensive presence, and shot blocking ability. The Rebel Family wishes her all the best in her future endeavors."  
Hoy had a breakout freshman season being named All-Region, First Team All-Conference and the Conference Freshman of the year. The 5-9 wing from Rockwall averaged 16 points per game, good for third in the conference and connected on a conference leading 71 three-point field goals while shooting 35.1 percent from the three-point line.
"Alexa had a huge impact on our program this season as a freshman. I am very excited for her and this opportunity that she has been given at UTEP. She has certainly earned it," said Hyland. "Coach Kevin Baker and his staff did a fabulous job in their first season last year. I believe Alexa's ability to knock down the spot up three-pointer and create scoring opportunities off the dribble will allow her to step in and have an immediate impact with a solid division I program that is on the rise. The Rebel Family wishes her great success the next three years and beyond."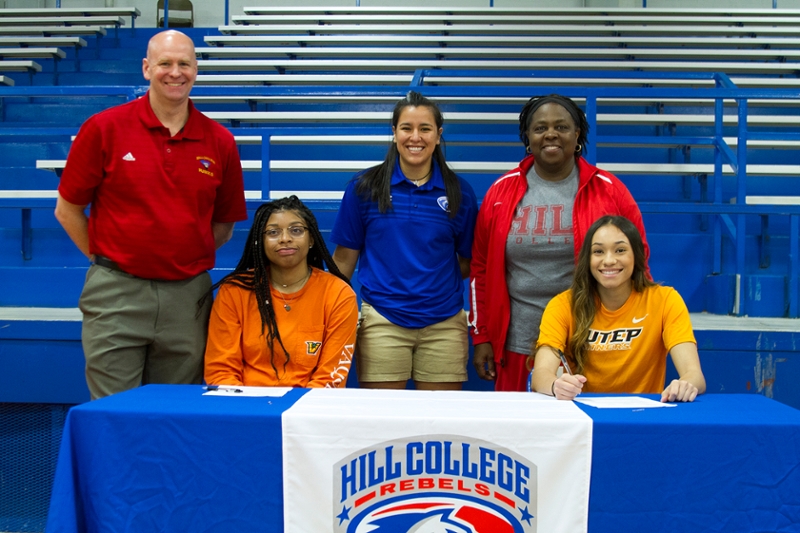 Head Coach Scott Hyland, Arhianna Sims-Jackson, Assistant Coach Victoria Pena, Assistant Coach Wanda Talton and Alexa Hoy.