Associate Degree Nursing pinning ceremony recognizes 11 Hill College graduates
  Hill College
  Monday, May 14, 2018 2:49 PM
  Academics
Hillsboro, TX
Eleven Hill College Associate Degree Nursing (ADN) students were honored with a pinning ceremony on Thursday, May 10, at the Cleburne Conference Center. 
After an invocation and welcome, Dean Lori Moseley presented special awards and the class was presented for pinning. Pinning a graduating nursing student symbolizes their initiation into the nursing profession and marks the completion of rigorous training. The graduates then recited the Nightingale Pledge, in which students pledge to, "Do all in my power to maintain and elevate the standard of my profession…" 
The graduates included: Heather Leigh Arthur of Joshua, China Casillas of Cleburne, Katelyn Rae Cavanaugh of Burleson, Ashley Diane Hannah of Joshua, Brandee Ingrum of Malone, Abigail Lynn Jones of Cleburne, Shelley Lea Montgomery of Hillsboro, Shaun Aaron Pinyan of Rio Vista, Brittany Nichole Riggs of Joshua, Katie Van Hemel of Joshua and Kristin Michelle Wheeler of Rio Vista.
The ADN pathway is a 60-hour Associate of Applied Science degree with varying options including licensed vocational nursing to ADN and paramedic to ADN transition programs. The ADN program offers the highest quality health-related education and training to students of our community and surrounding areas.
The program offers students the ability to dedicate themselves to increase their knowledge and developing their talents thus allowing them to become highly skilled nurses able to provide patient-centered care in hospitals or other health care facilities. 
Applications for the Hill County Campus ADN program are being accepted through June 1 for the fall semester, which begins Aug. 20. For more, please visit the www.hillcollege.edu to learn more about the program.
###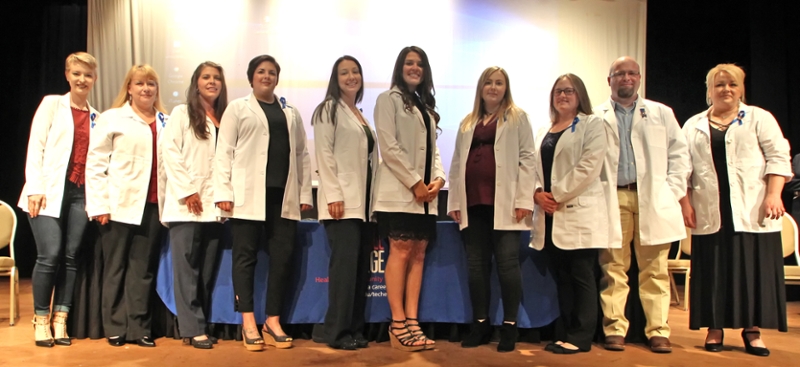 Cutline: Associate Degree Nursing graduates after the pinning ceremony