Hill College Men's Rodeo Team Named Southern Regional Champions
  Hill College
  Thursday, May 3, 2018 3:19 PM
  Athletics
Hillsboro, TX
Hill College Men's Rodeo Team was named NIRA (National Intercollegiate Rodeo Association) Southern Region Champions at the last rodeo of the season at Wharton Junior College with 5,109.33 points. They are currently ranked eighth in the national standings. Seven Hill College cowboys will be going to the CNFR June 10-16 in Casper, Wyoming. McNeese State University men's team was reserve regional champions with 4,816.99 points. Panola Junior College was third with 4,511.83 points. Sam Houston State University was fourth, Texas A&M placed fifth. 
Several Hill College student placed very well in the Southern Region year-end standings. Jon Douch of Huntsville was third in the Men's All-Around standings, Ezkiel Mitchell of Baytown was sixth, and Tanner Fleet of Axtell was ninth. 
In the Saddle Bronc Riding Jarrod Hammons of Stephenville was fourth in the year-end standings and will miss going to the CNFR by just 11 points. Logan Decker of Burleson was eighth.
In the Bareback Riding event, Zack Hibler of Wheeler was named the Regional Champion and Colby Fedor of Grandview was third. Mitchell placed eighth and Tim Murphy of Simpsonville, S.C., was ninth.
In the Bull Riding event, Mitchell was named Reserve Regional Champion, and Laramie Craigen of Beaumont ended the year ninth. 
In the Tie-Down Roping event, Douch was named the Regional Champion and Cooper Mathews of Cleburne placed fifth, and Fleet ended the year tenth. 
In the Steer Wrestling event, Douch ended up third and Fleet placed eighth, and Preston Westphal was 14th.
In the Team Roping Heading standings, Cyle Denison of Iowa, La., was named Reserve Champion Header in the region. On the Heeling side, Colton Brittain of Rockwall was named Regional Champion, Clay Sieber of Troup was Reserve Champion and Ross Ashford of Lott was fourth.
The Women's Rodeo team ended the season in seventh place in the Southern Region. Brooke Jordan of Covington placed fifth in the Break-Away Roping in the regional standings, missing the CNFR by 19 points.
In the national standings, Hibler is third in Bareback Riding. Mitchell is fourth in the Bull Riding. Douch fifth in the Tie Down Roping and 24th in Steer Wrestling, 22nd in the All-Around standings. Denison is 21st in the Team Roping Heading, Brittain is 15th in the Heeling standings, and Sieber is 22th. Hammons is 23rd in the Saddle Bronc Riding.
This will be Hill College's 28th appearance at the CNFR lead by Head Coach Paul Brown. During his tenure, Hill College has had nine individual National Champions (eight in Bull Riding and one in Calf Roping) and nine Reserve National Champions. His teams have accumulated 19 Regional Team Championships, 12 Reserve Regional Team Championships and finished in the Top 10 national team standings 17 times.
###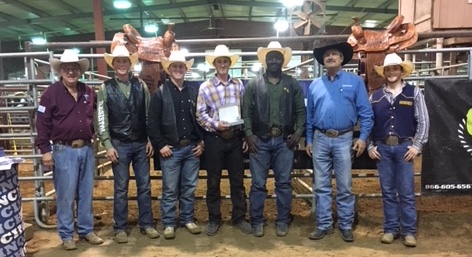 Pictured L to R: Dr. Al Wagner, Southern Region faculty director, Texas A&M University, with Hill College students Colt Brittain, Tanner Fleet, Jarrod Hammons, Jon Douch, Hill College Head Rodeo Coach Paul Brown, and Hunter Martin, student director from Texas A&M University-Commerce.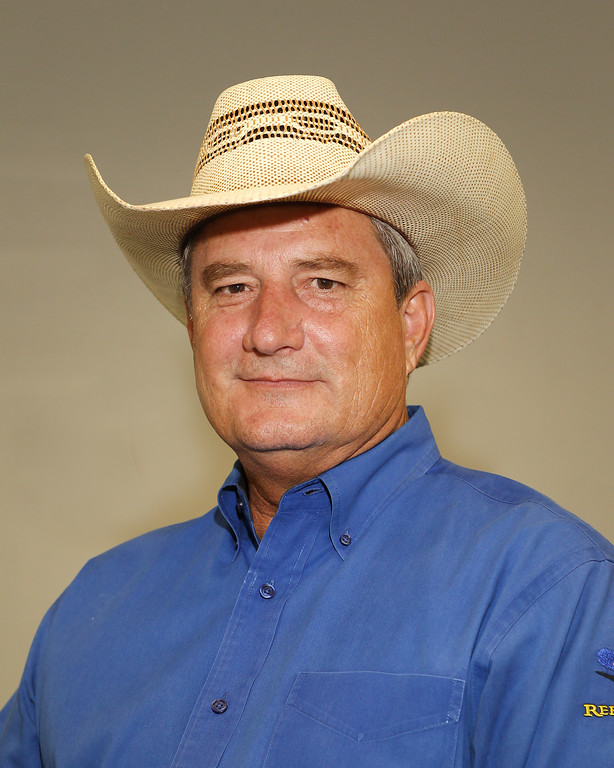 Head Rodeo Coach Paul Brown