Hill College tie down roper places fourth in CNFR first round
  Hill College
  Tuesday, June 12, 2018 10:12 AM
  Athletics
Hillsboro, TX
Competition began this weekend at the 2018 College National Finals Rodeo (CNFR) in Casper, Wyo., and Hill College rodeo athlete John Douch of Huntsville roped his calf in 9.7 seconds in the first go-round. He is currently in a three-way tie for fourth place in the tie-down roping. Douch also competed in the steer wrestling and had a time of 5.3 seconds and is 15th out of the 50 national finalists.
In the bareback riding, Zach Hibler of Wheeler scored a 75 point ride and placed seventh and Colby Fedor of Grandview scored a 68.5 point ride and placed 14th in the first go-round.
In the team roping event, Cyle Dennison of Iowa, La. and Clay Sieber of Troup caught their steer in 6.9 seconds and placed sixth in the first go-round. Colton Brittain of Rockwall, who is a heeler for North East Texas Community College header, Wyatt Muggli, had a no time.
Ezkiel Mitchell of Baytown had a no score in the bull riding. The Hill College men's team is in 12th place of the CNFR after the first go-round.
The rodeo runs all week and the final go-round will take place Saturday.
This is Hill College's 28th appearance at the CNFR lead by Head Coach Paul Brown. During his tenure, Hill College has had nine individual National Champions (eight in Bull Riding and one in Calf Roping) and nine Reserve National Champions. His teams have accumulated 19 Regional Team Championships, 12 Reserve Regional Team Championships and finished in the Top 10 national team standings 17 times. 
###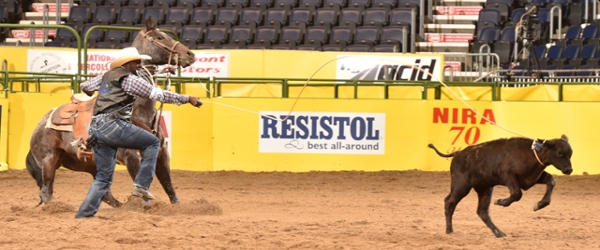 Photo cutline: Hill College Cowboy John Douch of Huntsville roping his calf in the tie-down roping with a time of 9.7 seconds for a fourth place win in the first go-round of the CNFR.