Dewey C. James Jr. Scholarship recipient selected
  Hill College
  Monday, July 2, 2018 10:27 AM
  General Events
Cleburne, TX
Karina Ramos of Cleburne has been selected as the 2018-19 Dewey C. James Jr. Scholarship recipient. Ramos is a recent graduate of Cleburne High School, where she took several health science courses. Her involvement in those courses led her to want to pursue a career as a medical sonographer. She will begin at Hill College in the fall, where she will work on obtaining her prerequisite courses before transferring to a sonography program. Ramos is also the recipient of the Hill College Teen Forum scholarship. 
"The scholarships I have been granted will truly be of huge help in the journey of achieving my goals," said Ramos. "In my case, while my parents offer their endless support for me to continue my education, they do not have the means to support me monetarily. That is why, in trying to find aide myself, these scholarships are exactly what I need."
Mayra Dominguez of Cleburne was the 2017-18 Dewey C. James Scholarship recipient. During her first year at Hill College she maintained a 4.0 grade point average and made the President's and Dean's lists. She plans to finish her basic courses, then transfer to the University of North Texas or the University of Texas at Arlington to earn a teaching certification. Dominguez hopes to one day teach business or accounting at the high school level in order to give back to the community. 
"The Dewey James scholarship was very beneficial in assisting me to attend Hill College. Thanks to the scholarship, I was able to focus completely on my studies rather than spend my time worrying about where I would get the money necessary for me to continue my education," said Dominguez. "It allowed me to obtain the resources necessary for me to be successful in my education and really allowed me to focus on getting through my first year." 
Lowell "Stretch" Smith and the Mustang Foundation established the Dewey C. James Jr. Scholarship to honor James and his work to promote Hill College's Johnson County Campus and higher education in Johnson County. 
"My father, Dewey James passed away this last year, and my family is very grateful to the Mustang Foundation for continuing this scholarship in my Dad's name for the worthy recipients! I would like to share with all, my father was passionate about community service and work ethic," said Guy James.
###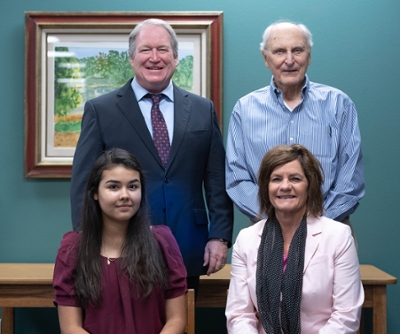 Photo cutline: Back row L-R: Guy James, Lowell "Stretch" Smith; front row L-R: Karina Ramos, Hill College President Dr. Pam Boehm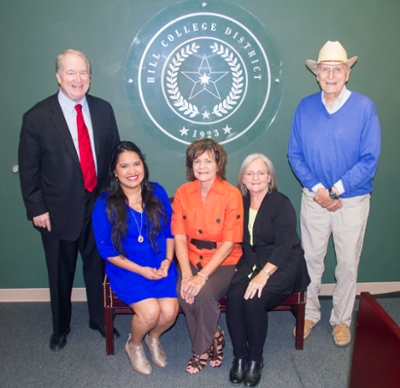 Photo cutline from L-R: Guy James, Mayra Dominguez, Hill College President Dr. Pam Boehm, Rose Nunn, Lowell "Stretch" Smith