18 graduate from Hill College Continuing Education health career programs
  Hill College
  Monday, August 6, 2018 9:19 AM
  Academics
Cleburne, TX
Eighteen students have graduated from Hill College Continuing Education summer health career programs.
Phlebotomy Instructor Nikki James said, "The sky is the limit for this group of talented students. I can't wait to see them excel."
The eight phlebotomy graduates were: Alicia Menjivar of Burleson, Dani Anderson-Myers of Aquilla, Allyson Owen of Cleburne, Mackayla Wallace of Aquilla, April Hamer of Alvarado, Suzette Lanaville of Early, Randi Kitchens of Cleburne and Stacy Thacker of Burleson. 
The ten nurse aide graduates were: Regie Pardillo of Cleburne, Kristina Connelly of Cresson, Ashley Cox of Glen Rose, Gracee Bledsue of Joshua, Bella Piceno of Venus, Inez Sankey of Keene, Kelly Van Assendelft of Stephenville, Justin Huggins of Cleburne, Hope Ramsey of Alvarado and Staci Mclaughlin of Burleson.
"This is a great group of students. They took their part seriously when taking care of residents. The class is a great stepping stone to getting your foot in the door of the medical field," said Nurse Aide Instructor Laura Clanton. 
The next phlebotomy and nurse aide sessions will begin Oct. 1 in Cleburne. For more information, please contact the Continuing Education Department at ceinfo@hillcollege.edu or 817-760-5820, or visit www.hillcollege.edu/ce.
###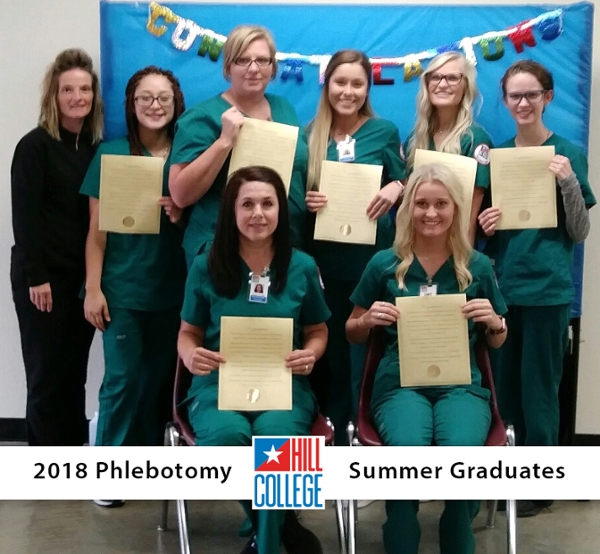 Phlebotomy graduates, back row L-R: Instructor Nikki James, Alicia Menjivar, Dani Anderson-Myers, Allyson Owen, Mackayla Wallace, April Hamer. Front row L-R: Suzette Lanaville, Randi Kitchens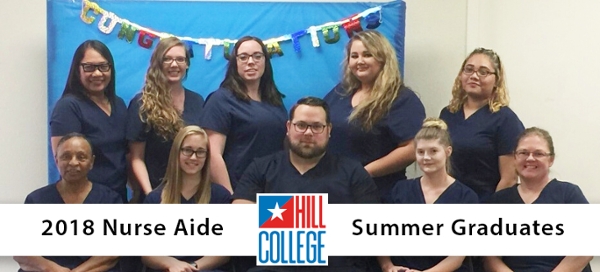 Nurse aide graduates, back row L-R: Regie Pardillo, Kristina Connelly, Ashley Cox, Gracee Bledsue, Bella Piceno. Front row L-R: Inez Sankey, Kelly Van Assendelft, Justin Huggins, Hope Ramsey, Staci Mclaughlin.