Hill College business program coordinator named Post Secondary Teacher of the Year
  Hill College
  Wednesday, August 15, 2018 8:53 AM
  General Events, Academics
Hillsboro, TX
Hill College Business Program Coordinator and Instructor Katy Holden has been selected as the Post Secondary Teacher of the Year by the Texas Business and Technology Educators Association (TBTEA).
"It was a huge honor to receive this award and represent Hill College," said Holden, who has taught accounting and business at Hill College for nine years.
"We are so proud of Katy. Her dedication to her students and the program is apparent," said Dean of Career and Technical Education Dr. Kayla Kelly. "She is very deserving of this award."
Business Administration/Management is found in all industries and is expected to grow by 12 percent in the next several years. The Hill College Business Administration program provides knowledge and skills in planning, directing and evaluating business functions essential and efficient for business operations. Business Administration careers are available in every sector of the economy. Hill College's Business Certificates and Associate Degrees provide up-to-date management skills for the business and industrial community. The degrees offer management, marketing and academic core courses. To learn more about this program, please visit www.hillcollege.edu.
###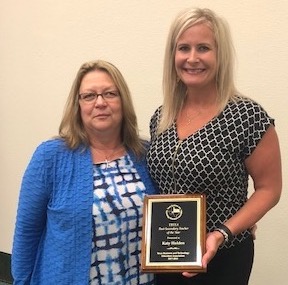 Photo cutline L-R: Dr. Cathy Scott, president of TBTEA and Katy Holden, Hill College business program coordinator and instructor