Vocational Nursing pinning ceremony recognizes eight Hill College graduates
  Hill College
  Thursday, August 9, 2018 11:09 AM
  Academics
Hillsboro, TX
Eight Hill College Vocational Nursing (VN) students were honored with a pinning ceremony on Thursday, Aug. 2, at the Hill College Vara Martin Daniel Performing Arts Center in Hillsboro.
After an invocation and welcome, Vocational Nursing Program Director Janis Grimland presented special awards and the class was presented for pinning. Pinning a graduating nursing student symbolizes their initiation into the nursing profession and marks the completion of rigorous training. The graduates then recited the Nightingale Pledge, in which students pledge to, "Do all in my power to maintain and elevate the standard of my profession…" 
The graduates included: William Blake Applegate of Burleson, Michelle Renee Cortez of Granbury, Beverly Dean of Rio Vista, Krisha Ecord of Cleburne, Phillip Jackson of Burleson, Emily Jeter of Italy, Katie Ann Sanders of Fort Worth and Carolyn Denette Sowell of Godley. 
The Hill College vocational nursing program earned a 100 percent first time pass rate on the 2017 National Council Licensure Examination-Practical Nurse (NCLEX-PN). This rate far surpasses the state average of 86 percent, and the national average of 83.85 percent.  
The Vocational Nursing program is a one-year, 47/48 credit hour curriculum leading to a Certificate of Completion. The Vocational Nursing Program is accredited by the Board of Nursing (BON) for the State of Texas and is designed to provide students with the skills and knowledge required to pass the NCLEX-PN (National Council Licensure Examination - Vocational Nursing).
Please visit the www.hillcollege.edu to learn more about the program.
###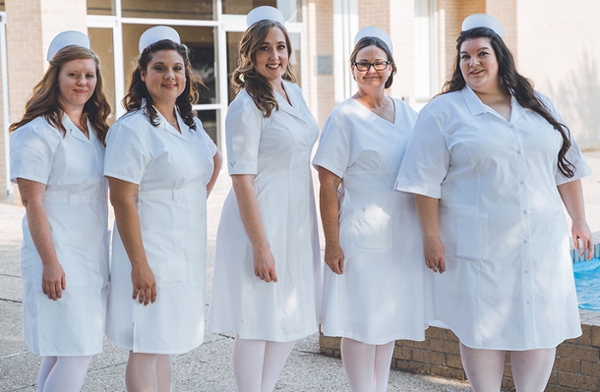 Photo cutline from L-R: Emily Jeter, Beverly Dean, Katie Sanders, Danette Sowell, Michelle Cortez