Hill College Echocardiography program purchases new ultrasound machine
  Hill College
  Friday, September 28, 2018 8:15 AM
  Academics
Hillsboro, TX
Hill College Echocardiography program has purchased a new Hitachi Arietta 60 ultrasound machine. It is recognized for its outstanding image quality and Doppler performance with advanced transducer technology. "We utilize our lab time to prepare our students for the job skills needed to work as a cardiac sonographer," said Echocardiography Instructor Darla Whitehead. "The new machine's technology will allow the student to be prepared for the type of machines used in the hospital and clinic setting."
The new equipment has an imaging feature that allows the student to see the endocardial border in the left ventricle called "LV eflow." This feature allows students to visualize the ventricle without the use of a contrast agent that is often needed in patients that are difficult to image. In the classroom lab, students are not able to use contrast agents, so this feature is an innovative way for students to view the heart. The Arietta 60 also has a 2D strain rate speckle tracking capability that provides quantification of strain and strain rate to visualize, quantify and analyze regional and global myocardial mechanics. 
The Hill College Echocardiography program is a two-year course of study, leading to an associate of applied science degree in Echocardiography Technology. It prepares students to enter the workforce as an echocardiography technologist producing echocardiograms. An echocardiogram is a painless, noninvasive procedure using ultrasound waves to create pictures and take measurements of the inside of a person's heart.
The Hill College program is comprehensive through the teaching of scanning skills, pathophysiology, cardiovascular pharmacology and all the skills and knowledge necessary to become a registered cardiac sonographer. 
The program also includes more than 900 hours of clinical work performed at hospitals and clinics. The coursework includes; basic ultrasound physics, cardiovascular pharmacology, echocardiographic evaluation of pathology, anatomy and physiology and more. After completion of the program students take a registry exam with Cardiovascular Credentialing International (CCI) or American Registry of Diagnostic Medical Sonography (ARDMS).
Hill College offers an Associate of Applied Science degree with completion of the program and works in conjunction with Texas Tech University at Hill College to offer a Bachelor of Applied Arts and Sciences degree.
For more information about the program, and to apply by the application deadline of November 1, please visitwww.hillcollege.edu/echo, or contact Darla Whitehead at dwhitehead@hillcollege.edu or 817.760.5933.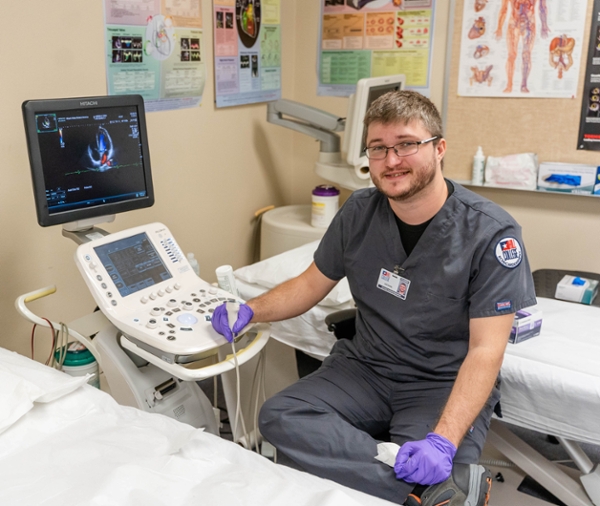 Hill College echocardiography student Michael Hand of Cleburne with the new Hitachi Arietta 60 ultrasound machine.