CHI Cosmetology at Hill College partners with UnitedHealthcare for community education event
  Hill College
  Wednesday, October 24, 2018 9:02 AM
  General Events
Hillsboro, TX
CHI Cosmetology at Hill College partnered with UnitedHealthcare for a community education event where the students provided haircuts and manicures for senior and disabled clients.
The purpose of the event was to educate UnitedHealthcare members about resources in their community, and it was a community service project for the cosmetology students.
"Our students were excited to work with the UnitedHealthcare members to raise awareness about the affordable services we offer at CHI Cosmetology at Hill College," said Cosmetology Director/Instructor Gina Padgett. "Our students are always willing to go the extra mile to help people feel good about themselves, and help people 'face the world.'" 
The Cosmetology Technology Programs at Hill College offers theory and practical instruction designed to prepare students for employment as a licensed cosmetologist. Courses are available for students to become a cosmetology operator and/or cosmetology instructor. When students successfully complete the entire curriculum, they are qualified to take the examination for licensing given by the Texas Department of Licensing and Regulation. The Hill County and Johnson County Campuses are both licensed by the Texas Department of Licensing and Regulation.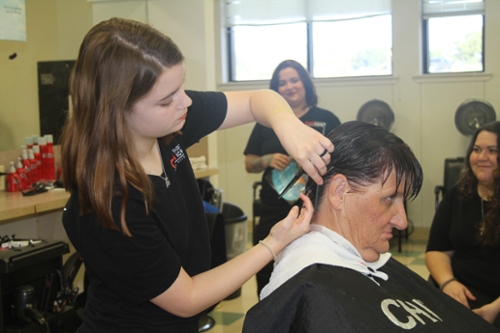 Photo cutline: Cosmetology student Jessica Hughes with client Pauline Adams.