Hill College Men's Rodeo Team wins the North Texas Community College Rodeo
  Hill College
  Thursday, October 25, 2018 9:12 AM
  Athletics
Hillsboro, TX
Hill College Men's Rodeo Team tied for 1st place at North Texas Community College Rodeo in Mt. Pleasant this past weekend. The team brought in a total of 611 points.
In the bareback riding, Parker Fleet, a freshman from Axtell, was second with a 74-point ride and Jarrod Hammons of Stephenvillle, was fourth with a 69-point ride.
In the tie-down roping, McCoy Profili, a sophomore from Anderson, won the rodeo with a 9-second time. He also won the team roping by a full second with a 5.5-second run. These wins allowed him to also win the men's all-around for the weekend.
In the team roping, Cyle Denison, a sophomore from Iowa, La., and Ross Ashford, a sophomore from Lott, also finished third with a 6.8-second run.
Joe York, a freshman from Huntsville, finished ninth in the steer wrestling with a 6.8-second time.
Colby Fedor, a sophomore from Grandview, marked a 70-point ride in the bareback riding to finish third. 
After three college rodeos the men's team is currently sitting fifth in the region. Fedor is currently sitting seventh in the bareback riding regional standing. Profili is fifth in the tie-down roping, Scott Steiner, a freshman from Decatur, is eighth in the steer wrestling, and Denison is third in the team roping heading standings.
The men's team is competing strong in the bull riding, saddle bronc and heeling. Parker McCown, a freshman from Montgomery, is currently leading the region in the bull riding, and Colton Thomas, a sophomore from Grandview, is 10th. In the saddle bronc riding, Fleet is second in the region, and Hammons is sitting sixth and Logan Decker, a sophomore from Burleson, is sitting seventh.
Hill College currently has three of the top heelers in the southern region. Ashford is third, Profili is fourth and Colt Brittain, a sophomore from Rockwall, sits eighth. The rodeo team has two more rodeos to finish out the fall rodeo season. Oct. 26-27 they travel to McNeese State University in Lake Charles, La., and Nov. 9-10 they go to Sam Houston State University in Conroe.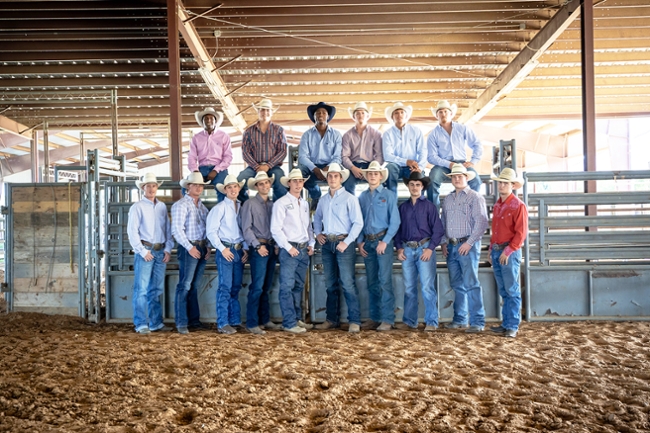 Photo cutline: Hill College men's rodeo team.