Hill College Student Success Spotlight: Angela Trompler
  Hill College
  Monday, October 8, 2018 8:26 AM
  General Events
Cleburne, TX
Angela Trompler planned to attend a university on a softball scholarship, but it all changed with an injury. "I was lost and unsure on what to do next, so I opted to give Hill College a try until I came up with a plan," said Trompler. "Little did I know, Hill College was able to offer me nursing school while staying close to home and working." 
She started at Hill College as a Burleson Opportunity Fund recipient, intending just to work on her pre-requisites for nursing, then continued to the Vocational Nursing (LVN) program and onto the LVN to Associate Degree Nursing (ADN) transition program. Now, she is the nurse manager of a medical oncology unit at Texas Health Huguley.
Her favorite thing about Hill College was that it was close to home and easy to navigate. "It was a home-like atmosphere where you got to know the instructors and the students you were attending with."
"Give it a try," says Trompler when asked what she would say to others considering Hill College. "There are so many options available while allowing you to stay close to your roots and working at the same time. It's nice to continue working in the same community I grew up in." 
The Hill College Associate Degree Nursing Program is a year 60-hour Associate of Applied Science degree. The ADN program received 100 percent pass rate on the National Council Licensure Examination (NCLEX-RN) this year, with all 11 students passing on their first attempt. 
The Vocational Nursing program is a one-year, 47/48 credit hour curriculum leading to a Certificate of Completion. The LVN program is accredited by the Board of Nursing (BON) for the State of Texas and is designed to provide the student with the skill and knowledge required to pass the NCLEX-PN. The program earned a 100 percent first time pass rate on the 2017 (NCLEX-PN). This rate far surpasses the state average of 86 percent, and the national average of 83.85 percent. 
The Hill College Nursing program offers the highest quality health-related education and training to students of our community and surrounding areas. The program offers students the ability to dedicate themselves to increase their knowledge and developing their talents thus allowing them to become highly skilled nurses able to provide patient-centered care in hospitals or other health care facilities. For more information about the program, please visit www.hillcollege.edu/nursing.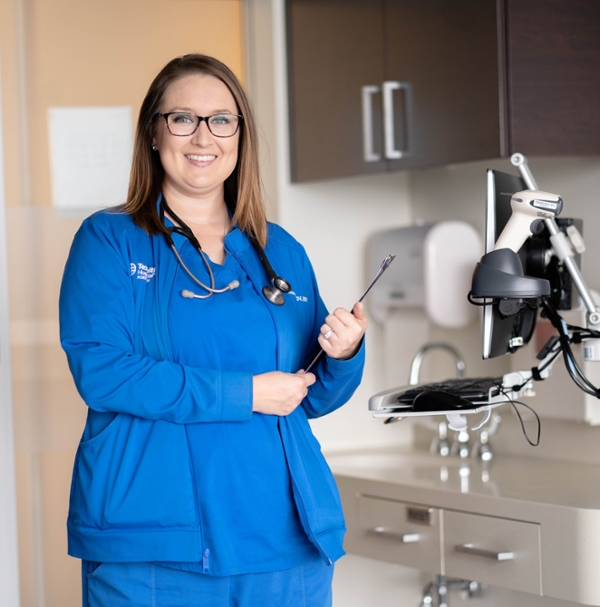 Angela Trompler, Hill College and Burleson Opportunity Fund alumna, is the nurse manager of a medical oncology unit at Texas Health Huguley.