Johnson County Dual Credit Jumpstart Fund receives $10,000 founding gift from Citizens National Bank of Texas
  Hill College
  Wednesday, October 17, 2018 8:01 AM
  General Events
Cleburne, TX
The Johnson County Dual Credit (JCDC) Jumpstart Fund has received a $10,000 founding contribution from Citizens National Bank (CNB) of Texas.         
Launched in the summer of 2018, the JCDC Jumpstart Fund is a community-led scholarship of Hill College. Initiated by community leaders in Johnson County, the Jumpstart Fund aims to provide scholarships for high school students in Johnson County taking dual credit courses at Hill College. Today in Texas, it is possible for students from 9-12th grade to earn high school and college credit simultaneously by taking dual credit courses. This program provides high school students with the chance to "Jumpstart" their college career by taking college courses while still in high school. Once passed, these courses become transferable college credit while also satisfying the requirements of the student's high school curriculum.
"At Citizens National Bank of Texas we take pride in our partnership with our local colleges and universities to assist in the education of the next generation of leaders in the communities that we serve.  From electricians, plumbers, welders, beauticians, to teachers, doctors and even those with a business or finance degree, CNB of Texas takes pride in being a local community bank that gives students a chance to succeed, to get a "Jump Start" in their education in high school. Dual Credit courses accelerate the student from their freshman to their senior year in the field of their choice to get a head start in their college education and in life. At the end of their high school education, in which ever path they choose, they can become leaders in our communities with the opportunity that Hill College provides to ALL students of Johnson County. CNB of Texas is honored to partner with Hill College in ensuring the success for this next generation," said CNB Senior Vice President of Business and Community Development Amy Kieffer-Womack. 
"Working with our local community partners aligns with our priorities to provide educational opportunities to the students in our service area," said Hill College President Dr. Pam Boehm. "I am excited to partner with Citizens National Bank of Texas and appreciate their generosity in helping to 'jumpstart' dual credit opportunities for the students in Johnson County." 
If you would like to make a gift or would like more information about the JCDC Jumpstart Fund, please contact Mr. Guy James at 817-202-7064 or guy.james@pinnbank.com.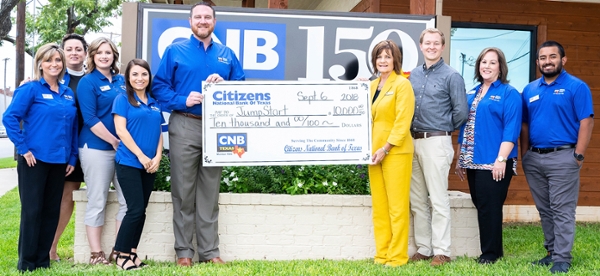 L-R: Peggy Stephens, branch manager; Amy Kieffer-Womack, senior vice president of business and community development; Emma Cagle, personal banker; Madison Brown, personal banker II; Rhyan Anderson, market president; Dr. Pam Boehm, Hill College President; Preston McReynolds, Hill College director of development; Susan Beaman, marketing coordinator; Elvin Amaya, personal banker