Hill College Men's Basketball team heads into 2018-19 season
  Hill College
  Thursday, November 29, 2018 3:38 PM
  Athletics
Hillsboro, TX
The Hill College men's basketball team is off to a great start for the 2018-2019 season.
Led by Head Coach Swede Trenkle and assisted by Coris Williams, the team is standing at 8-1 in the first weeks of play. Last week the team defeated a very talented New Mexico Junior College, 91-77, in a very exciting back and forth game. They have defeated tough competitors such as Kilgore College, Panola College and Redlands Community College; with their only loss coming to the number seven ranked Odessa College.
The Rebels seem to be a group who has bonded as a team. "They like each other, play hard together and do things together," says Trenkle. Part of their success comes from the leadership of sophomores Xavier Johnson, Michael Medlin and Emmanuel Bandoumel. 
The men's basketball team will be on the road this weekend playing at Oklahoma Enid on Saturday at 4 p.m., and playing at Redlands Community College on the Dec. 7. The next home game will be played against Cedar Valley College at 5 p.m. on Saturday, Dec. 8.
Come out and support your Rebels as they continue to prepare for conference play, which starts Jan. 7 at Grayson College.
For more information about Hill College athletics, and to view the men's basketball team schedule, please visit www.hillcollege.edu/athletics.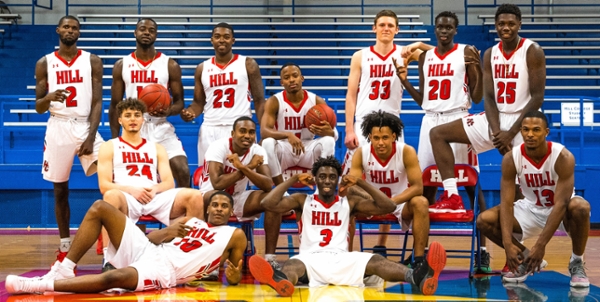 Photo cutline: 2018-19 Hill College men's basketball team