Hill College faculty and staff participate in Consortium leadership program
  Hill College
  Monday, November 12, 2018 1:09 PM
  General Events
Hillsboro, TX
Hill College hosted the North Texas Community College Consortium's (NTCCC) Consortium Leadership and Renewal Academy (CLARA) meeting Nov. 2.
Hill College Automotive Program Coordinator Dr. Jerry Hampton and Dean of the Burleson Center Ray Roberts have been selected to participate in CLARA, a year-long regional leadership information, development and renewal program created for the member institutions of the NTCCC. CLARA serves entry-level and mid-level administrators who desire to improve their leadership and management abilities, update their knowledge, upgrade their skills, broaden their perspectives, prepare themselves for administrative advancement, and renew their commitment to higher education in the community college. It is also designed for faculty members and others interested in exploring careers in administration.
"The lessons we do each month give us insight into the next step in administration, where many of the participants aspire to be in the near future," said Hampton, who is doing a study on implementing a diesel program as his CLARA project. Roberts is working on a project related to curriculum alignment.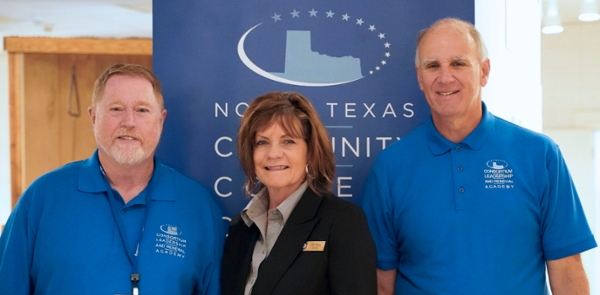 Photo cutline L-R: Automotive Program Coordinator Dr. Jerry Hampton, Hill College President Dr. Pam Boehm and Dean of the Burleson Center Ray Roberts