Hill College Dual Credit student signs to Oklahoma State University
  Hill College
  Monday, January 14, 2019 10:57 AM
  General Events, Athletics
Hillsboro, TX
Hillsboro High School senior and Hill College dual credit student Caeden Trenkle has signed a letter of intent to attend and play baseball for Oklahoma State University (OSU). Trenkle, who will graduate high school in May, started as a dual credit student at Hill College in fall 2016 and has completed 31 college credit hours at a cumulative 4.0 grade point average (GPA). He will begin his collegiate athletic career as an outfielder at OSU in fall 2019.
Trenkle, who is currently enrolled in three college credit hours for spring, is ranked third in his high school senior class with a 4.325 GPA. He is the son of Lizza Trenkle, Vice President of Student Services at Hill College, and Swede Trenkle, head men's basketball coach and assistant athletic director at Hill College. 
Dual credit is a process by which a high school student enrolls in a college course and receives simultaneous academic credit for the course from both the college and the high school. While dual credit courses are often taught on the secondary school campus to high school students only, a high school student can also take a course on the college campus and receive both high school and college credit. To learn more about dual credit at Hill College, please visit www.hillcollege.edu/dualcredit.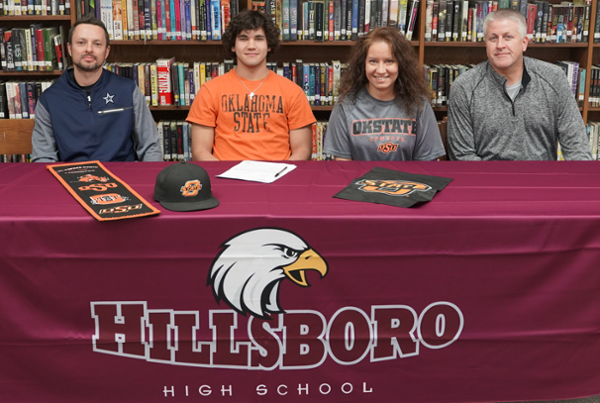 Photo cutline L-R: Hillsboro High School Head Baseball Coach Jeff Hawkins, Caeden Trenkle, Lizza Trenkle and Swede Trenkle