Hill College to offer wood carving class at Russell Farm Art Center
  Hill College
  Tuesday, January 15, 2019 9:32 AM
  General Events
Hillsboro, TX
Hill College, in conjunction with Burleson's Russell Farm Art Center, is offering a 3D design and sculpture class (ARTS 1312.B01) focusing on wood and wood carving. This course is available for college credit to Hill College students. Also, the course is available to the public through Hill College's Continuing Education program.
"We are excited to partner with the Russell Farm Art Center in Burleson in this new wood carving and sculpture class," said Dean of Arts and Humanities Nancy McKenzie. "Russell Farm has been so welcoming to our faculty and staff and the educational opportunities that are available and Tom Sale, Hill College art instructor, has been instrumental in growing this relationship between Hill College and the farm."
The class begins Friday, Jan. 18 and meets every Friday at Russell Farm from 1-4 p.m. for 16 weeks, with breaks for Good Friday and Spring Break. Cost for the 16-week course will be $313 for non-college students. All the tools and materials will be provided. To register for the class as noncredit, please contact Tammy Logan in Hill College Continuing Education Office at 817.760.5826 or by email at tlogan@hillcollege.edu. For more specific information about the class, contact Tom Sale at tsale@hillcollege.edu.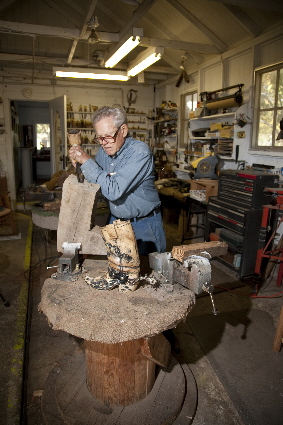 Russell Farm Art Center founder, Charlie Boren, in his studio at the center.