Hill College HVAC instructor receives national scholarship
  Hill College
  Friday, February 1, 2019 12:58 PM
  General Events
Cleburne, TX
The Council of Refrigeration Educators (CARE) and HVAC Excellence has selected Hill College Heating, Ventilation and Air Conditioning (HVAC) Instructor John Willis as a winner of the 2019 D. Brian Baker Memorial Scholarship. Willis is one of only two winners in the nation to receive the scholarship. 
"Receiving this scholarship leaves me speechless. I am thrilled to attend a conference with some of the most brilliant minded leaders in our industry and in the vocational school systems in the United States," said Willis, who has been at Hill College for over a year. "Several authors, who are at the forefront the heating, ventilation, air conditioning and refrigeration (HVACR) industry, will be presenting their books at this conference. I am excited at the prospect of meeting them and learn from their experience and expertise. My goal is to one day achieve something as great as those gentlemen and give back to my community."
Brian Baker was a dedicated HVACR professional and educator who was passionate about the industry and was a true advocate for continual professional development. Baker attended every conference and training session that he could, knowing that working and teaching in the trade wasn't just a job, but a passion he shared with all that he met.
To honor his memory, the D. Brian Baker Memorial Scholarship was established to aid new instructors in professional development. Willis will be attending the 2019 National HVACR Educators and Trainers Conference March 3-5 in Las Vegas, and will also receive a one-year membership in CARE to honor Mr. Bakers commitment to education.
"We are so proud of Mr. Willis. As one of the 2019 D. Brian Baker Memorial Scholarship recipients, he will gain knowledge that he can apply in the classroom," said Dean of Career and Technical Education Dr. Kayla Kelly. "We look forward to seeing our students directly benefit from the innovative learning Mr. Willis will experience at the HVACR Educators and Trainers Conference."
The 2019 National HVACR Educators and Trainers Conference will offer attendees the opportunity to attend over 70 sessions, visit with manufacturers, publishers, and industry organizations at the Exposition, network with other instructors from across the continent and much more.
Kevin Couch, CARE President said," We are proud to partner with HVAC Excellence to make this scholarship happen. The conference is an amazing opportunity for instructors to earn professional development, learn about new technology, new teaching methods, and to meet with industry leaders. We hope to find more partners to grow the funding and assist more deserving instructors to attend the Conference."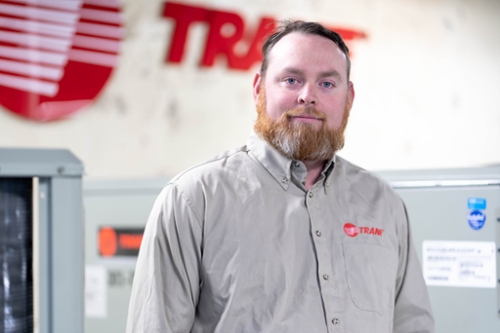 Photo cutline: John Willis, HVAC instructor