Hill College Men's Rodeo Team placed second at Trinity Valley Rodeo Feb. 8-9
  Hill College
  Wednesday, February 20, 2019 2:06 PM
  Athletics
Hillsboro, TX
The Hill College rodeo teams competed at Trinity Valley Community College in Athens Feb. 8-9. The men's team placed second in the rodeo with 445 points, behind Panola Junior College with 850 points. The Hill College women's team placed seventh. 
In the saddle bronc riding, Jarrod Hammons, sophomore from Stephenville, placed first with a 152 score on two head and Parker Fleet, freshman from Axtell, finished third with 146 points. In the bareback riding, Colby Fedor, sophomore from Grandview, scored 157 points on two head and placed second.
In the bull riding event, Caleb Auzenna, freshman from Houston, had a 72-point ride placing second and Colton Thomas, sophomore from Grandview, had a 68-point ride placing fourth. 
In the tie-down roping, King Pickett, sophomore from Jackson, Miss., had a time of 20.3 seconds on two calves placing third and Cooper Mathews, sophomore from Cleburne, was ninth with a 9.6-second run on one.
In the steer wrestling, John Glesmann, sophomore from New Waverly, placed third with a time of 10.7 seconds.
In the team roping event, heeler Colton Brittain, freshman from Rockwall, had a time of 14.9 seconds and placed fifth with header Reno Stoebner of Southwest Texas Junior College. 
On the women's team, Raelee Self, sophomore from Sumner, placed fourth in the barrel racing with a time of 33.07 seconds on two runs. 
While it is early in the season, Fleet is leading the regional and national standings in the saddle bronc riding and Parker McCown, freshman from Montgomery, is leading the regional and national standings in the bull riding.
The teams will compete again on Feb. 22-23 at Texas A&M-Kingsville at the Robstown Expo Center. March 15-16 they will compete at Texas A&M University at the Brazos County Expo Complex. The Hill College home rodeo is April 5-6 in Hillsboro and the last rodeo of the year will be April 26-27 at Wharton County Junior College.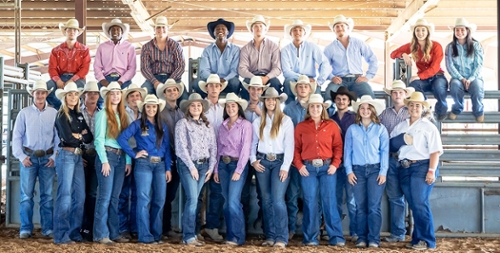 Hill College 2018-2019 Men's and Women's Rodeo Team.