Hill College hosts North Texas Community College Consortium Faculty Innovation Conference
  Hill College
  Thursday, February 21, 2019 12:08 PM
  General Events
Hillsboro, TX
Hill College hosted the North Texas Community College Consortium's (NTCCC) Faculty Innovation Conference Feb. 15, at the Hill County Campus Performing Arts Center. The conference theme was "Creating Engaging, Inspiring, and Challenging Learning Environments." Hill College President and NTCCC Board Member Dr. Pam Boehm welcomed the conference attendees. Dean of Arts and Humanities Nancy McKenzie introduced the keynote speaker, Hill College Nursing Instructor Jack Williams. He spoke about the results of a study performed on the concept that technology exists to support unconventional teaching.
Hill College faculty members led a few conference breakout sessions about practical teaching tips and tricks about an array of unique and innovative techniques they have implemented into their teaching at Hill College. Paula Curbo, biology instructor and program coordinator, and Dr. Don Nelson, biology lab coordinator, led a session titled, "Lab Rubrics as Used in Embedded Assignments." Psychology Instructor Elizabeth Hamner presented on the options for using technology in the classroom, including demonstrations of Socrative, PollEverywhere and Kahoot. Rosalyn Hunter, biology instructor, gave a presentation titled, "How to do a Course Audit," which demonstrates a technique to get an overall view of course structure to use for assessment or planning online courses.
Dean McKenzie introduced Hunter as the second keynote presenter of the day. She gave a presentation titled, "Stories Overheard-What Students Say About Their Teachers." In the workshop Hunter presented the results of an informal student survey, as well as comments that students have about their college experiences and needs, to brainstorm ways to meet them. 
Kyle May, criminal justice program coordinator, presented his Consortium Leadership and Renewal Academy (CLARA) project. CLARA is a year-long regional leadership information, development and renewal program created for the member institutions of the NTCCC. CLARA serves entry-level and mid-level administrators who desire to improve their leadership and management abilities, update their knowledge, upgrade their skills, broaden their perspectives, prepare themselves for administrative advancement, and renew their commitment to higher education in the community college. It is also designed for faculty members and others interested in exploring careers in administration. 
The NTCCC is a premier regional network that provides professional development and growth opportunities and consortium-wide activities in institutional planning, research effectiveness for community colleges in North Texas.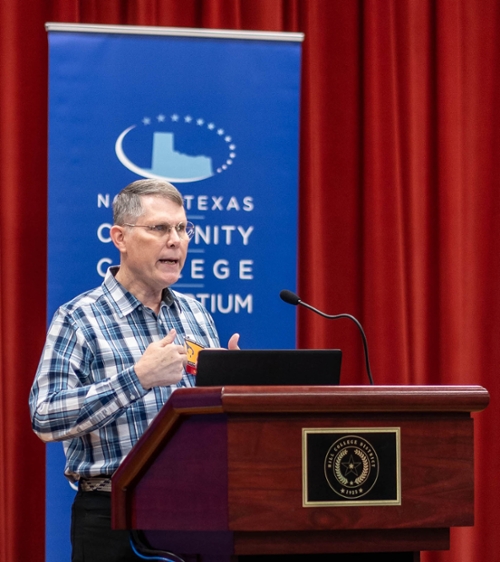 Hill College Vocational Nursing Instructor Jack Williams give a keynote presentation at the North Texas Community College Consortium's (NTCCC) Faculty Innovation Conference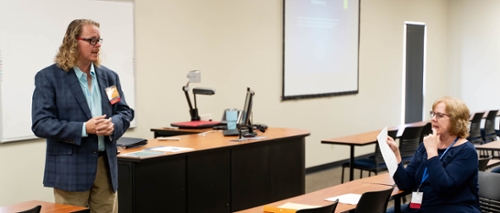 Dr. Don Nelson, biology lab coordinator, and Paula Curbo, biology instructor and program coordinator, led a session titled, "Lab Rubrics as Used in Embedded Assignments