CHI Cosmetology at Hill College makes donation to Patriot House
  Hill College
  Wednesday, March 6, 2019 10:43 AM
  Academics, General Events
Cleburne, TX
CHI Cosmetology at Hill College has made a large donation of over $1,000 worth of goods, including nine gallons of shampoo, winter clothing, toothpaste and a gift card from Discount Tire in Cleburne to Patriot House Transitional Housing for Veterans Ft. Worth, in honor of student David McWilliams. 
McWilliams, a retired Army Sergeant who was injured during a tour of duty in Afghanistan, is now working toward earning his cosmetology operator certificate at Hill College.
"We wanted to show our gratitude to David, for his service to our country and decided to do so, by giving donations to any charity of his choice. He chose Patriot House as the charity he wanted to give to, because David's passion is to bring awareness to the homeless veteran problem in America," said Cosmetology Program Coordinator Christopher Andry. 
The Patriot House provides semi-private, transitional housing for homeless veterans, which prepares them for permanent, independent housing within 24 months.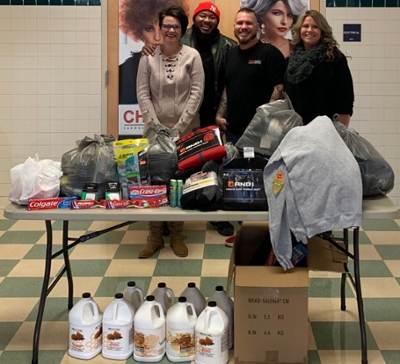 Photo cutline from L-R: Cosmetology Instructor Kim Payne, Cosmetology Program Coordinator Christopher Andry, Cosmetology student David McWilliams and Cosmetology Instructor Kerrie Morris