Hill College Players presents Hamlet April 25-27
  Robin DeMott
  Wednesday, April 17, 2019 4:00 PM
  Performing Arts
Hillsboro, TX
The Hill College Players will present Hamlet, by William Shakespeare, on April 25 and 26 at 7:30 p.m., and April 27 at 2:30 p.m. Tickets may be purchased at the box office 30 minutes before the show begins. Admission is $5 and free for Hill College faculty, staff and students (with ID). 
The cast includes the following students: Saul Sanchez of Alvarado as Hamlet, Zack Aguirre of Alvarado as Claudius the Ghost, Taylor Skinner of Burleson as Gertrude, Jacob Renfroe of Cleburne as Horatio, Jared Clark of Cleburne as Polonius/Gravedigger, Yolanda Medina of Hillsboro as Ophelia, Jordan Clark of Cleburne as Laertes/Rosencrantz/Barnardo, Kyle Byington of Kaufman as Guildenstern/Osric, Alex Perez of Hillsboro as Marcellus/Player King/Priest, Henry Gebhart of Burleson as Francisco/Lucianus/Fortinbras. The production is directed by Dr. Jenny Corder, drama instructor. 
Hamlet was first performed around 1600,
Hamlet
tells the story of a prince whose duty to revenge his father's death entangles him in philosophical problems he can't solve. Shakespeare's best-known play is widely regarded as the most influential literary work ever written.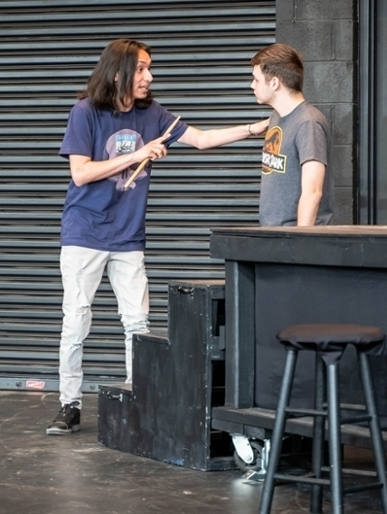 Photo cutline:
Hamlet (Saul Sanchez) and Horatio (Jacob Renfroe) plotting to expose Claudius' guilt.
Guildenstern (Kyle Byington), Rosencrantz (Jordan Clark), Gertrude (Taylor Skinner), Claudius (Zack Aguirre), Horatio (Jacob Renfroe), Polonius (Jared Clark), and Ophelia (Yolanda Medina) confront Hamlet (Saul Sanchez)