Seven Rodeo Team members headed to College National Finals Rodeo in June
  Robin DeMott
  Wednesday, May 1, 2019 12:30 PM
  Athletics
Hillsboro, TX
The Hill College rodeo team will be taking seven individuals to the College National Finals Rodeo in Casper, Wyo., June 9-15. 
The men's team ended up third in the Southern Region standings behind Panola Junior College and McNeese State University. McCoy Profili, sophomore from Anderson, who tie-down and team ropes placed sixth in the men's all-around standings. 
In the saddle bronc riding, Parker Fleet, freshman from Axtell, was named the regional champion, and Jarrod Hammons, sophomore from Stephenville, placed third. 
Colby Fedor, sophomore from Grandview, ended the year fourth in the bareback riding standings, and Andre Kapala, sophomore from Gainesville, was tenth. 
In the bull riding, Parker McCown, freshman from Montgomery, was named regional champion. Colton Thomas, sophomore from Grandview, placed sixth, and Caleb Auzenne, freshman from Houston, was 15th in the year-end standings. 
In the tie-down roping, King Pickett, sophomore from Jackson, Miss., placed fourth and Cooper Mathews, sophomore from Cleburne, was seventh, Profili was 12th. In the steer wrestling Layne York, freshman from Huntsville, and Scott Steiner, freshman from Decatur, were 14th and 15th respectively. 
In the team roping, header Cyle Denison, sophomore from Iowa, La., and heeler Ross Ashford, sophomore from Lott, were named reserved regional champions. Profili who heels for Wyatt Muggli from Texas A&M Commerce, ended up third in the region. Colton Brittain, sophomore from Rockwall, who heels for Southwestern Texas Junior College's Reno Stoebner, was fifth in the region.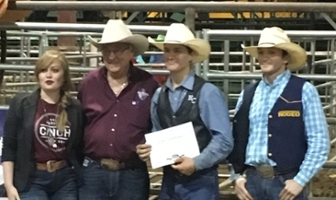 Photo cutline:
Southern Regional Saddle Bronc Riding Champion Parker Fleet.
Southern Region Bull Riding Champion Parker McCown.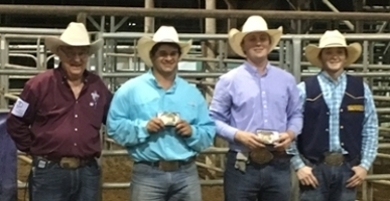 Southern Region Team Roping Reserved Champions Cyle Denison and Ross Ashford