Hill College Bareback Rider receives Colt Bruce Memorial Scholarship
  Robin DeMott
  Thursday, September 26, 2019 9:00 AM
  Athletics
Hillsboro, TX
Hill College sophomore Tim Murphy of Simpsonville, S.C., recently received the $1,000 Colt Bruce Memorial Scholarship. He is a bareback rider on the Hill College rodeo team. 
"He was selected because of his athletic ability, but also because he exudes the same attributes that Colt did," said Dannie Bruce Jr., Colt's dad. 
Murphy is working toward a welding degree at Hill College while he competes in PRCA, CPRA and UPRA rodeo associations. He is currently second in the PRCA permit national standings and is third in the Texas Circuit standings. He travels with former Hill College's assistant rodeo coach and professional bareback rider, Jake Brown. 
Prior to coming to Hill, Murphy participated in high school rodeo and qualified for the National High School Rodeo Finals three years, once in bull riding and three times in bareback riding. After Hill College he plans to rodeo professionally full-time. 
His advice to young cowboys who aspire to pursue bareback riding, Murphy says, "Give it all you've got until you reach your goals." 
Colton James Bruce was a 23-year-old bareback rider who lost his life in an automobile accident in late 2014. He was a PRCA bareback rider with many accomplishments in his short career, Texas high School Finals go-round winner, UPRA Finals, CPRA Finals, CNFR qualifier, Australian Pro Rodeo Association National Finals qualifier, All-American Pro Rodeo Series three-time qualifier and Texas Circuit Finals qualifier, but more importantly, he had an amazing outlook on life. Always having the biggest grin on his face, Colt always found the good in the world. He had more friends than you can count, and he never let anything get him down. Colt had a work ethic and drive that could not be matched. Rodeo was truly his calling and happiness was who he was. "Since the Colt Bruce Memorial Scholarship has started, we have not only found great rodeo cowboys to impart this award to, but also great people with hearts not only for rodeo, but for just being an all-around good person," said Bruce.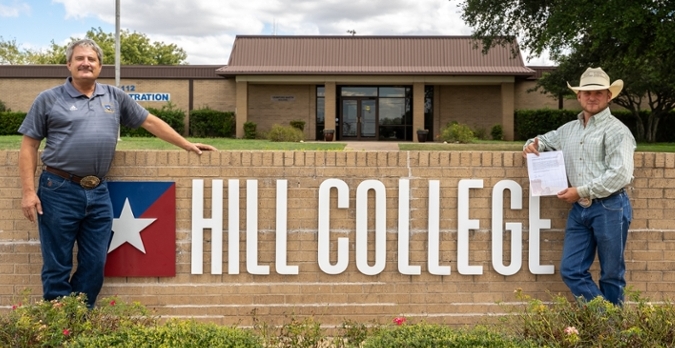 Hill College Head Rodeo Coach and Athletic Director Paul Brown and Bareback Rider Tim Murphy.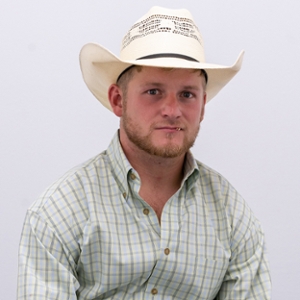 Hill College sophomore and bareback rider Tim Murphy