Hill College President Celebrates Forty Years of Service
  Savanah Allen
  Tuesday, March 10, 2020 2:18 PM
  General Events
Hillsboro, TX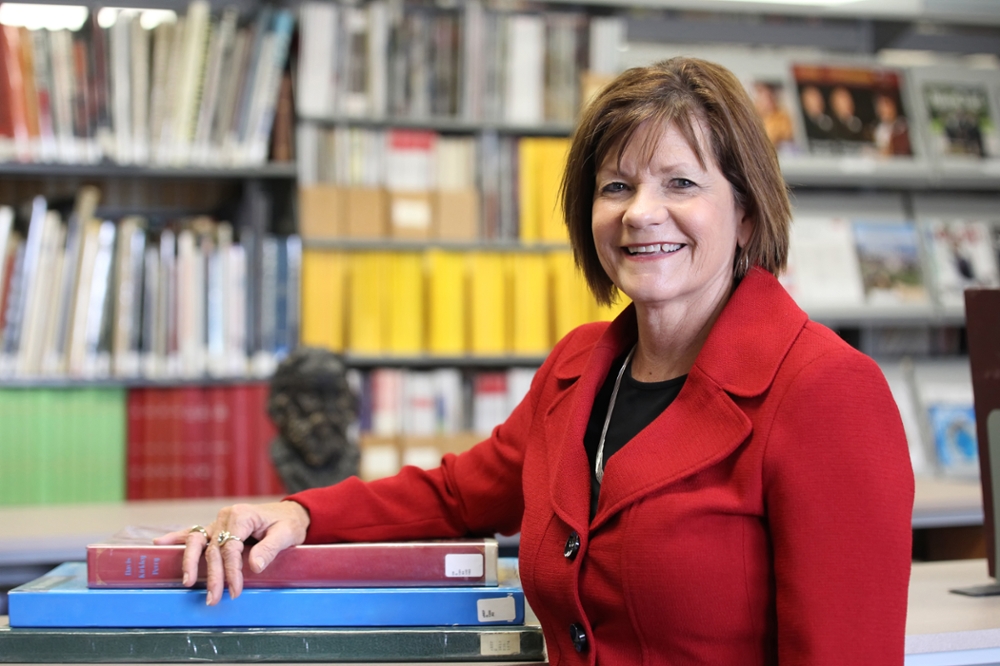 HILLSBORO, TEXAS— Hill College is proud to announce a remarkable 40 years of service by the President of the college, Dr. Pam Boehm. She was honored at All-Staff Day at the beginning of the spring semester with an award and we are proud to share this major milestone with the communities across the district.

Dr. Boehm is a native Texan who attended Hill College for a secretarial certificate. After working three years in the legal department for the corporate attorneys at Mary Kay Cosmetics in Irving, Texas, she came back to Hill County, enrolled at McLennan Community College and earned an Associate's of Arts Degree. In July of 1978, she was hired at Hill College as an administrative assistant to the Dean of Instruction. Ten years in to her tenure in this position, she was inspired to pursue her bachelor's degree. Dr. Boehm went on to earn a Bachelor of Applied Arts and Sciences degree in Business Management and a Masters of Education in Guidance and Counseling degree from Tarleton State University. In 1993, she obtained a professional counselor's license from the State of Texas, as well as a professional counselor's supervisor's license. Dr. Boehm completed her Doctorate of Education Degree in Supervision, Curriculum and Instruction in Higher Education from Texas A & M University at Commerce in 2006.

Dr. Boehm has served at Hill College in the capacity of vocational counselor, 11 years as the Director of Counseling & Testing, Dean of Students, 12 years as the Vice President of Student Services, Coordinator of Behavioral Science Dept., psychology instructor, crisis counselor, five years as the SACSCOC accreditation liaison, and most currently serves in the position of President. She has been successful in securing grant funding for Hill College to assist first-generation college students in making the transition to college from high school, assisted with securing funding for special population students, as well as, acquired federal funding through the TRIO Grant three times, which has four-year cycles, for disadvantaged college students seeking a college education. During her tenure at Hill College, Dr. Boehm developed a stand-alone Testing Center, created a peer-tutorial program for students at the college, and developed a Teen Forum partnership with Hillsboro High School. As a faculty leader, she chaired a Faculty Learning Community charged with integrating critical thinking and problem-solving in the classroom. Dr. Boehm is responsible for the expansion of the Behavioral Science Department, the development of new courses within the department and the integration of virtual technology into the psychology courses. She received the 2010 NISOD Teaching Excellence award and was nominated by her peers for the Minnie Stevens Piper Teaching award. In 2008, she published an article in Community College Times entitled "Promoting Academic Integrity in Institutions of Higher Education."

In the community, Dr. Boehm has served on the site-based management committee for Whitney High School, Hospice of the Heart Board Member, President-Elect of the Hillsboro Business & Professional Women's organization, and member of the Community Resource Coordination Group of Hillsboro. She has conducted numerous professional development workshops for Hill College and the community on topics such as stress management, grant writing, customer service, learning styles, ethics, compliance the Americans with Disabilities Act, wellness and leadership. In 2017, Dr. Boehm was named Cleburne Times Review Woman of the Year. Currently, she is a member of Hillsboro Lion's Club, Cleburne Rotary, a Board Member of Johnson County Economic Development Board and the Johnson County Education Foundation. She is also an ex-officio director of the Burleson Chamber of Commerce and the Cleburne Chamber of Commerce.
Dr. Boehm has served as Vice President and President of the Texas Council of Chief Student Affairs association for two years, and served on several on-line state testing committees over the years. Currently, she serves on the Texas Higher Education Community & Technical College Leadership Council as well as the Legislative Committee and 60x30 Strategic Plan Committee of TACC.

In July 2014, Dr. Boehm was appointed as the 10th President of Hill College. Since her appointment, she has focused efforts on initiatives designed to further ensure student success at Hill College and showcased the college as a unique and innovative institution of teaching and learning. ###