Alumni Spotlight: Frankie Rodriguez, Hill College 2013 Alumni
  Jessyca Brown
  Friday, April 16, 2021 8:44 AM
  Athletics
Hillsboro, TX
Francisco "Frankie" Rodriquez was in awe of jazz and marching bands from the time he was a student at Coleman Elementary School in Cleburne ISD. The Cleburne High School jazz band performed for Rodriquez and his young peers as part of a tour to showcase the band program.
"I thought it was the coolest thing in the world," Rodriquez recalled. "As soon as the opportunity came to fill out my elective sheet for middle school, I already knew what was going to be my first choice."
From that moment, Rodriquez's musical journey was set in motion—leading him from aspiring Cleburne ISD middle school trumpet player to current Fort Worth ISD Stripling Middle School head band director.
Rodriguez participated in the marching band, jazz band and wind ensemble at Cleburne High School (CHS), and after graduating in 2011, he enrolled at Hill College and joined the concert band and jazz ensemble.
It was the leadership opportunities Rodriguez's band instructors at CHS and Hill gave him that made him realize he wanted to teach band someday. His first was during his senior year in high school when his band director let him teach a trumpet practice session for the marching band. At Hill, then band director Phillip Lowe let him conduct the band during one of its concerts, which ended up being one of Rodriguez's favorite memories from his time at Hill.
"Leadership roles in the marching band really helped me explore what it took to be a mentor and great teacher," Rodriguez said. "I am super thankful Mr. Lowe gave me the opportunity to further my growth as a conductor before transferring."
Rodriguez earned numerous achievements at Hill including Texas Community College Band Directors Association All-State Band 2nd chair in 2012 and 8th chair in 2013; and Hill's Top Music Student award in 2012 and 2013 and the Top Brass Student award in 2013.
Hill College music instructor Larry McCord described him as "very collegiate."
"Frankie was an exceptional student, practicing diligently for ensemble rehearsals and completing assignments in his other major courses in a timely manner," McCord said. "The one aspect of his tenure at Hill College I remember most, however, is his great attitude. He always enjoyed himself and helped others do the same."
When it came time to transfer to the University of Texas at Arlington (UTA) in 2013, Rodriguez felt prepared due to the learning experiences and support he received at Hill.
"Going to Hill was one of the best decisions I've made," said Rodriguez. "Living in the dorms really taught me the meaning of responsibility as I didn't have my mom and dad to push me to do all my homework or wake me up in time for school. My instructors taught me how to be an independent learner and initiative in completing all my work to the best of my ability."
Rodriguez was on his own after high school for the most part and had his fair share of challenges. But he said it helped that his Hill music teachers cared about him and took the time to get to know him.
"My parents did a phenomenal job in raising me to have integrity by holding myself accountable to do everything in my control to be successful," he said. "And having teachers like Mr. Lowe, Mr. McCord and Ms. Ericksen to push me at a high level really helped prepare my start to being a music major. Not only were they my teachers, but they played a parent role in mentoring and guiding me through the correct path. They pushed me to be the best version of myself and to never give up even when times were tough."
So, in 2013, Rodriguez forged on to major in music and perform in UTA's Maverick Marching Band, wind symphony, symphony orchestra, symphonic winds, jazz ensemble, trumpet ensemble and MavBrass basketball band. He taught private lessons to students in Mansfield ISD and student taught with some of the "best band directors in Texas" at the district's Lakeridge High School and TA Howard Middle School.
"All these incredible teachers played a huge role in inspiring me to be the director I am today," Rodriguez said of his previous instructors and mentors.
Rodriguez graduated from UTA in 2018 with a bachelor's degree in music and a K-12 music education certification. Prior to his current head band director position in Fort Worth ISD, Rodriguez was the head director at Glencrest 6th Grade School and assisted the brass and directed the non-varsity band at the Leadership Academy at Forest Oak Middle School.
"My biggest duty is to build a culture of excellence and a strong program," Rodriguez said. "I am lucky to have directors who assist me in teaching my woodwind and percussion students."
For Rodriguez, building a culture of excellence means providing the same preparation, guidance and support to his students that his own instructors and mentors provided for him while he was in school.
"Many students need to know they have a sense of purpose and belonging," he said. "Raising their self-esteem and pushing them above their potential is what I care most about at the end of the day. My goal is to provide the highest standard of musical excellence while creating a meaningful atmosphere where students can learn to take on any challenge. This will help them prepare for life beyond band."
Because he carried this same positivity, determination and diligence throughout his own studies and performances, it comes as no surprise to McCord that Rodriguez is a successful band director.
"As he did for his peers while at Hill College, I'm sure Frankie cares for his students, does whatever he can to help them, and models a positive attitude and hard work," McCord said. "This was always his goal, and he did everything he could to achieve it."
Rodriguez is a member of Texas Music Educators Association (TMEA), Texas Bandmasters Association (TBA), and Young Band Directors of Texas (YBDT). He is also an active jazz musician in the DFW area playing in Rick Stitzel's TCC South Jazz Band and freelancing with Buddy's Big Band at Southside Preservation Hall and the annual Dallas Military Gala. He hopes one day he can claim the esteemed title of TMEA State Honor Band, as well as qualify to perform at the prestigious Midwest Clinic International Band and Orchestra Conference.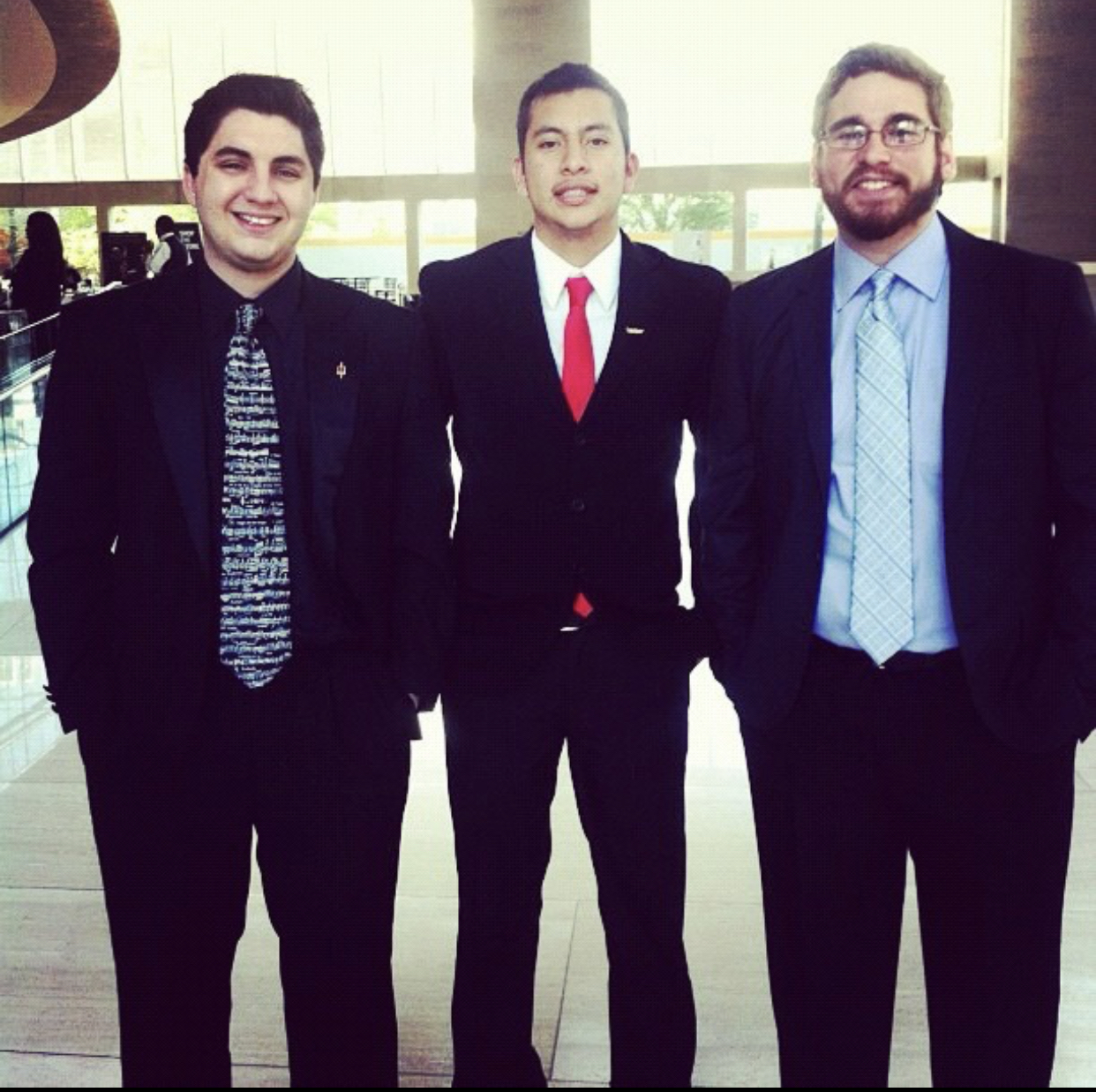 Francisco Rodriguez (center) with fellow Hill College band members afterband awards in spring 2013.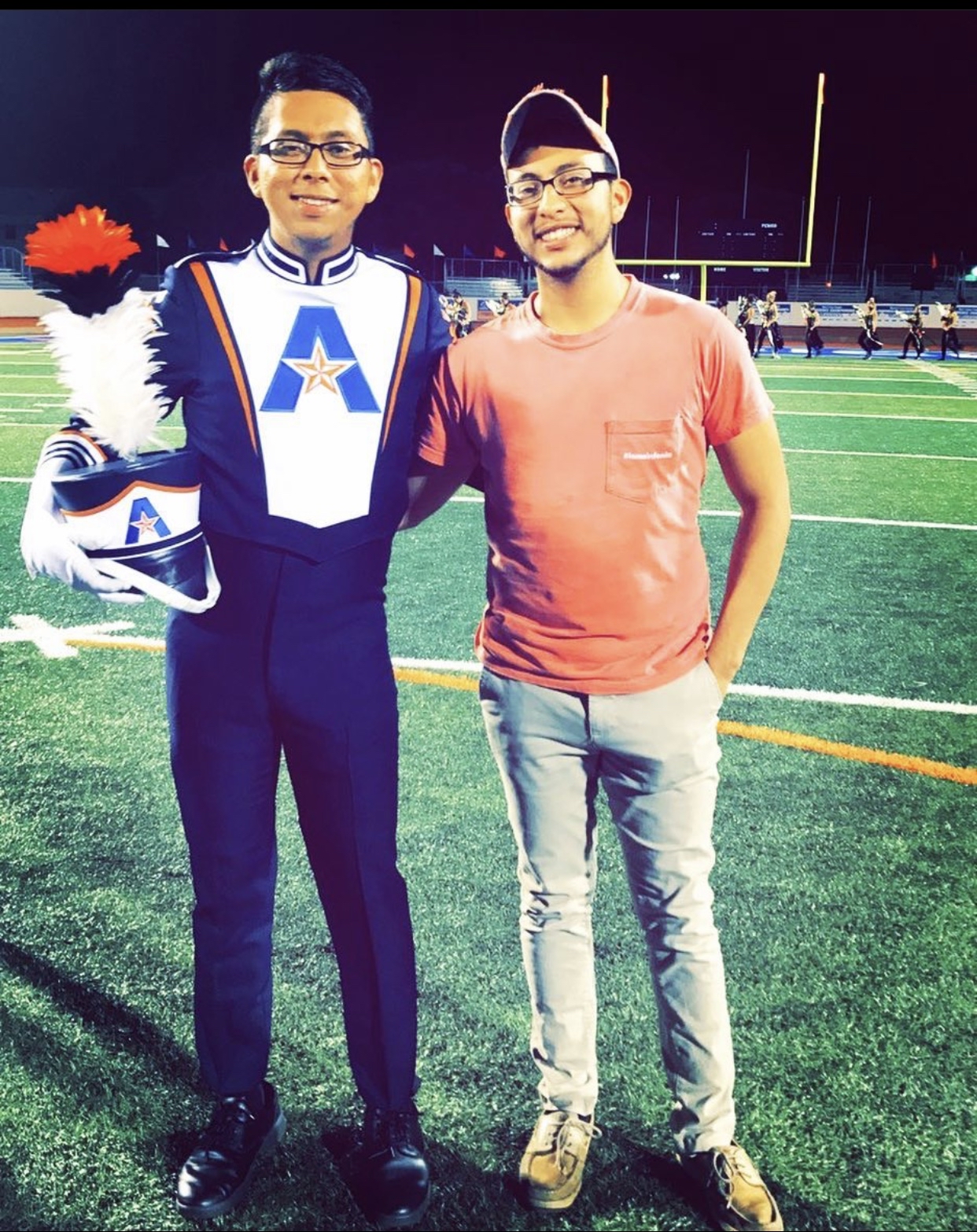 Francisco Rodriguez (right) with his brother Jesus after a marching band show.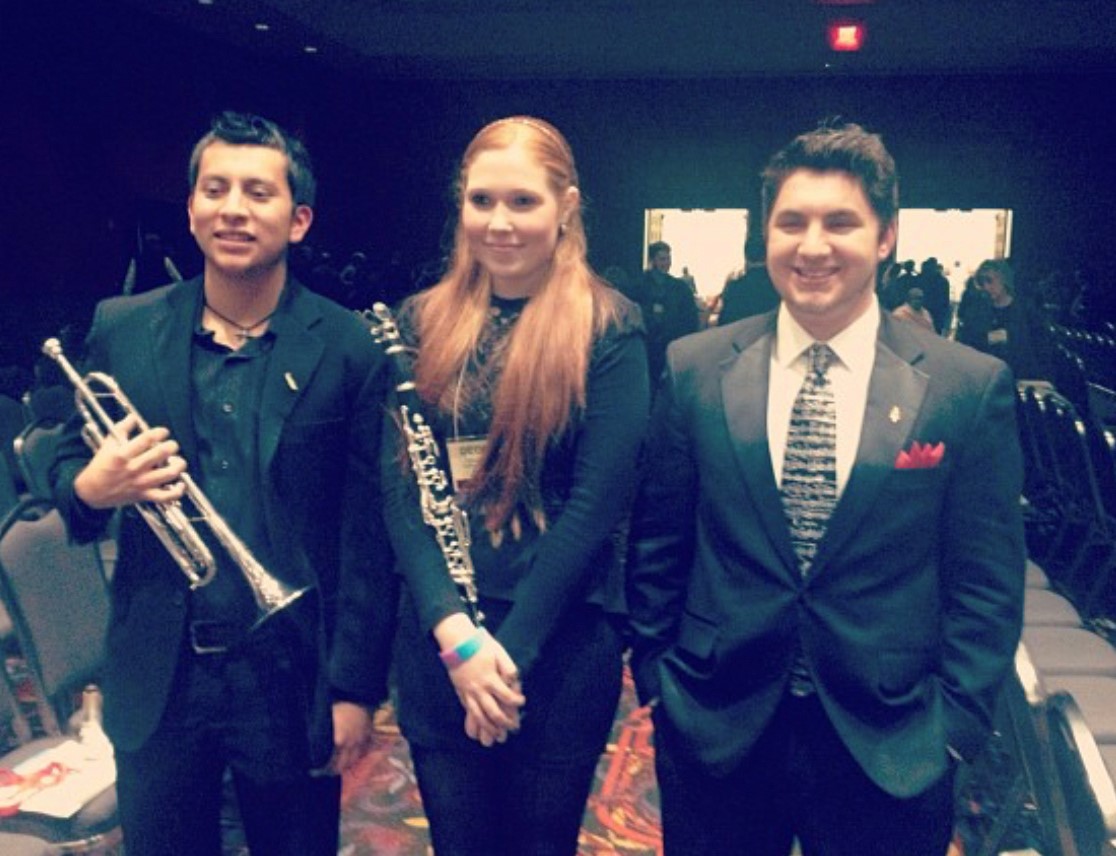 Francisco Rodriguez (left) with fellow Hill College band members after theAll-State band performance in spring 2013.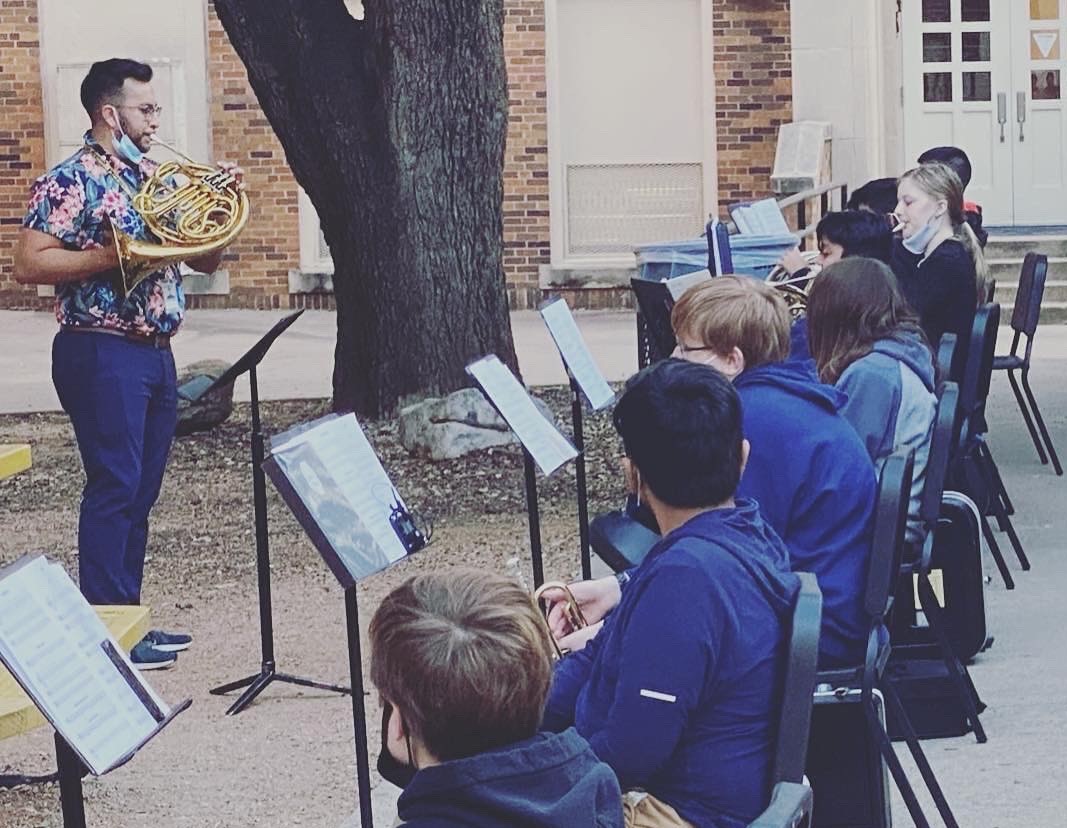 Francisco Rodriguez (left) teaching Fort Worth ISD Stripling Middle School band students outside due to COVID-19.